Do you prefer the light and airy look of a cottage or the warm and rustic style of a cabin? I may have found the perfect mix!
As you may have noticed, I've taken a break from blogging the past week. Every summer, I try to totally unplug for at least for a few days, as I find it helps clear my head and freshen my perspective. Letting go is much easier to do when you're in a beautiful setting alongside people you enjoy spending time with. Fortunately for us, we were invited by our dear friends to spend time at their parent's cabin in beautiful Invermere, British Columbia.
As mentioned before, having a cottage or cabin of our own is on our bucket list. We don't plan on purchasing in the next year or two, but we have a basic idea of where we want to be. We've also started compiling a rough wish list, including an Ideas for the Cottage board on Pinterest. One thing we haven't fully determined is whether we want a cottage or a cabin.
Cottages
When I think about cottages, images of beadboard, chipping paint, slipcovered furniture, watery hues, and light-toned wood come to mind.
Indgrid Oomen via Style at Home | Photo by Michael Graydon
Cabins
Cabins, on the other hand, tend to be on the rugged side, with deeper toned walls, textured fabrics, natural stone, and a lot of exposed wood.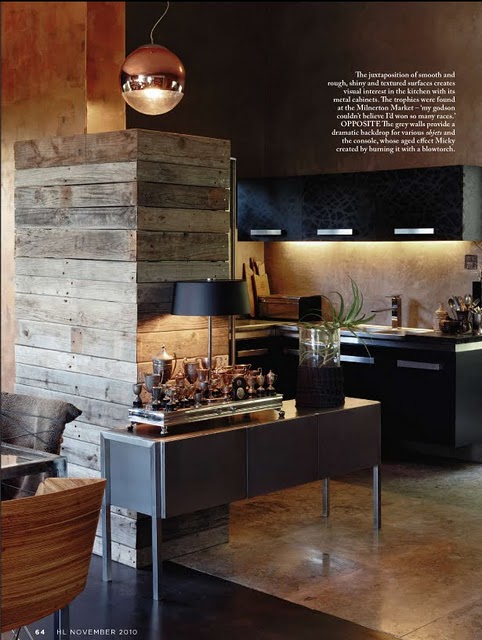 House and Leisure (November 2010)
Because we enjoy activities associated with both summer and winter, choosing just one style is difficult. Cottages remind me of easy breezy summer days at the lake with impromptu gatherings on the patio in the evening. I even decorated our front porch for spring in cottage style.
Cabins make me want to curl up by the fireplace with a hot cup of cocoa after a day of tobogganing or skiing.
Perhaps the best solution for us is something in between, Cottage Cabin Style…
Jessica Jubelirer | Photo by Werner Straube
See how simple the bedding and decor could be changed for summer. I love the rustic stone, beams, and floor juxtaposed against the airy white walls. Perhaps what we're looking for is cottage cabin style rather than one or the other.
Would it be easy for you to choose just one distinct style or would it take some pondering?
Have a great day!