Shabby Chic Couture in Santa Monica
Sharing the highlights of our recent trip to California, including a visit to Shabby Chic Couture in Santa Monica!
Hello everyone! Yesterday I returned from an extended weekend getaway to California's Pacific Coast. It's a trip we take at least once a year that coincides with my husband's travel requirements for work. You can read about last year's California adventure here.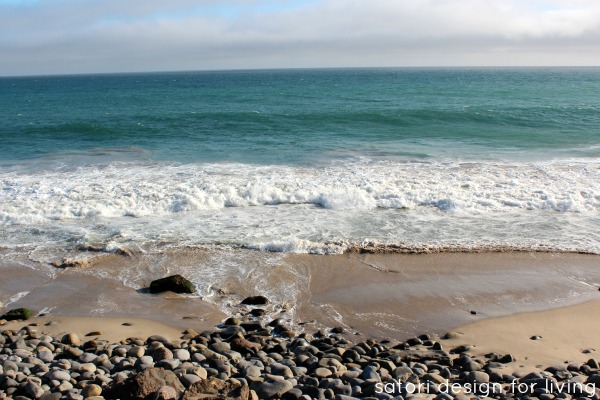 This time we decided to spend a night in Santa Monica and head over to Long Beach for a few days. The weather was fantastic, but the head cold that took my voice and a lot of my energy was terrible timing. However, it didn't stop me from site-seeing, taking in some good eats, a little rest and relaxation poolside, and, of course, shopping!
Although I've been to Santa Monica a couple times before, I've never had the opportunity to do any shopping. This time I had at least one destination store on my list, and all I had to do was entice my boys with a little lunch (works every time!).
For those of you who are interior decorating enthusiasts, you're probably familiar with Rachel Ashwell and her distinct shabby chic style. I became a huge fan back in the 90's, and I love how she's continually updated the style to keep it looking fresh.
Santa Monica is where Rachel opened her first Shabby Chic shop back in 1989, selling machine washable slipcovered furniture and vintage finds. Today, there is a location on Montana Avenue (where we visited), as well as four other flagship stores located in San Francisco, New York, London, and Texas.
What stood out to us about the store is how each vintage piece looked like it was carefully selected and told a story. The chandeliers were magnificent and would be the perfect way to add character to any space. Oh how I wanted to bring one home with me!
And what about these gorgeous vintage doors and mirrors… So charming!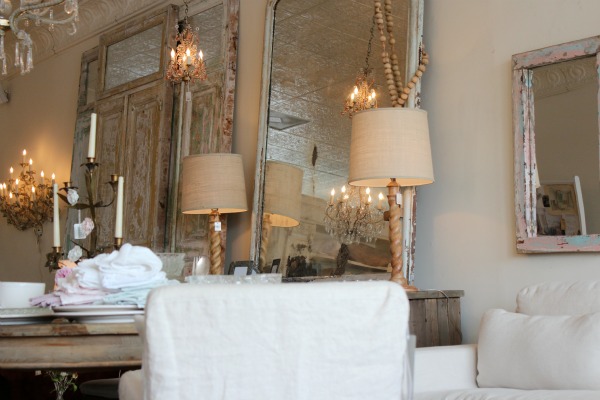 I also loved how comfortable all the beds looked (especially since I was feeling under the weather). It took everything in me not to climb into one!
And finally, wouldn't these vintage dishes, trays or textiles add a hit of "grandma chic" to a kitchen or dining space? Mixing a bit of old with the new always adds an interesting layer.
Visited Rachel's Shabby Chic Couture shop in Santa Monica or any others in your travels? What stands out most to you about this style?
Enjoy your day,