Holiday preparations are really ramping up in the blogosphere. Being from Canada, I find it interesting how decorating for Thanksgiving in the US seems to infuse a little Christmas or at least more glam than we usually see here. I like how some design bloggers are showing how they build on their seasonal decorating to last up to the new year. That's what the Holiday Countdown is all about- spreading preparations over a couple months so you can enjoy the process rather than just the end result.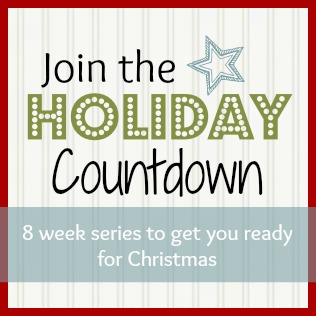 Be sure to catch up on week one, week two and week three of the Holiday Countdown Recap Series if you're just joining us.
This past week, I started on my Christmas shopping and gathered everything I'm going to need to create the non-food handmade gifts I plan on giving out this year. I'll be sharing the tutorial for one of these when I host my Handmade Gift Ideas Link Party. Be sure to come back to link up your projects and become inspired by all the other handcrafted goodness!
This Week's Holiday Countdown Homework
Decide on your cards.
Call me old fashioned, but I still love receiving cards in the mail from friends and relatives. Some are photo cards, some are carefully selected ready-made cards, while others are handmade or computer-generated. There are several options that caught my eye, but I especially like cards that relate to people's situations.
If you had a new addition to the family this year:
If you were married or engaged this year:
If you moved.
As an option, you could download some free printable holiday cards.
In the past, I've bought ready-made cards or had custom photo cards professionally printed like this ornament one from last year.
Here are a few options I'm considering for this season (all from Tinyprints).
I just love how easy it is to add your own photos and create a personalized message to send out. I haven't finalized my decision, so I guess you'll have to wait and see! I will post the card I select closer to Christmas for everyone to see so that I don't ruin the surprise for family and friends now. If you're thinking of ordering from Tiny Prints, check their promotions page before making your purchase!
Set a date for your party or open house.
Schedules start filling up very quickly this time of year. If you're planning on hosting some sort of get together, you need to set the date and send out invitations to your guests as soon as possible. Although I love printed invitations, this time of year I like to send out an email invitation. It's easy to keep track of replies and most people respond within a day or two. I always like to follow up with a phone call if I haven't received a reply by the rsvp date.
There are several options for doing this, but one of my favorites is Evite.
Create your music playlist.
There is nothing that gets me in the holiday spirit more than great music. I created a Christmas playlist a few years back and add something new to it each year. There are a few particular artists I'm fond of. If one of them releases a new album, I usually buy it from Amazon when it comes out. Otherwise I just download individual songs I preview and like on itunes.
So what have you been working on to prepare for the holidays?
I will be hosting a Holiday Countdown Link Party in December where I invite you to link up one or two posts on anything to do with weeks one to eight of the Holiday Countdown Recap Series, including decorating, gift wrapping, entertaining, cards, and more.
'Til then, I'd love to hear what you've been doing to prepare for the holidays. If you have any suggestions for holiday cards, music, or anything else related to getting ready for the holidays, please let us know in the comments!
Enjoy your weekend,