Holiday Countdown Series Finale + Link Party
I'm posting the final installment of the Holiday Countdown one day early to give you a little more prep time before the weekend. If you've been following along since the first post in October, there shouldn't be too much left on your list, but there are always those tasks that are best done in the last few days.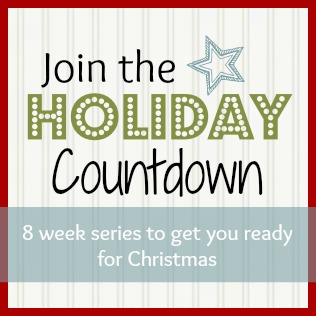 If you're feeling frazzled, try to keep in mind what the Christmas season is all about- peace, love and joy. It's not about perfect decorating, baking, wrapping and all the other preparations. At this point, good enough is good enough! It's time to enjoy our loved ones, especially in light of what happened at Sandy Hook Elementary. Let's keep all the families in our thoughts and prayers.
If you've missed any weeks along the way, follow this link to see the full 2012 Holiday Countdown Series.
Now on to the final To Do list.
But first, be sure to link up your holiday preparations at the bottom of this post!
This Week's Holiday Countdown Homework
Add fresh flowers and greenery.
There isn't anything that can bring a space to life more than adding fresh natural elements. Back on week one, I recommended that you plant amaryllis or paper white bulbs. My amaryllis has really taken off and will hopefully bloom for Christmas. If you didn't plant bulbs, no worries. These plants are available at many locations for next to nothing. You don't have to spend a fortune on fresh materials for them to look fantastic. Consider mixing less expensive materials with only a few luxurious blooms.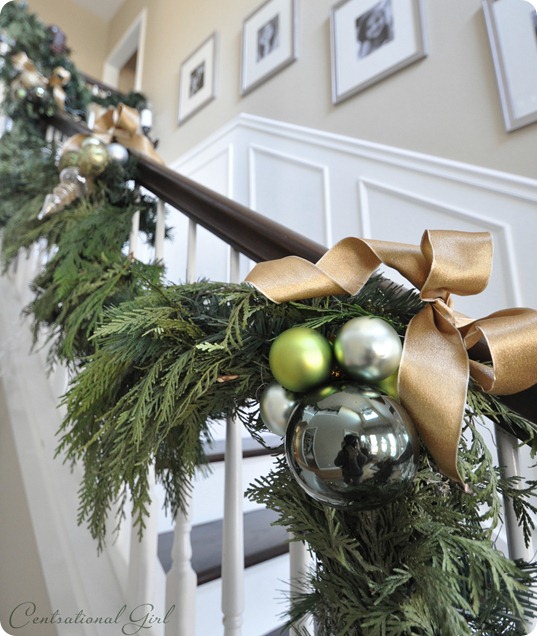 Enjoy the events of the season.
Often in the past I've been so focused on shopping, cleaning, baking, wrapping and all the other holiday preparations, not to mention work and family responsibilities, that I forget to enjoy myself. Now I make time to enjoy a holiday movie or take a drive to see all the gorgeous Christmas lights. This week do something fun with your family or friends.
Treat yourself.
You've probably been working non-stop taking care of everything for Christmas, and now it's time to take care of you! Get a massage or manicure, or take time to sit down with a friend for tea. A little time for yourself will give you the energy to enjoy the festivities ahead.
One of the obvious tasks I've left off the to-do list is grocery shopping and preparing food. Depending on if you're hosting or attending, this will vary. I'll be preparing appetizers, desserts and frozen dishes on Saturday and Sunday to take with us when we visit the various stops we make on Christmas Eve, Christmas Day and Boxing Day. It's a bit of a whirlwind, but so much fun seeing everyone.
Now it's your turn!
Link up any of your posts related to getting ready for Christmas (crafts, decorating, recipes, entertaining, gift ideas and more). All I ask is that you include a backlink to this post and visit a few of the other links. No items for sale please.
Holiday Preparations
xo,