Favourite Paint Colours Spotlight – Vintage Society Co.
We're wrapping up our paint colours series. Get inspired by these favourite paint colours from Deb and Britt of Vintage Society Co. Perfect for the white paint lover!
Welcome back friends. It's hard to believe it's already the last day of the favourite paint colours series! I hope you've enjoyed seeing the top paint colour picks my friends have been sharing all week long. Be sure to catch up at the bottom of the post if you've missed any details along the way.
I have two friends stopping by today. Deb and Britt are the dynamic duo that make up Vintage Society Co. Something you probably don't know is that all three of us live in Southern Alberta. And, because we're used dealing with various seasons and differences in lighting from day to day, getting a paint colour right can be a tricky process. That's where trial and error come in. These girls have done some experimenting over the years!
If you love white paint combined with vintage decor, you're in for a real treat. Both know how to create simple, yet stunning spaces. Let's take look…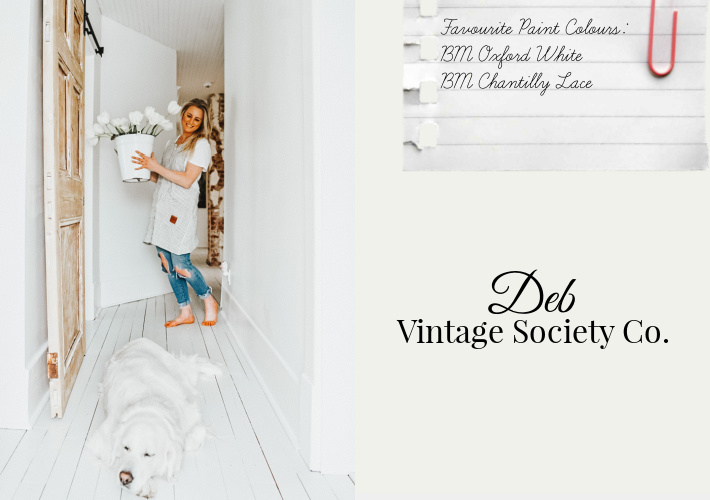 Deb's Favourite Paint Colours
Over the years I've had various shades of white in different rooms of my home. However, over the last few years, I've been converting it to be entirely Benjamin Moore Oxford White. This beautiful white paint colour pairs well with so many other colours! It has a very slight blue undertone that I love and have now used on both the exterior and interior.
I've slowly changed all the wall spaces in the house to this colour in a satin finish. This gives a fluid transition from room to room that I love. You can see it here in my vintage style bathroom with shiplap walls.
I also painted our tiny house Oxford White using a solid wood stain to cover the pine shiplap walls. The cabinets are the same colour too. I find that it works almost like a painter's canvas to display all of my beautiful wood antiques and vintage pieces. It gives my favourite items and collected pieces the chance to shine instead of having the walls be the focal point!
Another white I have loved in the past is Benjamin Moore Chantilly Lace since it doesn't have any strong undertones.
Britt's Favourite Paint Colours
I have played around with a few different white tones in my home over the years. Over time, I felt it wasn't white enough. I definitely prefer warm shades of white. I loved the crisp feel of Chantilly Lace by Benjamin Moore but didn't love the blue undertone.
Working with the local paint store owner, I re-created Chantilly Lace in half strength. I call the colour Lace and Love, the neutral white with a soft warm undertone.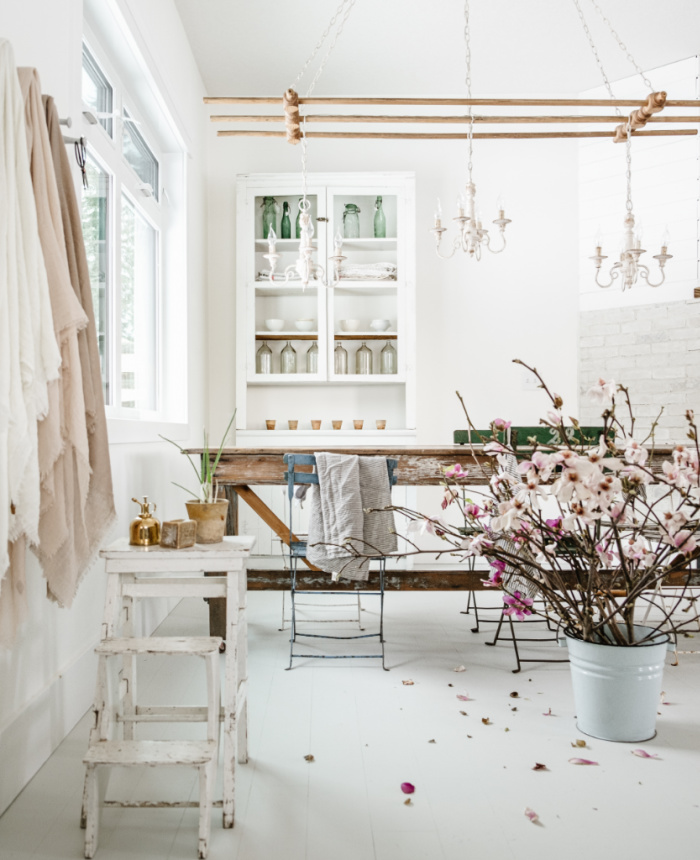 For my trim, I wanted a crisp bright white. So, I decided to try a stock can of Beauti-Tone white straight off the shelf (with no tint added). It worked perfectly! This is the only colour that I have not changed in my home sine we built it.
Okay, on to exterior paint! Our house was originally blue and red (what was I thinking?)! Over the course of 2 years, I repainted our entire home using a 6" paintbrush. The colour on the exterior of my house is called Linen White by Benjamin Moore. This is also a warm white.
Deb and Britt's Top Paint Colour Picks
Oxford White by Benjamin Moore | Chantilly Lace by Benjamin Moore
White by Beauti-Tone | White Linen by Benjamin Moore
Beautiful white paint colours, right?! The use of white paired with natural wood tones and vintage decor is spot on. It goes to show that you have options other than what's available on a paint swatch. Work with your paint store to create the perfect colour for your space.
Now, which paint colour from this series are you going to try first? I already have a bunch of swatches taped to my walls. You know how much I love white paint!
Want more paint colour suggestions like these sent directly to your inbox? Be sure to SUBSCRIBE.
Paint Series Recap
If you're looking for even more paint colour inspiration, be sure to check out these other posts by clicking below:
Have a wonderful day!