Favourite Paint Colours Spotlight – Modern Glam
Have a room or exterior that could use a fresh new paint colour? Get inspired by these top paint colour picks from Ashley of Modern Glam. Our paint discussion continues!
Hello friends and welcome to Day 3 of the bloggers' favourite paint colour series. Be sure to check out Sarah's, as well as Deb's top paint colour picks if you missed Day 1 or 2. So pretty!
You may already be familiar with Ashley from Modern Glam since she hosts many of the seasonal hops I participate in. Ashley is a California girl, and I often live vicariously through her when we're in the thick of cold and snow and she's hanging out in her gorgeous back yard. So envious! I'm certain you'll love her fresh take on colours that are often paired with classic neutrals. Her style totally speaks to me. Read on to see what I mean…
Ashley's Favourite Paint Colours
Hi there! My name is Ashley and I blog over at Modern Glam. We live in the San Francisco Bay Area and have been updating our California ranch since we moved in over 10 years ago! My husband is a contractor so it seems like we always have a project or two happening at our house. Paint color is something that I love to pick out. Over the years I have painted our front door nine different times! Can you believe that? You can read more about that in this post. But, today I want to share with you a few of my all-time favorite colors. Everything from whites & neutrals to pinks and blues.
Exterior Paint
The number one question I get asked is about our front door color. And like I said, we have painted it nine different colors over the years. This shade of blue is my favorite. The color is Mountainside Vista by Clark + Kensington. It is the perfect pale blue with a touch of gray undertones. This color looks great throughout all the seasons and holidays!
We recently painted the outside of our home from a greige color (that was original when we bought the house) to white and added black shutters.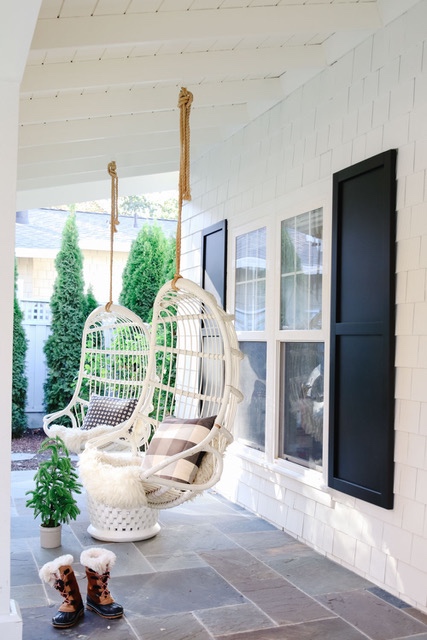 White exterior paint can be one of the most difficult things to choose. We ended up going with Benjamin Moore Chantilly Lace and the shade is absolutely perfect. Not too warm and not too bright.
Interior Paint
Inside our house almost all the walls are painted white. And white paints can be tough to find the perfect shade. I chose Benjamin Moore Cotton Balls. This white has some cream tones without looking yellow.
I like to paint the walls, trim and ceiling all the same color, but in different sheens (if we are talking about white). This makes your space feel bigger and brighter too! Another favorite white paint is Simply White by Benjamin Moore.
Our master bedroom is painted pink which may shock you. But my husband actually likes the color in here. In the evening, it feels very soothing and romantic too.
Pink paint can be very tricky though. You don't want it to feel too young. The color in this room is Benjamin Moore Gentle Butterfly.
I love it so much that I painted our daughter's bedroom the same color!
Be sure to check out even more home inspiration on Instagram.
Ashley's Top Paint Colour Picks
Mountainside Vista by Clark + Kensington | Chantilly Lace by Benjamin Moore
Cotton Balls by Benjamin Moore | Gentle Butterfly by Benjamin Moore
Pretty paint colours, right?! I love Ashley's exterior selections so much, and her front entrance is always decorated beautifully.
Be sure to come back tomorrow for PART FOUR of this series featuring Amanda from Sincerely, Marie Designs with her top paint colour picks.
Want more paint colour suggestions like these sent directly to your inbox? Be sure to SUBSCRIBE.
See you soon!