English Lavender Recipes, Ideas & Tips
Adore English lavender as much as I do? Find out how to use this fragrant herb in recipes and more. Plus, get my best tips for growing and drying lavender.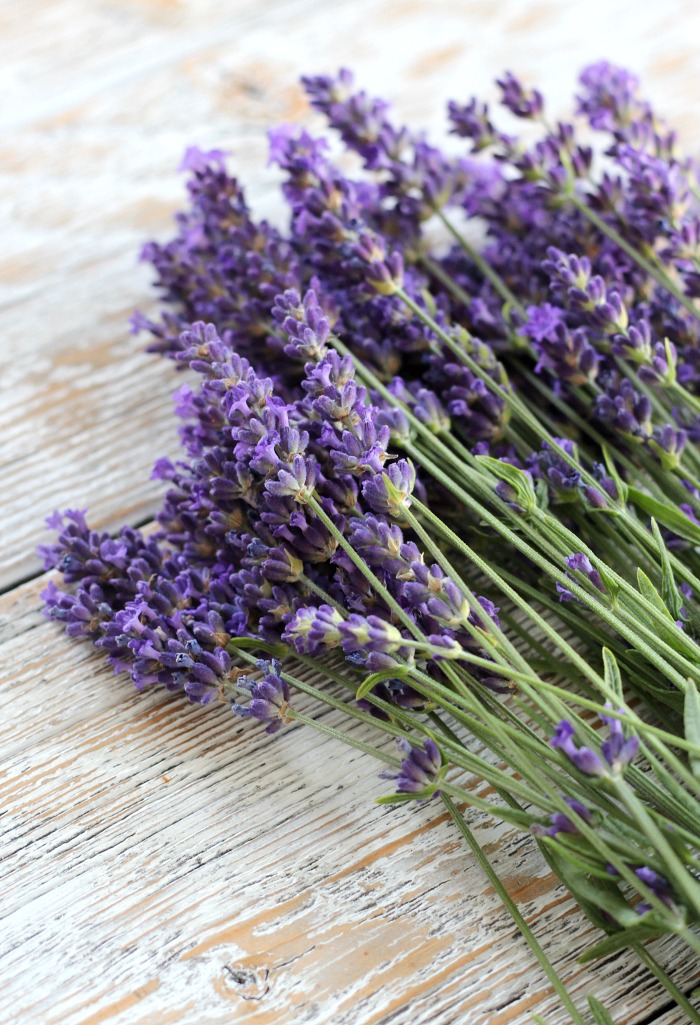 I'm not quite sure where July went. Feeling the same way? August started out very hot, and with it came wicked storms in our neighbourhood. Thankfully, I harvested a bunch of my English lavender before the hail hit. So many of my plants were damaged! Good thing lavender is resilient, and I'm certain my plants will be just fine come next year.
Every summer, my lavender garden seems to get bigger, which means our yard smells amazing. It helps keep the mosquitoes away, which is a huge bonus.
If you follow along on Instagram stories, you may have noticed some of the sprigs I was getting ready to dry. With so many plants, I end up with much more dried lavender than I know what to do with. So, I look for new project ideas to add to my list.
What's next? I'm getting ready to make a lavender heating bag similar to this one Chloe shared on her blog, Boxwood Avenue. I think I'll also sew a washable cover for it.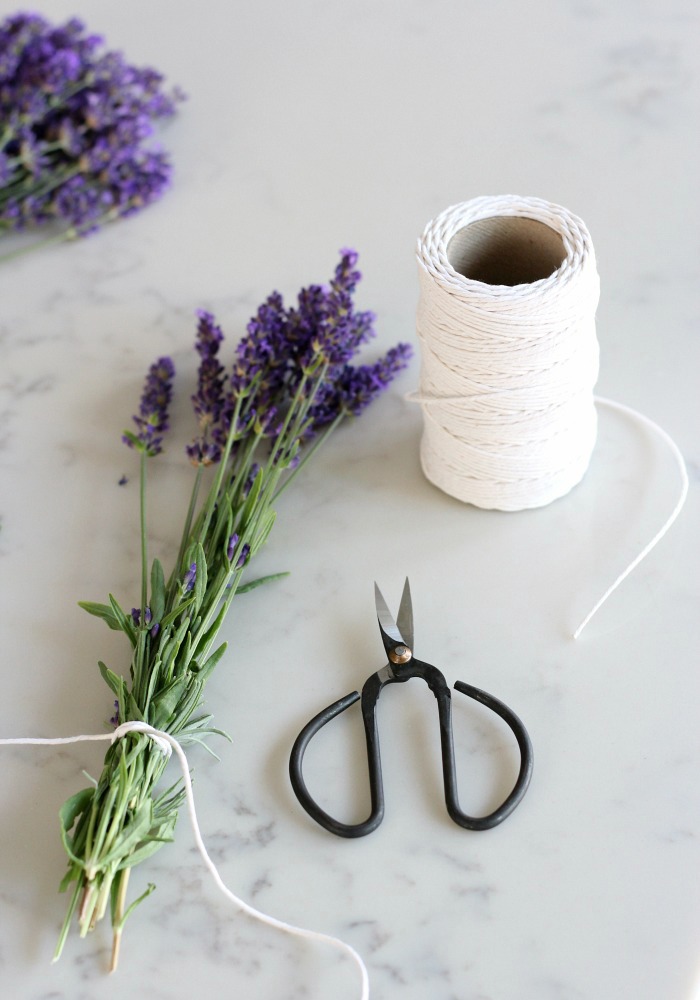 What else can you make with lavender? Over the years, I've compiled quite a few recipes and project ideas. So, I thought, why not put them all together in one post so it's easier for all of you. I do get quite a few questions about my lavender plants.
Lavender Growing and Drying Tips
Before we get to those, I thought I'd share some lavender growing and drying tips I've picked up along the way.
My Lavender Plants
The lavender I grow is called Lavendula Angustifolia Munstead, a perennial that has compact bushes with grey green leaves and stems that develop fragrant deep blue-purple flowers around the middle of summer. This variety is very hardy (we're in zone 4a), and thrives in open textured soil with added humus. It seems to become more fragrant in dry, sunny locations, so south or west facing is usually best with good drainage.
Newly planted English lavender requires regular watering until established. Once it's on its way, lavender can handle being on the dryer side. In early spring, I trim mine back by about a third to encourage new growth.
Be sure to select an organic culinary lavender plant if you're planning on using it in recipes, including body products. Also, if you're wanting to fertilize your plants, be sure to use an organic medium. Adding an inch or so of compost in the spring is really all you need.
How to Harvest
Clip stems in the morning (after the dew has dried) while the buds are still closed or a few are just starting to bloom. Be sure to leave a good portion of the plant intact (leaving two or more sets of leaves to encourage more flower stalks). Mine are well established, so it's okay to take a bit more. Shake off any bugs before bringing into the house.
How to Dry
Gather about a dozen or so lavender stalks together and secure the bottoms snugly with some string or an elastic band. Hang upside down in a warm, dry and dark place with good ventilation. A few weeks is usually all it takes to get rid of the moisture.
How to Store Dried Lavender
Place in an airtight container or jar to maintain the flavour and potency for as long as possible. You can also remove the flower buds from the stems.
English Lavender Recipes
Now, are you ready to use your dried lavender? Below you'll find my list of recipes and ideas for using lavender. So delicious and luxurious.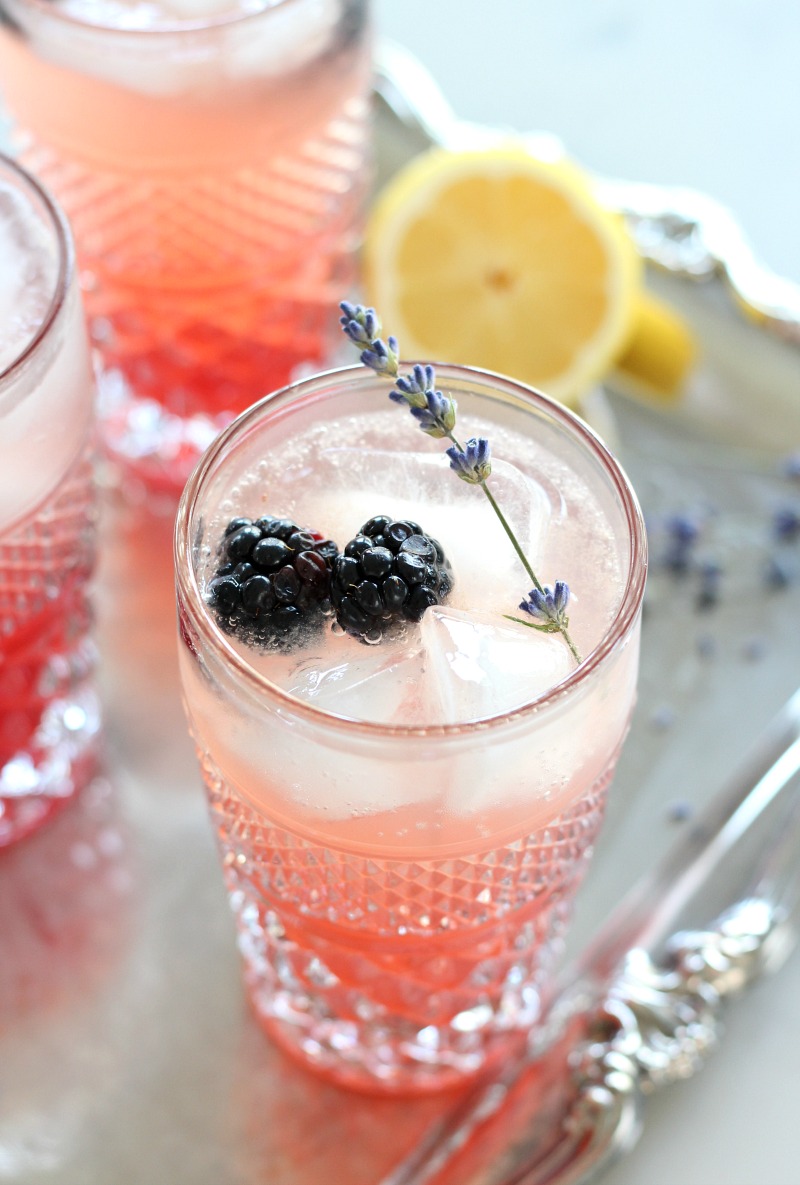 Lavender & Blackberry Sparkling Lemonade
Since we're still in the heat of summer, you'll love this lavender sparkling lemonade. So refreshing and thirst-quenching, with a subtle hint of lavender. Sweetened with honey, and can be served with or without alcohol.
Lavender Infused Sugar
This lavender infused sugar adds subtle flavour to iced tea, fruit, cocktails, desserts and more. Takes only minutes to put together using fresh or dried lavender, and is ready to use within a few days.
Lavender London Fog Latte
Not only is this lavender tea latte pretty, it's also divine! So creamy, frothy and sweet, with notes of citrus, bergamot and just hint of lavender. One of my favourite afternoon treats!
Lavender Sugar Scrub
Want soft and silky skin? Whip up a jar of this lavender sugar scrub! Smells heavenly and is also an easy handmade gift idea for any special occasion. My go-to beside the sink.
Other Ways to Use Dried Lavender
Baked goods
Sachets
Decor (check out this pretty wooden lavender holder)
Soap and other body products
Candles
Infused honey
See the entire collection of lavender projects and be sure to pin these ideas for later!
Tell me, which lavender recipe or project do you want to try first? Also, if you have any other questions about my English lavender or something else, please let me know in the comments!
Want more delicious recipes and ideas like these sent directly to your inbox? Be sure to SUBSCRIBE.
xo,