Comparing splurge and save options for blue and white bedding with a similar look. Which would you choose?
Big plans for the weekend? I'm breaking out the golf clubs for the first time this year, plus hopefully finishing off the planting and other outdoor projects I started before all of the rain. I'm one for green and lush, but this is getting ridiculous. It's definitely time for sunshine!
Yesterday I was out sourcing for two client projects I'm currently working on and came across some beautiful blue and white bedding. As you know, blue and white decorating is one of my favourite palettes, especially for summer spaces.
Serena and Lily Bedding
I've had my eye on a few bedding pieces from Serena and Lily for a while now, but didn't exactly love the price tag with decorative pillows starting around $88 and $210 for sheets.
Some links are affiliates. Check out my blog policies.
Sears Bedding
Fortunately, I decided to take a walk through Sears and spotted their Eastern Philosophy blue and white bedding for much less, starting at around $30 for decorative pillows and $100 for sheets.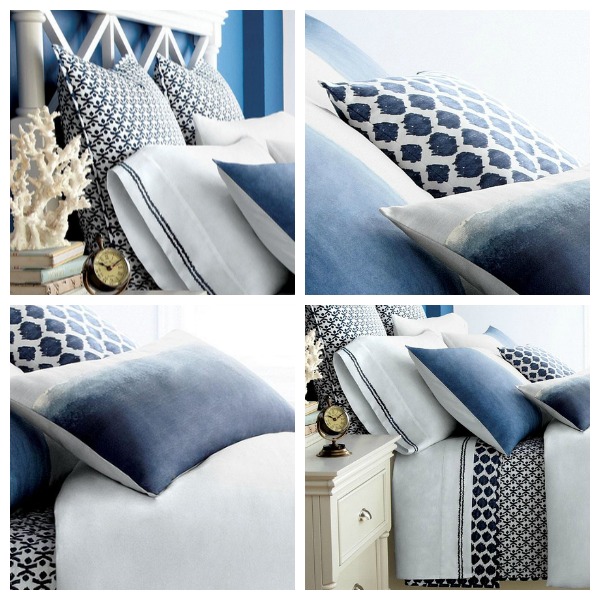 I'll be the first to acknowledge that quality and feel from one set of sheets to another varies greatly. Both of these sets are 300 thread count cotton sateen, but construction and quality of cotton fibers is a definite determining factor. That being said, for everyday use I'd likely splurge on the Serena and Lily sheets, but for the cottage or a guest bedroom, the Eastern Philosophy line may be a good option.
When it comes to bedding, do you tend to splurge or go for the less expensive options?
Enjoy your weekend!