Rounding up my favourite outdoor projects from this year's Outdoor Extravaganza.
It has been a busy few weeks with the Outdoor Extravaganza, client projects, and getting ready for my son's graduation from high school. This time of year always seems to be crazy, but thoughts of laying poolside and enjoying a mojito or two in July keep me energized and on track. I think what I love most about summer is the relaxed, go-with-the-flow attitude we adopt around here before "the schedule" starts up again in September.
A big thanks to all of you who linked up plants & flowers, decorating, and paint projects at the Outdoor Extravaganza. I was blown away by all the talent and will definitely be stealing some of the outdoor project ideas for my own space.
Outdoor Projects
Here are some of my faves…(difficult to narrow down I must add!)
Plants & Flowers
The one outdoor project I always look forward to most in the spring is visiting the garden centres and selecting my plants and flowers. We had a big garden at our last place, but space is a bit more limited in this yard. Space-wise and clever gardening ideas are something I'm always on the hunt for, and I love these containers and raised-bed gardens.
Colorful planter box by House Updated (I just love this door colour too!)
Salad planter by Small Home Big Start
Raised Bed Garden by Miller Musings
Outdoor Decorating
On the outdoor decorating side of things, colourful and bold seems to be the theme this year. Creating an outdoor space that you love is a must in my books!
Colorful Patio by J.S. Lately Design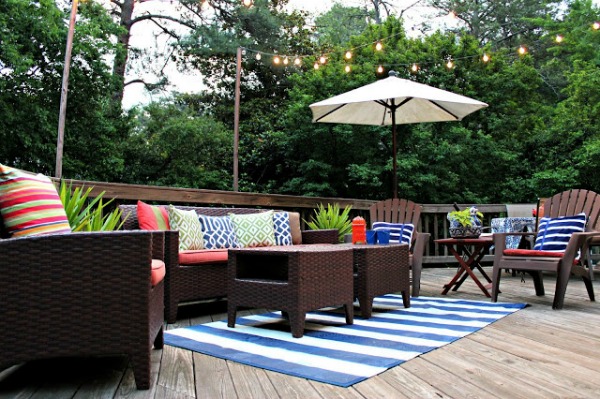 Lakehouse Inspired Deck by Southern State of Mind
Backyard Barbecue Decorating by A Lo and Behold Life
Outdoor Paint Projects
And finally, it always amazes me how paint and creativity can transform almost anything. These projects knocked my socks off!
Stenciled Deck Floor by The Hunted Interior
Bike Parking Lot Sign by Blessed Life Atop a Cakestand
Barn Transformed to Outdoor Living Space by Pudel Design
Have any favourite outdoor projects of your own from the Outdoor Extravaganza? What have you been inspired to create?
xo,