Almost every morning, I have a smoothie for breakfast. I have a few favorite combinations like mixed berries and bananas or mango and orange.
On Monday, I was totally out of frozen fruit except for rhubarb, which I'd never thought of using in a smoothie before. I went out on a limb and give it a whirl, and boy have I been missing out! A few tweaks here and there and I've been able to come up with something I look forward to drinking for breakfast, dessert or any time in between!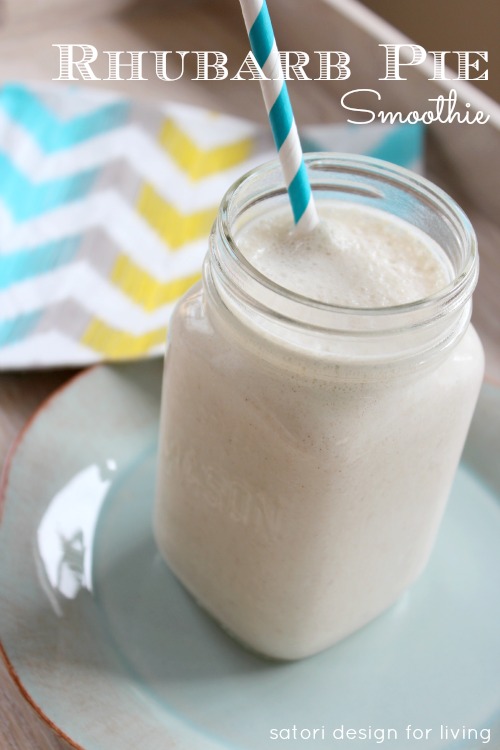 Rhubarb Pie Smoothie
½ cup frozen chopped rhubarb
¼ cup plain greek yogurt
1 cup unsweetened almond milk (or milk of choice)
¼ tsp. cinnamon
3 TB. cooked oatmeal (rolled or steel cut)
1 TB. honey
few small ice cubes
Add all ingredients to a blender and mix until smooth. Depending on the tartness of the rhubarb, you may need to adjust the honey. Enjoy!
The oatmeal and greek yogurt in this rhubarb smoothie recipe help keep me full until lunch time. Cinnamon is also known as a circulation booster and rhubarb contains fiber, antioxidants, and is rich in vitamins.
Planning on giving it a try? I'd love to know what you think.
For more recipes to get you going in the morning, check out the breakfast & brunch gallery.
Enjoy the sunshine,
P.S. Love that adorable turquoise striped straw? You can find it at Party Stock.