Ways to Use Mirrors in an Outdoor Space
Ever thought of using mirrors in an outdoor space? Check out these clever ideas that add interest, ambiance and character to outdoor rooms and gardens.
Although the weather isn't looking the nicest over the next few days, it hasn't stopped me from thinking about the changes I want to make to our outdoor space this spring and summer. As soon the temperatures start to rise and the sun shines a little longer in the day, I find any excuse I can to get outside.
After completing our deck revamp a couple years ago, it created an outdoor room that we are able to use much more than we previously had been able to. Since then, I've been pondering what else I can do to make our back yard feel more livable. One thing that seems to keep grabbing my attention is the clever use of mirrors in an outdoor setting.
Using Mirrors Outdoors
This front porch is absolutely charming with its mirror hanging over the lattice. I love how the foliage from the climbing hydrangea is partly covering it. I bet it's even more beautiful in bloom!
See More Front Porch Decorating Ideas at The Honeycomb Home
One of my favourite looks for outdoor mirrors is placing them next to a dining area. I love how they reflect the beauty of the tablescape and give the illusion of the space being much larger than it actually is.
Want to add ambiance in the evening? Mirrors can be used outside to effectively reflect candlelight from votives and lanterns.
Add a mirror to the side of a building to replicate the look of a window. Combined with plant materials and chunky wood frames, they're very good at fooling the eye.
Have a potting bench or outdoor console table? A mirror works well as a backdrop to plants and more.
In small outdoor areas, mirrors can be hung to create the illusion of more space. The mirror behind this lattice on the gate makes it look as though the garden carries on. Love it!
Style at Home | Photo by Michael Graydon
Want to hang more than one? Grouping a collection of mirrors outside is a beautiful way to create interest. I love how the reflection of nature found in these round mirrors picks up on the rest of the green in this outdoor room.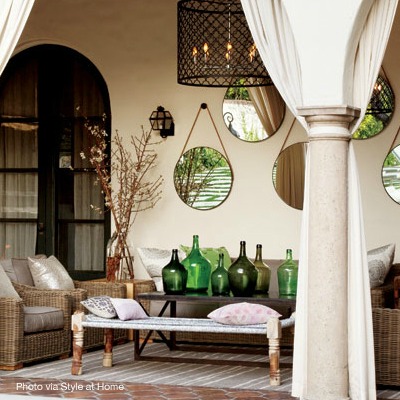 Style at Home | Design by Lara McGraw | Photo by Donna Griffith
As you can see, there are many places to hang a mirror outdoors, including the fence, porch, patio, garden shed and more!
Outdoor Mirror Tips
What will the mirror reflect? Make sure it's something you want to draw attention to!
If there's soil below, hang the mirror a bit off the ground to prevent splash marks.
If hanging in an unprotected area, only use types that are intended for exteriors (such as an acrylic garden mirror).
Finish the mirror frame in an exterior grade paint or stain.
Secure the mirror tightly to a sturdy surface (using screws and/or wire). Be wary of high wind areas!
Have you started thinking about decorating your outdoor space yet? Ever considered hanging a mirror outside? I'm definitely going to find a way this season!
More OUtdoor Decorating Ideas
Want more home decorating ideas like these sent directly to your inbox? Be sure to SUBSCRIBE.
Have a fantastic day!