Outdoor Decorating Ideas: Lanterns
Looking for outdoor decorating ideas? Lanterns are functional, beautiful and versatile. Add ambiance and character to your outdoor space.
Earlier this week, I shared a round-up of some of my favourite outdoor lanterns I've come across so far this spring. With the outdoor entertaining season already starting for some and in the near future for the rest of us (fingers crossed), it's always nice to add something new to the mix. Lanterns are one of my top choices for outdoor decorating, as they're not only functional and beautiful, but they're also one of the most versatile garden decor pieces you can find.
Decorating with Lanterns Outdoors
One of my favourite ways to decorate with lanterns is grouping various sizes of the same style together on a front porch, landing, or patio.
Pottery Barn
Hanging lanterns from trees, pergolas, or arbors are an effective way to draw the eye up and bring a bit of romance to an outdoor space.
Photo by Adrienne DeRosa
I adore the look of hanging paper lanterns for parties. So pretty!
As an option, lanterns can be hung on the side of a shed or alongside a fence.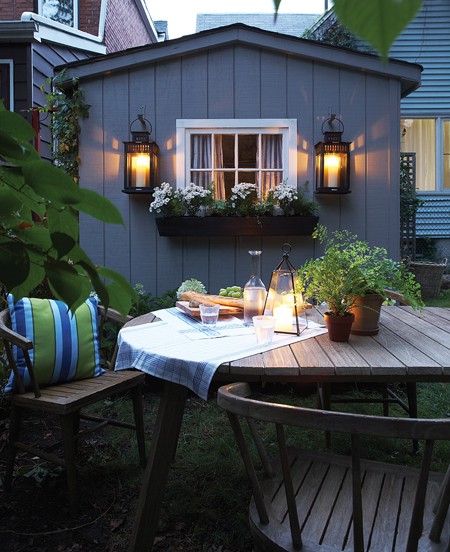 House & Home | Photo by Michael Graydon
Or placed down the center of an outdoor dining table.
Of course, lanterns always look amazing nestled in as part of the landscape.
And lastly, taking any of these outdoor decorating ideas and combining them yields big impact for sure.
Chatelaine | Photo by Roberto Caruso
Are lanterns part of your outdoor decorating scheme? What's your favourite way to use them?
One other thing before you head off… If you're looking for more useful and pretty ideas in your life, make sure you're on the email list! You can subscribe here.
Enjoy your day!