10+ Ways to Decorate With Glass Cylinders
Have a cabinet full of glass cylinders? Here are some ideas for making good use of them in almost every room in your home.
If I think about how many glass cylinder vases I have in my own home, I'd say there are at least a dozen. Some of these are always on display, whereas others are pulled out from time to time for seasonal decorating or entertaining. To me, they're a decor staple. I love that they're available at many price points too. With their simple and classic shape, as well as versatility, it's no wonder glass cylinders have become a favourite amongst decorators.
Today I thought I'd gather together some of my favourite ways to make good use of glass cylinders in almost every room in your house. Chances are you have at least one or two sitting around. If not, they're available at almost every thrift store for next to nothing!
Ways to Decorate with Glass Cylinders
Use one small glass cylinder within a larger one to create interesting candle holders with items sandwiched between. This wine cork candle holder by Two Twenty One is perfect for a table centerpiece.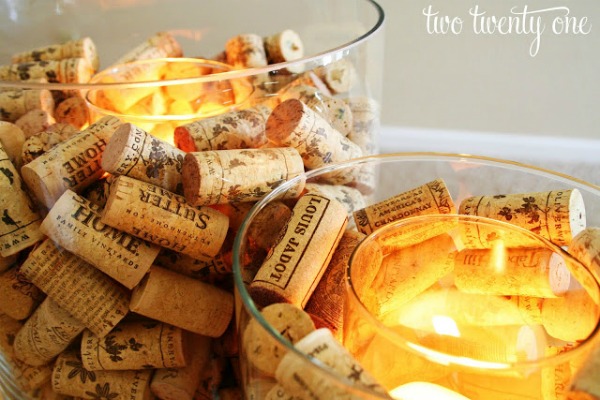 There are many other ways to use glass cylinders as candle holders. Play around with different materials depending on the season, occasion, or a particular style that complements your decor.
Use glass cylinders to hold mementos from your travels. We have a collection of shells and coral on our family room side table.
Try grouping several vases of varying heights together for a beautiful impact. Keep the objects within each vase a similar theme or color.
Glass cylinders are a clever storage solution in the bathroom. A tall slender one works perfectly for toilet paper storage, whereas smaller ones can be used for makeup brushes or extra soap.
Use a cylinder vase to hold lemons or other fruit. Not only does this bring a pop of colour to the kitchen, it doubles as a pretty storage vessel.
Another use is in the craft room or office. Check out this repurposed wine rack and glass cylinder combo for holding crayons, markers, paint brushes and more. So clever!
Remove your plants from the plastic pots they came in and place in glass cylinder vases. These potted orchid plants topped with moss are a beautiful addition to any room.
Of course, it's also hard to beat a glass cylinder vase filled with flowers.
Finally, glass cylinders can also be used purely for function like this vase placed inside a rubber boot filled with tulips. So adorable for spring!
Other Ways to Use Glass Cylinders
planter for succulents
kitchen utensil holder
pantry storage for small packages
entryway table storage for keys, coins and more
gift basket alternative
dessert table (candy dishes) or snack table (popcorn bowls)
Do you have any other clear glass cylinder vase decorating ideas? How do you repurpose this decor staple? I'd love for you to share your ideas!
More Easy Decorating Ideas
Want more home decorating ideas like these sent directly to your inbox? Be sure to SUBSCRIBE.
Enjoy your day,