Sharing the top decorating ideas from our recent showhome tour, including a white and marble kitchen, herringbone tile floor and interesting backsplash.
Although we planned on making our way to visit our new baby niece this weekend, freezing rain forced us to stay fairly close to home. I was itching to get out of the house for a bit, so my husband and I decided to check out a few showhomes we hadn't been through yet in our area. Although there are few homes I walk through that I absolutely fall in love with, I often find there are parts of homes or certain features that give me ideas for client projects, our current home, as well as the one we plan on building within the next couple years.
Showhome 1
The first home we visited had great flow, and we particularly liked how open the kitchen, breakfast area, and living room were to each other. It would be the perfect space for entertaining. We also liked how the stools tucked neatly under the island.
The warm colour palette was also appealing for the snowy/rainy day we were having. Although I tend to like light and airy spaces, they can feel cold in our Canadian climate. Achieving the perfect balance can be tricky.
Showhome 2
The second house we toured had a different feel all together. The kitchen was my favourite by far. I loved the marble countertops and white cabinets (not so much the nutmeg floor).
The backsplash was a simple subway tile, but the herringbone pattern it was installed in really elevated the look.
The living room was next to the kitchen. Although it had many components going for it like panel detailing, built-ins and a fireplace, the scale of everything seemed a bit off. A large area rug would've helped this space out a lot.
We did like the coffered ceiling and the soft blue-grey colour that was painted in the recessed portions.
This home had a beautiful view looking down the stairs. We both really liked the orb light fixture, which I can imagine would look stunning through the upper window at night.
Another room we liked aspects of in this house was the combination of the master bathroom and dressing room. Although the layout of the bathroom seemed a bit strange, the finishes and detailing were gorgeous.
The interesting herringbone layout of the tile was carried on here as well.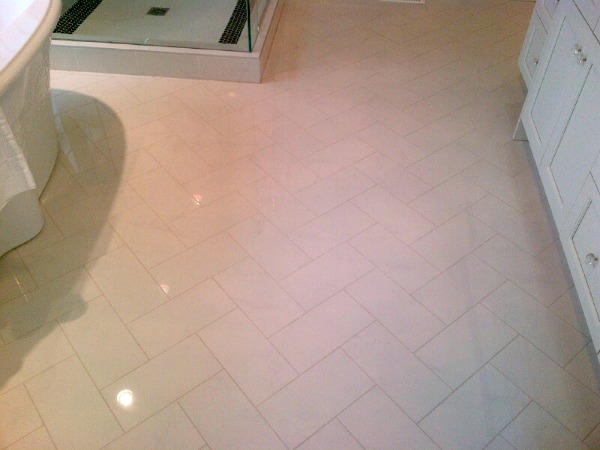 The built-in clothing storage cabinet in the adjoining dressing room replaced the need for a large dresser in the master bedroom. I like the idea of having my clothes in one area.
Showhome 3
The final home of our tour was a bit disappointing. However, I was really drawn to the calming blue-grey colour in the master bedroom. Pretty, right?
Have you visited a showhome recently? What have you seen that made your own wish list? Anything about these homes we toured that caught your eye too?
xo,