Functional Laundry Room + More Showhome Highlights
Functional laundry room on your wishlist? I'm coveting these pull-out sorting bins, quartz countertops and more!
How was your weekend? It rained on and off around here. After running some errands and doing some chores around the house, we decided to check out some showhomes. With the plan to build a new house within the next two to three years, we're always on the lookout for clever design, decorating and organizing ideas. Sometimes it takes going through several homes to come across anything I truly love, but this time we were fortunate to find a few elements to add to our wish list, including a functional laundry room.
The first home we visited was a $2 million hospital lottery home. Much larger than we would ever want, it had a few take-away ideas like a gorgeous master ensuite with separate his and hers vanities, a butler's pantry just off the kitchen and dining room, as well as over-scaled light fixtures atop the kitchen island.
The next home in the same area had a gorgeous girl's room (something we don't need, but I thought was adorable!). I loved the purple graphic upholstered headboards and layers of large and small-scaled patterned fabrics with a touch of turquoise. So chic!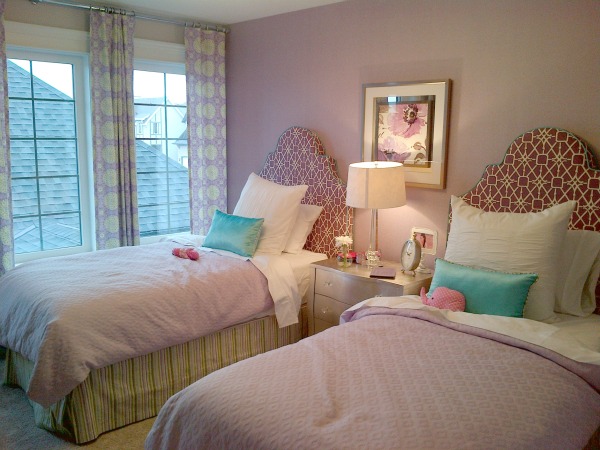 Probably what stood out to me the most about this home was the functional laundry room with areas for sorting, folding, hand-washing, air-drying, as well as additional storage for supplies.
Usually laundry rooms are tiny like the one we currently have, but this one finished in a soothing grey, green and white palette made my heart go pitter-patter!
I could definitely use those built-in sorting bins! You?
Although we went through one more showhome, there wasn't anything that stood out to me. However, we really liked this area and the style of many of the homes, and definitely plan on taking a trip back to go through the rest.
Be sure to check out the highlights from our last showhome tour.
Do you like snooping through showhomes for inspiration? Is a beautiful and functional laundry room a must-have on your dream home list?
xo,