Holy moly, can you believe Christmas is less than 3 weeks away! I'm feeling good about having our tree and front porch decorated, our cards almost ready to go out, and the handmade gifts I had planned for this year pretty much done.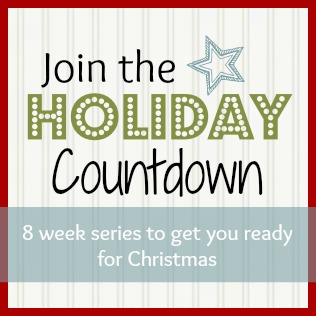 I still have a few gifts to buy, but for the most part I'd say all is on track. Here's a sneak peek of our tree.
How is your countdown to Christmas going? If you've missed any weeks along the way, be sure to catch up on the full 2012 Holiday Countdown Series.
This Week's Holiday Countdown Homework
Do some baking.
I used to do a lot of baking for Christmas when my son was little and my husband and I could eat anything we wanted to without gaining weight (oh, I long for those days). The past few years, I've narrowed it down to a few favorites, and I'll try a new recipe if it peaks my interest. A couple years ago, my husband's aunt shared the easiest chocolate caramel pecan pretzel recipe with me and I think it will be on the list again this year. There are so many easy recipes out there that I think everyone should make at least one thing. I encourage you to get the family involved. I remember popcorn-ball-making-night when I was growing up. The best part was licking the caramel goodness off my hands when we were done.
Here are some fabulous Holiday Recipes:
If you remember back to week 2 I talked about organizing a cookie exchange. This week I'll be doing the baking for that, and we plan on exchanging early next week. My nutritionist friend Karen is planning on making a healthier alternative that I'm excited to give a try.
On December 13, I'll be sharing the recipes and photos, as well as hosting a Cookie Exchange Link Party for you to share your recipes.
Set up a gift-wrapping station.
There's nothing worse than being disorganized while wrapping gifts. When we did our basement renovation this summer, I set up somewhat of a craft/gift-wrapping room, with a project table, additional lighting and storage. For my Christmas wrapping supplies, I keep everything in a large plastic tub, with a series of smaller sorted boxes within. Before I used to haul it up to my kitchen table and then I'd pull the stuff out and have to put it away so we could eat. Now I can leave everything out on my project table and close the door until all the gifts are wrapped- so much simpler! Someday, I'd love a wrapping station like this.
Plan your food and drinks.
We don't host Christmas at our house, but planning what we're going to take with us for food and drinks ahead of time really helps out. If you host Christmas, do your menu planning now and create your grocery list. Try to purchase everything you can ahead of time so you only need to do a small shopping trip closer to Christmas when it's chaotic. Also, consider preparing dishes you can pop in the freezer and pull out when needed.
A big thank you to everyone who has been following this series. I enjoy reading all your wonderful comments. I'm having a blast putting it together and it's definitely keeping me on my toes! I'd love for you to share what you've been doing to prepare for Christmas at the link parties. All will be open until December 25.
Enjoy your weekend,