If you're a regular reader of this blog, you're most likely aware that one of my favorite things to do is peruse thrift shops or flea markets whenever I get the chance. I've become very disciplined with my purchases ever since I laid out some ground rules for thrifting earlier this year. So difficult, but so necessary! Only buying items I have a definite plan for has really kept the clutter in our basement storage rooms to a minimum.
With that being said, I was thrilled to stumble across a couple vintage tea towels at a local thrift shop last week. I have been coveting similar Anthropologie dish towels, but we're far too hard on ours (think overflowing coffee maker like the one I experienced this morning!) to spend in the ballpark of $20 each. Instead, I picked up both of these for $3!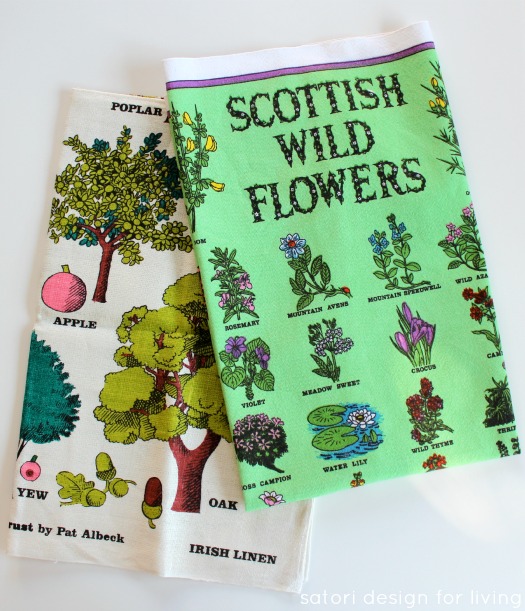 The "Scottish Wild Flowers" cotton tea towel was created by Glen Appin, a Scottish textile and gift company dating back to 1903. I love the summery colors and simple illustrations of some of my favorite flowers.
The Irish linen "Treetowel" was designed by Pat Albeck, a British artist who made a big impact on the textile, pottery, and paper industries from the 1950's to 2007. Based on the colors, I'm guessing it's from the 70's. Although it has never been used, making it more valuable, I still plan on washing it up and putting it to work.
If you're looking for vintage tea towels to add some fun and whimsy to your kitchen, there's a fantastic selection on Etsy in a variety of styles. However, you may have to hit some thrift shops to find a good deal like I did.
Drying Art
Nutmeg Vintage
Do you like to add a touch of vintage to your kitchen? What have you found that was a steal of a deal?
Enjoy your day,