Honey & Rosemary Blackberry Jam
Make this homemade blackberry jam infused with rosemary and sweetened with honey. Plus, get the recipes for 4 other tasty preserves!
Growing up, I remember picking raspberries from our garden every summer so my mom could make raspberry jam. It was so much better than store-bought, especially on homemade bread she'd often make on Saturday afternoons too. And apricot jam, that was always my favourite. Yes, she was that kind of mom…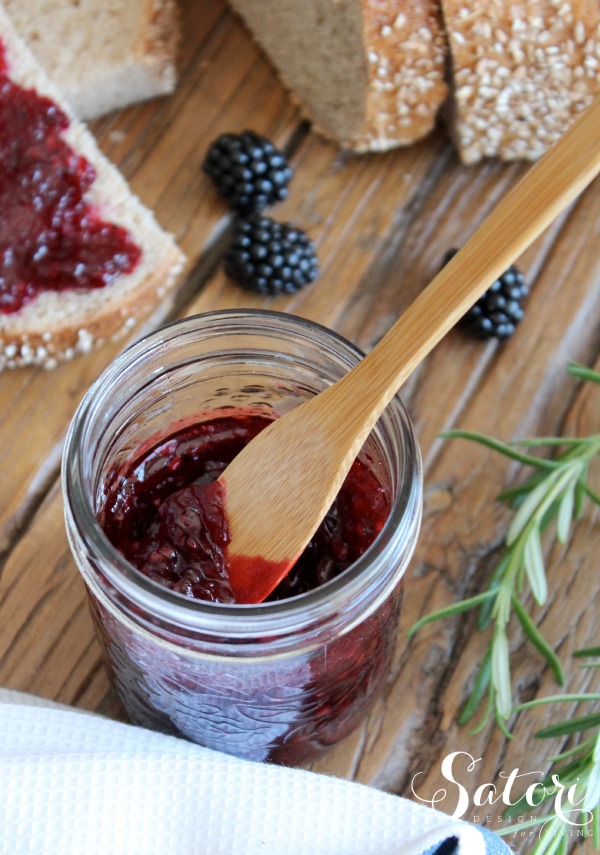 To this day, there's something nostalgic about making preserves. Whether it's traditional dill pickles and strawberry jam, or something a little different like apple butter and mango chutney. With each jar, I'm taken back to growing up on the farm and stocking the cellar shelves one-by-one to prepare for winter.
These days, canning at our house may not be what it was like on the farm, but I do like to try a little each and every autumn. Usually, it's jalapeno pickled carrots or a variety or salsa to use up our buckets of tomatoes (why do I grow so many every year?).
Homemade Blackberry Jam Recipe
This time, after spotting plump and gorgeous blackberries at the market, I thought I'd try honey-sweetened blackberry jam infused with a hint of fresh rosemary from our garden. It's a bit of a twist on a classic preserve that's very tasty and super versatile.
Have you tried blackberry jam made with honey? So delicious!
Aside from the typical toast and jam, this blackberry preserve makes a delicious appetizer when combined with brie cheese and crackers. It can also be warmed up and served with pork.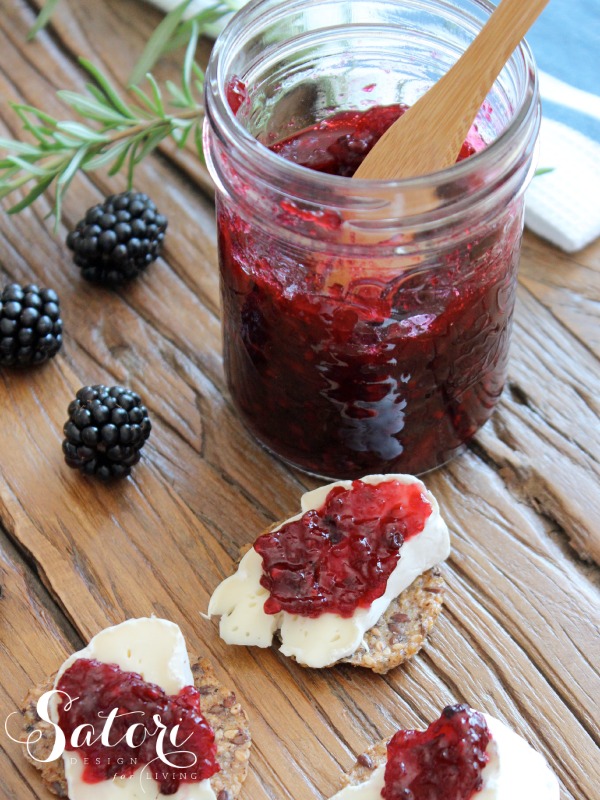 And why not spread the love by sharing with some friends! Wrap your rosemary blackberry jam with a bit of brown paper and jute for a handcrafted look.
Handmade gifts from the kitchen are the best, right?
So, how do you make blackberry rosemary jam sweetened with honey? It's fairly simple if you follow the steps closely in the recipe card below. Enjoy!
Note: Always follow safe canning procedures.
Honey and Rosemary Blackberry Jam
A delicious blackberry spread with a hint of rosemary that's tasty on toast, served with brie or paired with pork.
Ingredients
10

cups

fresh blackberries

washed and dried thoroughly

1

package

40 g pectin crystals for lower-sugar recipes

¼

cup

sugar

2

cups

honey

creamed, not liquid

2

tablespoons

fresh lemon juice

2

tablespoons

chopped fresh rosemary

8

sterilized jars

about 250 ml or 8 oz. with lids and screw bands
Instructions
Begin by adding 1 cup of blackberries to a large heavy pot. Crush with a potato masher and repeat the process until all 10 cups are used up.

Stir in pectin and sugar, and bring to a full boil over medium heat, stirring often.

While it's cooking, prepare the jars by filling each one with boiling water (I put mine in a large pot in a clean sink). Place the lids and screw bands in a saucepan, cover with water, and simmer over low heat on the stove.

Add honey and lemon juice, and return to a full boil, stirring constantly.

Turn heat off and stir in rosemary.

Just before filling each jar, dump the water out, dry outside with a clean cloth and laddle the hot jam mixture in until it's ¼" from the top (be careful not to burn yourself!). Wipe the jar rim with a clean towel and place a lid from the saucepan over top. Screw a band on until just tight. Quickly repeat the process until all of the jam is used up.

Place jars in a boiling water bath (water should cover top of lids) for 10 to 15 minutes, remove and rest on the counter undisturbed until cooled. See notes below for sealing instructions.
Notes
Sealed jars will have a concave lid and won't spring up when you press down. Unsealed jars can be topped with hot paraffin canning wax to form a seal, or kept in the fridge for up to 3 months.

Store sealed jars in a dark cool place and always refrigerate jam after it's been opened.
More Canning Recipes
Intimidated by canning and preserving? I've teamed up with 4 other bloggers to show you that it's easier than you think. No matter how much experience you've had, there's a sweet or savoury recipe for you!
Honey & Rosemary Blackberry Jam by Shauna from Satori Design for Living
Homemade Sweet Crunchy Pickles by Angie from Echoes of Laughter
Easy Refrigerator Pickles by Lucy from Craftberry Bush
Blueberry Baked Brie Topping by Heather from Home to Heather
Spicy Pickled Carrots + Canning 101 Tips and Tricks by Crystal from Sew Creative
Tried any canning of your own before? Have a favourite blackberry jam recipe? What about other blackberry canning recipes?
For an even easier recipe, check out this spinach and basil pesto you can pop in the freezer.
Thanks for stopping by,