Beautiful Front Door Paint Colors
Painting your front door is one of the best ways to add character and curb appeal to your home. Get inspired by these tried and true front door paint colors!
Spring is just around the corner, which means I can't help but think about outdoor improvement projects. There's something about getting outside after being cooped up all winter and sprucing our exteriors up, isn't there?
One of the outdoor decorating topics I get asked so many questions about is front door paint colors. Are red doors still in? Should I paint my door the same color as my trim? Is my dark blue-grey door high maintenance? All of these are fantastic decorating questions that really can't be answered with a simple yes or no. Let me explain…
A bit ago, I helped Nicole pick a front door color and offered suggestions for adding more curb appeal to her home. If you're contemplating a new door color, I suggest heading over to that post as well for a list of important things to consider before making your final paint selection.
Front Door Paint Colors
In my opinion, front door paint colors are highly personal. Sure, the undertone needs to work with the other exterior colors of the home first and foremost, but there are so many different options that will work for one particular home. With that being said, I've rounded up some beautiful front door inspiration pictures, as well as some specific paint colors (with all the details) to help you narrow down your choice. Enjoy!
Light Blue and Aqua Front Doors
Sherwin Williams Waterscape Door via Addison's Wonderland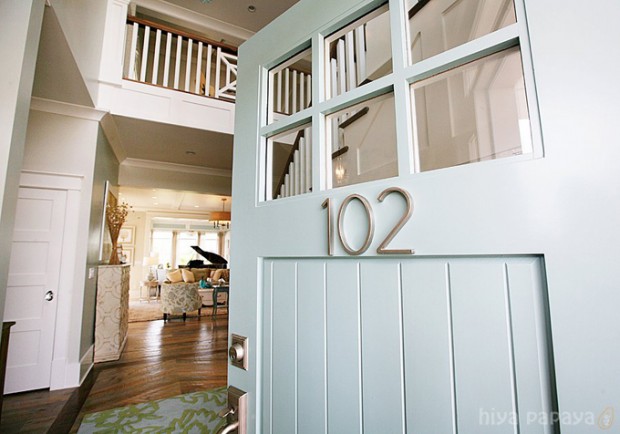 Benjamin Moore Wythe Blue Door by Hiya Papaya via House of Turquoise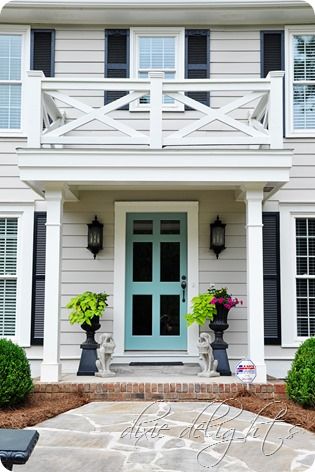 Benjamin Moore Grenada Villa Door via Dixie Delights
Or for something a little on the brighter turquoise side, this Starry Sky door spotted on HGTV is lovely too!
I seem to be drawn to all shades of blue when it comes to front doors. It's definitely one of my favorites paired with grey siding.
Go here to see some of my favorite blue door paint color picks.
Green and Chartreuse Front Doors
Valspar Crushed Oregano Door via Jenna Burger
If blue really isn't your thing when it comes to exterior paint, green may be a better option.
This soft green front door spotted on Better Homes & Gardens pairs nicely with the white siding and black shutters. I find it to be playful next to the traditional style of the home.
For a little more punch, I'd go with a bright green door like this Sassy Green one found on This Old House.
Sherwin Williams Antiquity Door via Chic Little House
Yellow Front Doors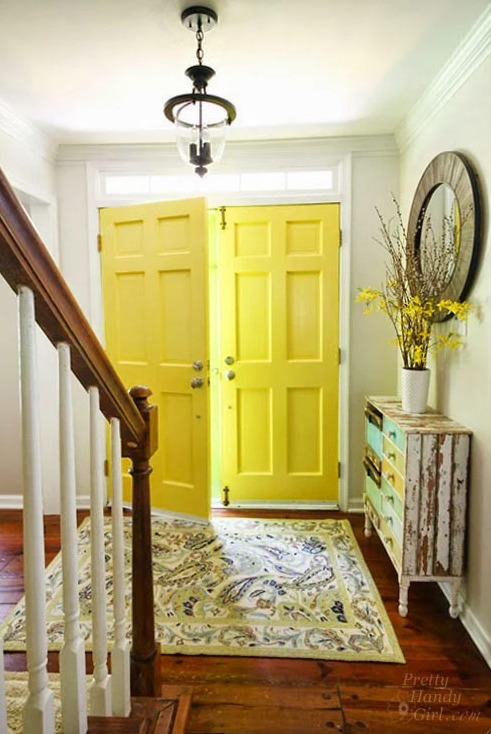 Benjamin Moore Yellow Highlighter Doors via Pretty Handy Girl
Don't forget about painting the interior of the door too. A bright pop like these fabulous yellow doors can waken up your entryway!
I'm loving the punch of this bright yellow door in addition to this canary yellow dutch door (both spotted on Better Homes & Gardens). Quite the impact with a small amount of paint.
For something a little more subdued, a butter yellow door is a nice option. I love the look of a gray house with yellow door. You too?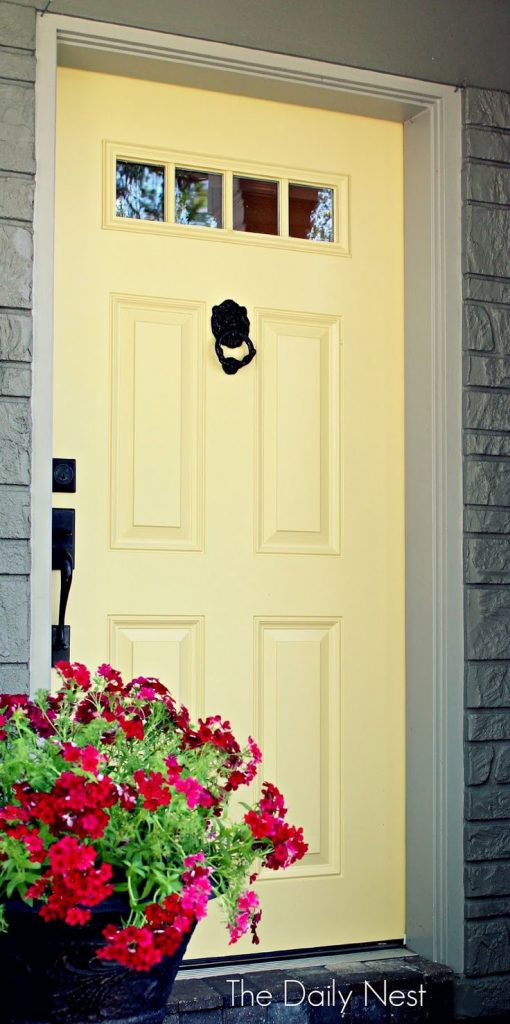 Sherwin Williams Beeswax Door (old version) via The Daily Nest
Red Front Doors
Sherwin Williams Primary Red Door via Sophia's Decor
If you're looking for high impact, red may be the perfect color for your front door. This red dutch door is probably my favorite in the bunch. I just love the style of these split doors. Someday I'll have my own!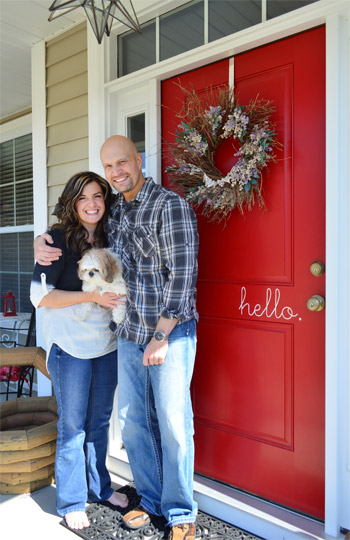 Benjamin Moore Heritage Red Door via Young House Love
Did one particular front door color stand out in the bunch? Do you prefer a brightly colored front door or one that's more subdued?
I could easily live with any of these door color picks depending on the setting or style of the house. They're all well-designed in my opinion.
What Color Should I Paint My Front Door?
I've narrowed down a few of my favorite paint color names and brands that coincide with many of the front door paint color pictures above. Find front door paint color options from Benjamin Moore and Sherwin Williams.
Tell me, what color is your front door painted? Thinking about changing your exterior paint colors?
I'm still enjoying ours, but some of these gorgeous options have me thinking.
(And to answer the question from the top: I simply wipe the dust off our door every few weeks in the summer and it's good to go. That's the beauty of semi-gloss paint.)
What Kind of Paint Should You Use on a Front Door?
Be sure to use a quality exterior latex paint that stands up to the elements. One that's a paint and primer combo is ideal.
As an option, you could also have it sprayed for a flawless finish.
I highly suggest waiting until the weather is warm and dry so the paint adheres properly.
More Outdoor Paint Color Picks
And, if you're looking for more front door color ideas, these are some of my favorites: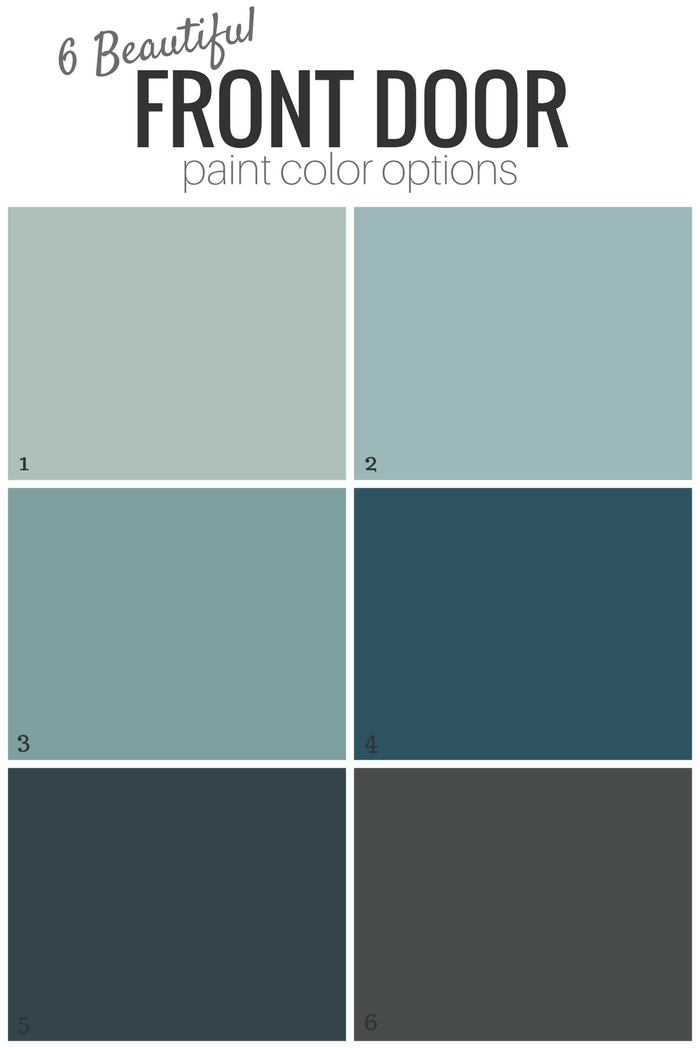 You can also check out the paint color gallery for even more suggestions.
Want more paint colour suggestions like these sent directly to your inbox? Be sure to SUBSCRIBE.
Happy painting!