Welcome to Part Two of the Designer Challenge– chair edition! I'm thrilled to welcome Anna of Directions Not Included. I discovered Anna quite recently when I read 'My Favorite Things' gift exchange she did with our mutual blogging friend Tiffany of Living Savvy. I knew I wanted to get to know this gal when I saw the care and detail she put into selecting just the right items to send. Since then, I've been reading posts about her home remodelling projects, transforming what she calls the UGHLY to pretty. I can't wait for you to see what she did! (If you missed Part One, be sure to catch up on the three chair options and find out what Shandra put together.)
*This post contains affiliate links. See my blog policies here.

Hi there! I'm Anna from Directions Not Included. My husband and I are busy renovating an original 1950s Florida home so I've been documenting our renovation, decorating and crafting projects along the way. I'm excited that Shauna asked me to be part of this designer challenge. Designer challenge? Me? I'm not exactly confident in my decorating skills but I'm flattered. It might have made me blush when I got the email ;)
When Shauna sent through the choices for this month's challenge I instantly was drawn to the Blake Grey Wash Lounge Chair. It seemed like the perfect fit for a nice sun room or sitting area with big open windows.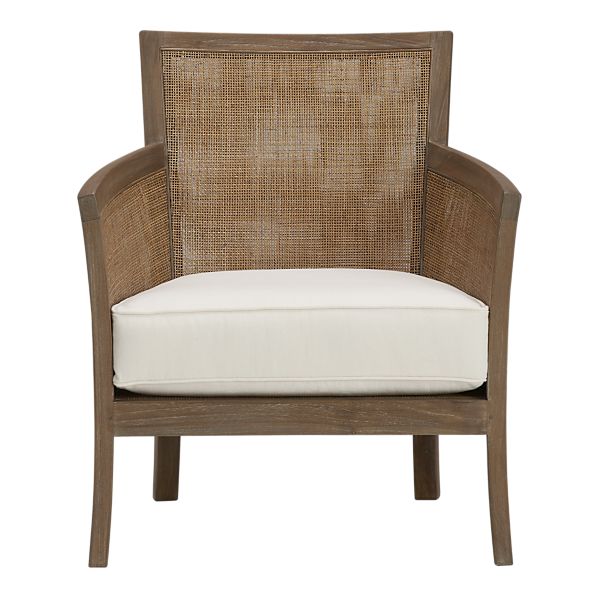 I've been crushing on coral, both the color and the animal (yes, coral is actually an animal and not a plant!) so I love these dainty coral pillows from Pier 1. Pair that with a fun rattan style ottoman and a striped rug and the room starts head into the relaxed beachy direction. To keep things light, I also added a simple glass lamp from Ballard Designs to the mix. I may or may not already be daydreaming of putting my feet up and sipping a nice glass of wine enjoying the afternoon with a book…anyone care to join me?
Thanks for having me Shauna!
Anna, you have me dreaming of summertime Sunday afternoons. I will definitely join you! I, too, am a big fan of coral and love the mix of textures you've put together.
What do you think? Would you select the Blake Grey Wash Lounge Chair like Anna or go for one of the other options? I'd love to know.