White & Marble Fireplace (The Makeover Details)
Our white fireplace makeover is done! Find out how we used inexpensive trim, BM White Dove paint and marble subway tile to give it a fresh new look.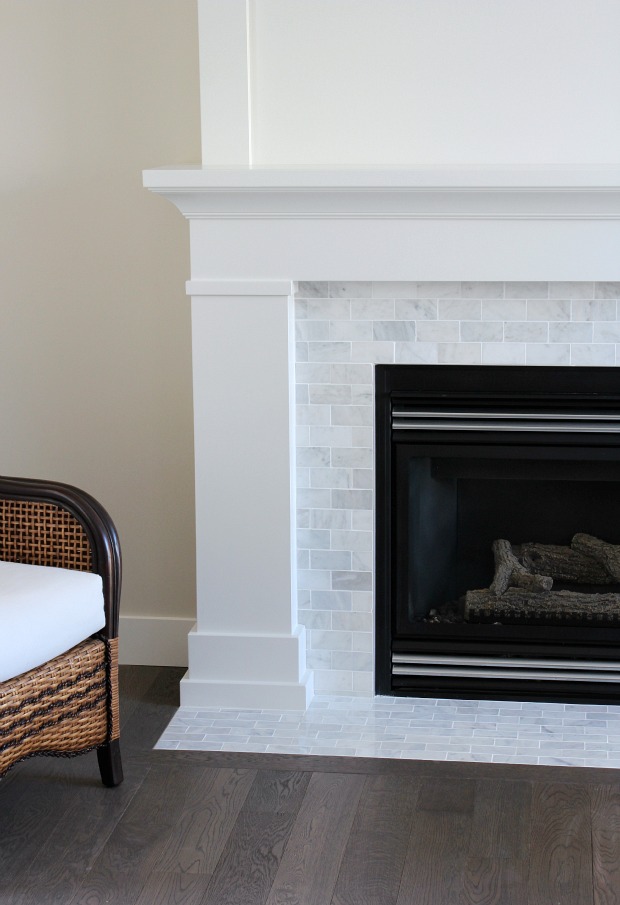 A big thank you to Metrie for partnering with us on our fireplace makeover. As always, opinions are 100% my own.
I've been looking forward to sharing our fireplace makeover with you for quite some time now. It seems like an eternity since we started this home improvement project, doesn't it? I even joked way back in the summer about getting it done in time to hang our stockings for Christmas. It looks like we made it, but with little time to spare. Phew!
Thankfully, it's been a mild fall and we really haven't missed using our fireplace all that much. But, with the hefty dump of snow we got this week, the timing couldn't be better to fire it back up. And, with its fresh new look, I simply cannot wait to decorate it all up for the holiday season!
When we started our main floor renovation, the plan was to update the fireplace using as much of the original structure as possible to keep costs down. We didn't mind the existing mantel, but the textured surface, rounded corners and arch all had to go.
Most of the time, I keep our fireplace decor to a minimum. I usually start with a mirror, lean a piece of artwork in front and finish it off with a potted plant or candle. However, a few times a year, I do enjoy adding more layers, so a mantel on the generous side is best for us.
Fireplace Makeover Process
Ready to see what it took to update our fireplace? I'll walk you through the process…
Building the Fireplace Mantel and Adding Detail
In order to get the depth we were looking for, we first had to push back the upper section of the old fireplace before the whole thing could be covered in drywall. That meant being left with gaping holes where the original framing was- ugh. We had no other choice but to build a new mantel.
Since we were planning on painting the entire fireplace white (I do love a white fireplace), we were able to keep costs down by using MDF and simple mouldings from Metrie to trim it out.
I came up with a rough plan for our fireplace makeover and worked with our carpenter to get the design just right. And, because so many of you asked, I put together a post that includes front and side view drawings of the fireplace along with measurements. I also included a list of building materials.
Our carpenter cut a sheet of 3/4″ MDF to finish off the top of the mantel (which fit like a glove I must add!) and used the same material to trim it out along the front (mitering the corners). He then used it to create the layers at the bottom for the baseboard. To finish it off, we applied MDF casing, door stop material and crown moulding.
We wanted a clean look, but there are many trim styles to choose from if you're looking for something with a little more detail. It's definitely an inexpensive way to add character to a fireplace.
Painting the Fireplace BM White Dove
All of the nail holes were filled and sanded, then everything was primed and sprayed in Benjamin Moore White Dove. Thanks to our painter, the finish turned out flawless!
While we were in the mess, we decided to scrape the popcorn ceiling and carried the same Fashion Forward crown moulding around the entire living room. It's amazing how a simple detail like this can really elevate the look of a room.
Here's how it looks now with the ceiling painted in White Dove (flat finish) and recessed light fixtures installed. I can't believe the overall difference it made to the brightness of the living room.
Marble Tile Fireplace Surround
For the fireplace surround and hearth, we selected 2×4 inch polished Carrara marble subway tile. It's the perfect combination of grey, taupe and white, which helps tie the colours of the entire main floor together.
I believe it's a style that will stand the test of time, plus I love the look of a marble fireplace surround!
Because marble can vary so much in colour, it's important to see how the sheets of tile look next to each other before installing.
After laying them all out, I had to exchange a few at the store to get just the right balance, as some were considerably lighter or darker than the others. There were even a few that had weird yellow striations. I recommend doing this before your tile layer starts to avoid a huge disappointment.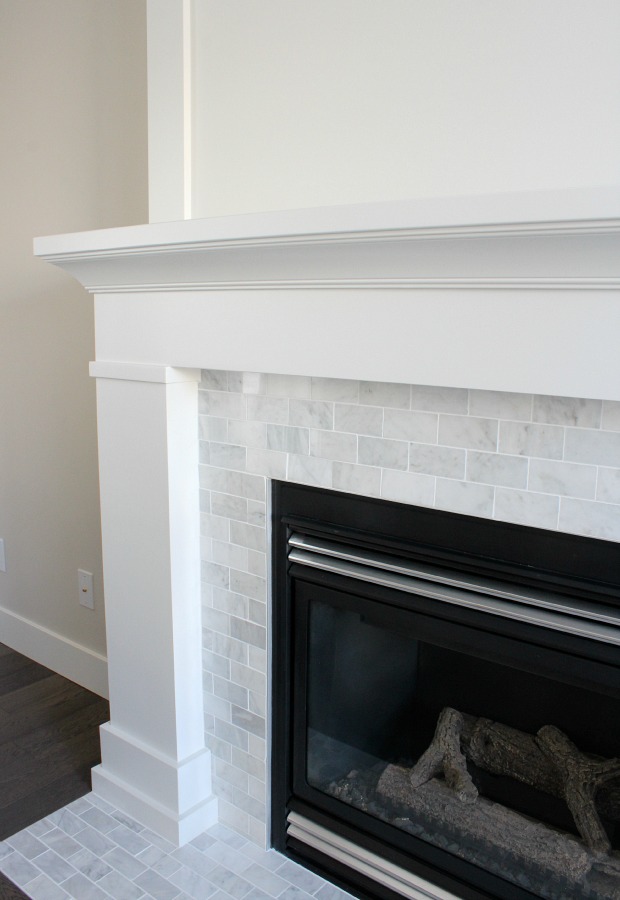 Our carpenter accounted for the tile depth when attaching the trim, so our tile installer was able to slide the marble underneath for a seamless look. Always plan ahead.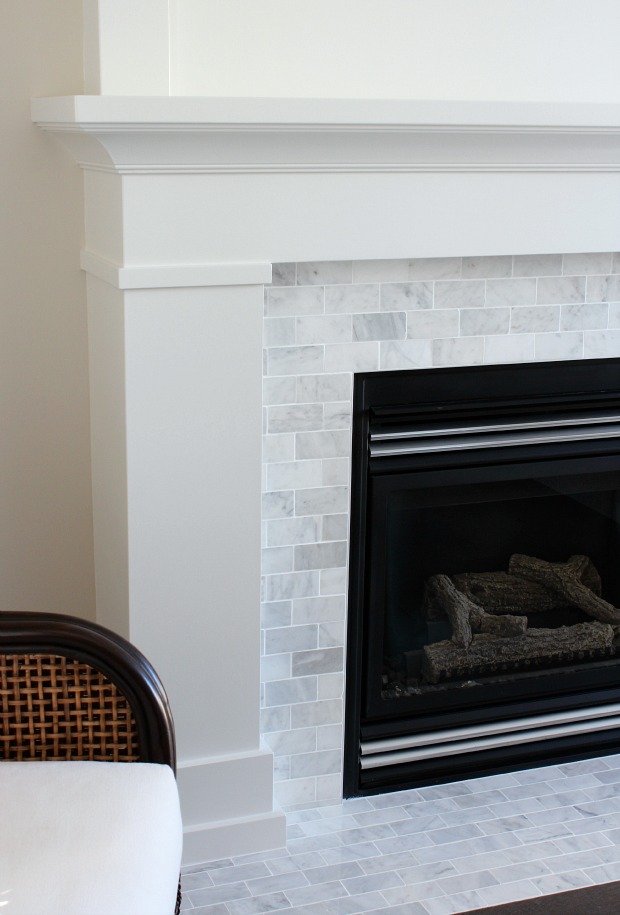 We opted to go with white grout to match the fireplace and trim throughout the rest of the living room (see details below).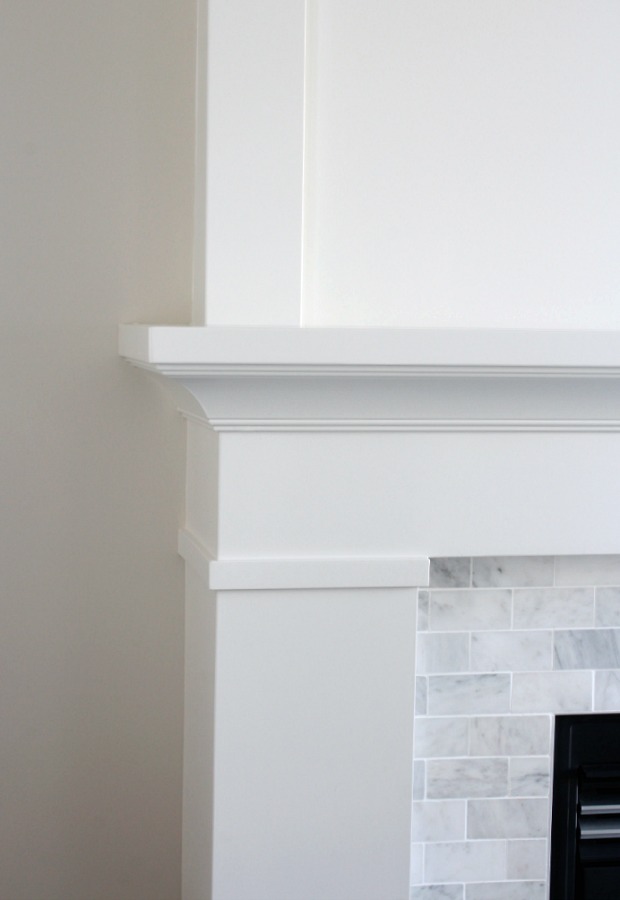 And, finally, to transition from the tile to the new hardwood we installed a picture frame. I love how it finishes off the whole look.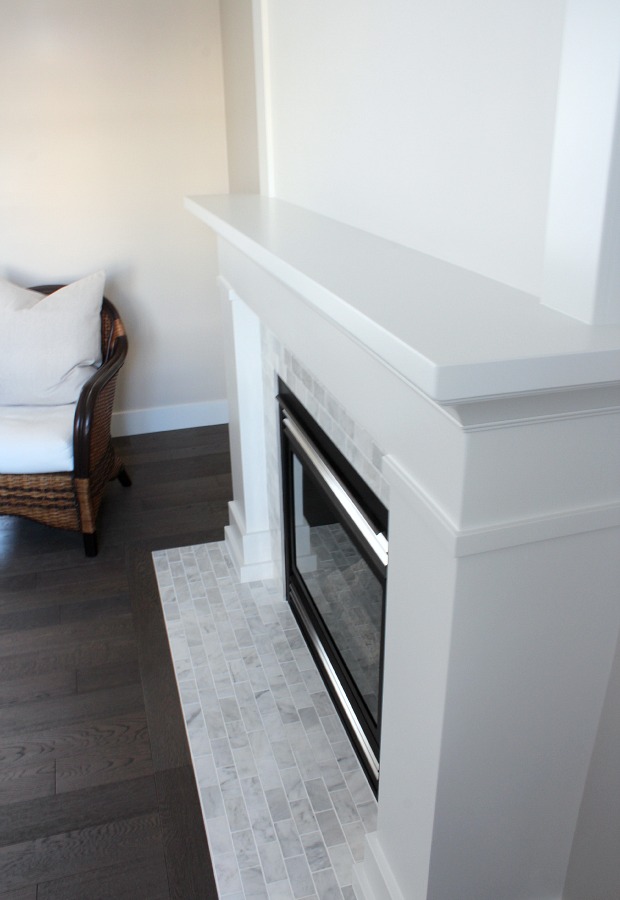 Fireplace Makeover Before and After
Fireplace Before: Here's a look again at the builder's basic fireplace we started with…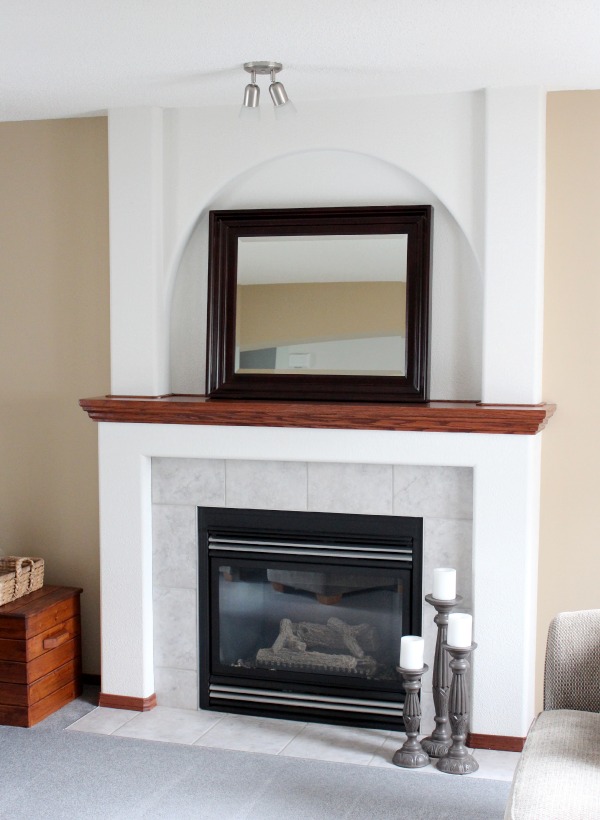 Progress: This is what it looked like after a minor fix up with paint…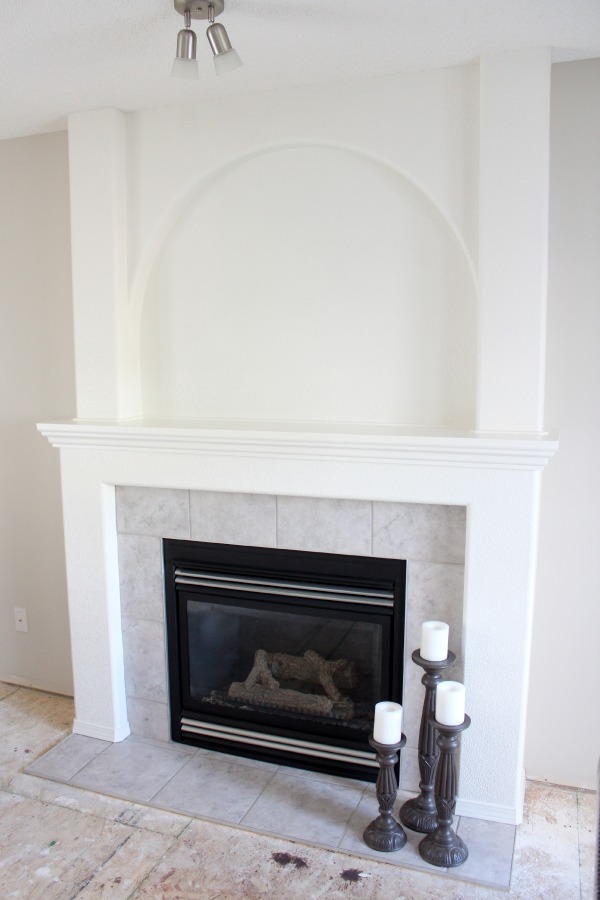 Fireplace After: Finally, here's a look at our renovated fireplace, with new trim, paint and marble subway tile!
If you're looking to transform your existing fireplace or build from scratch, here are the finishes we used: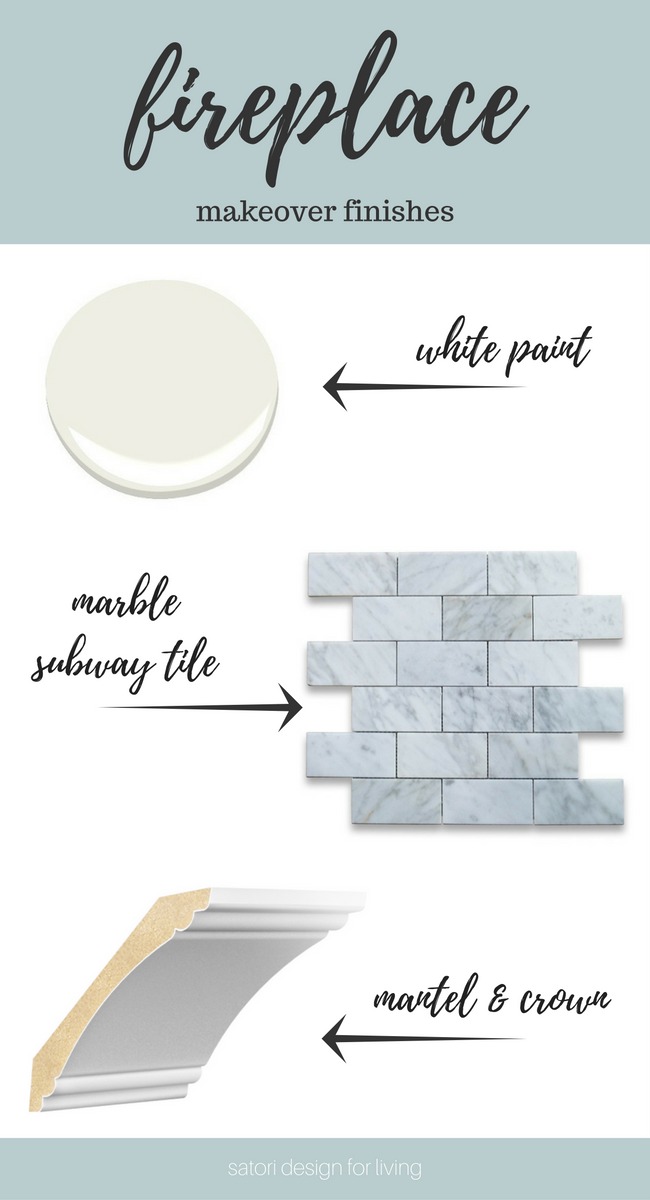 Fireplace Finishes Breakdown
*Some links are affiliates. Check out my blog policies.
I'm so happy to have one more renovation project crossed off our list. Basically, our living room is done except for the decorating, which will happen as I find the pieces we're looking for like an area rug, mirror, and artwork. It's always a process!
Be sure to pin this fireplace remodel for later!
Update: Be sure to check out our fireplace mantel decorated for the holidays.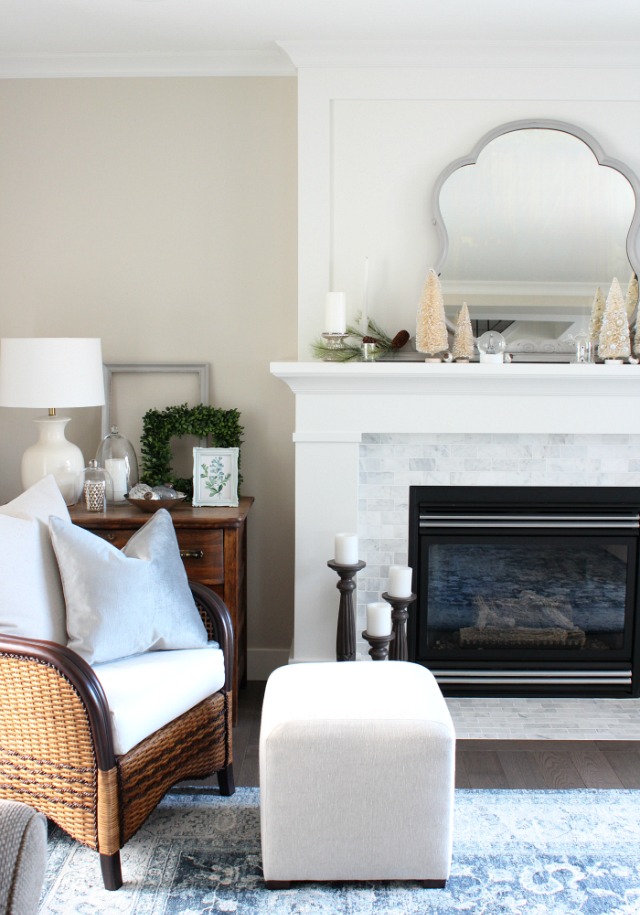 Curious about our living room decor? Head to the Shop Our Home page for many of those details.
And, if you're curious about the rest of the trim work details, see our shaker style baseboards, window casings and more.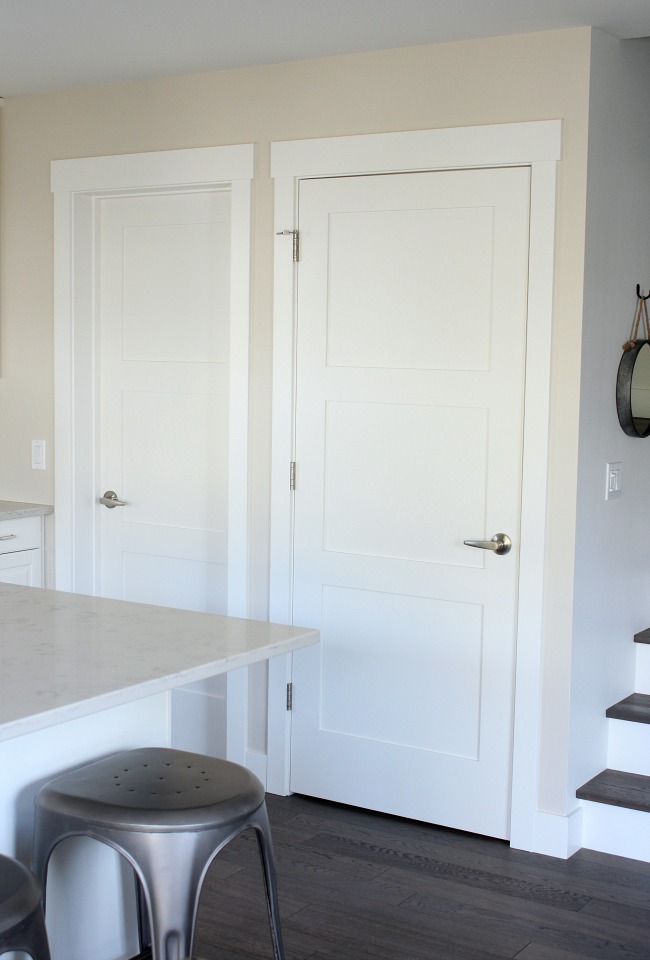 Have any of your own renovation projects going on? Are they going smoothly or are they a little on the challenging side?
Check out more of our home improvement projects, including our kitchen makeover.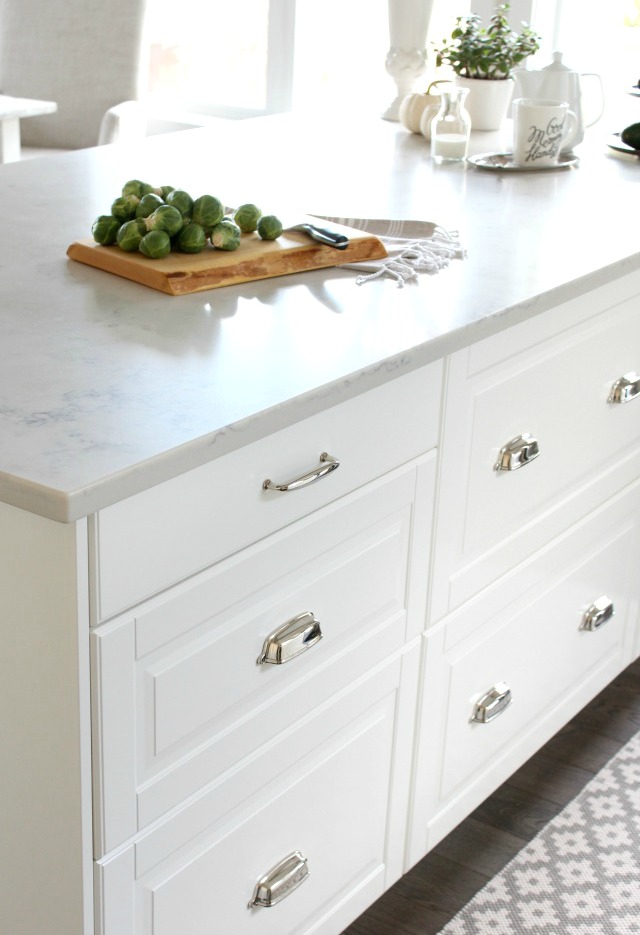 Want more home improvement projects like these sent directly to your inbox? Be sure to SUBSCRIBE.
Enjoy your day!