Staircase Update: Stripping & Staining the Wood
Is your staircase looking dated? Learn how to give it a fresh new look by stripping and staining the wood a beautiful new colour.
A while back, I shared the plans for our staircase makeover. It's a DIY project that's been long overdue, and I'm so excited to finally be making progress. As a reminder, here's the overall look we're going for (although ours is a little more closed in than this beauty)…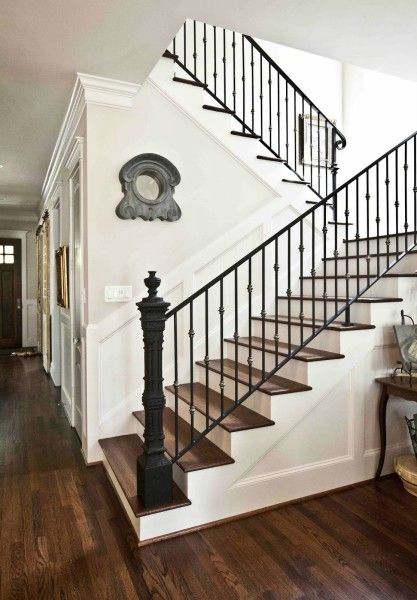 Cedar Hill Farmhouse via Eclectically Vintage
Staircase Update
Getting rid of the dingy carpet on the stairs was fairly simple aside from pulling out countless staples. I guess that's easy for me to say since my husband and son took care of it all. They're both really good at the destruction part of a renovation. Guys seem to really enjoy breaking things, don't they?
After that, we were still left with the orange-y red stain on the handrails and bottom part where the posts get screwed in (not sure what the technical term is for that). I thought about painting it the white trim colour, but I didn't think it would hold up well over time. Somehow, I knew stripping it down to the bare wood wasn't going to be a walk in the park, but I was willing to try.
Unfortunately, anything related to painting and staining is often handed off to me. Not because they're incapable, but I tend to be more detail oriented. Plus, I grew up on a farm where one tends to get a lot of experience in the painting and staining department to say the least. Know what I mean?
Some links used in this post are affiliates. Please refer to my disclosure policy for more information.
Removing Stain From Staircase
On one of my many trips to Home Depot over the course of this renovation, I came across a biodegradable furniture stripper called Bio Option that seemed like a safer alternative to some of the toxic ones that are readily available. I've heard good things about this stripping gel too. Being quite sensitive to chemicals, I thought I'd give it a whirl.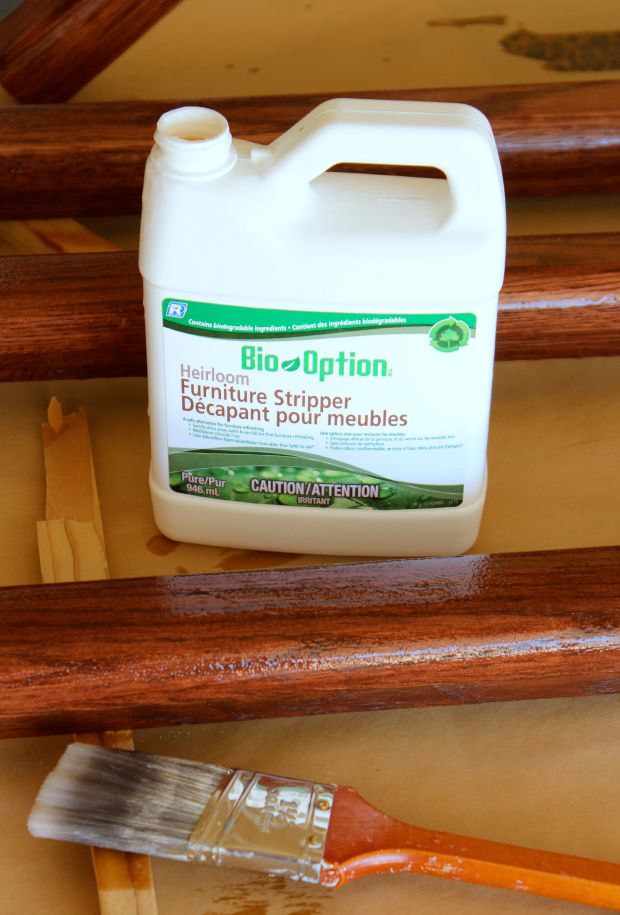 We removed the oak handrails and took them out to the garage where I had an old folding table lined with plastic and brown paper. I applied a generous coating of the stripper with an old paint brush to each one. Even though the product didn't have a harsh smell, I wore disposable gloves and a mask just to be safe. I also kept the garage door wide open for proper ventilation.
Each stain finish is different, of course, but allowing the product to sit for an hour or so before scraping with an old putty knife seemed to work best. I believe this wood had stain plus a clear coat or two, so it was a bit tough coming off. On some difficult areas, I had to apply the wood stripper twice and ended up using steel wool to get into the grooves.
To clean up the excess, the instructions said to use paint thinner. I wasn't too keen on it, but I did find one from the same brand that was low odour, which seemed to work well (mask and gloves, of course).
For the rest of the wood, I had to finish it inside. At first, I left the iron spindle part attached to the base (because I was home by myself and was too impatient to wait for my husband to come home to help), so I ended up taping everything off and tackling it that way. When you have someone coming to install the trim in two days you have no other choice, right?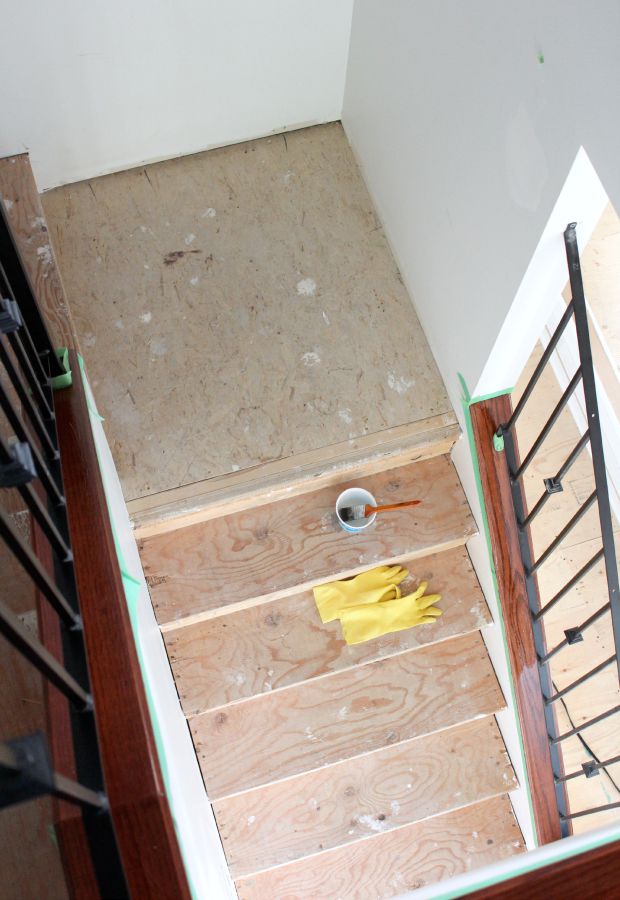 Again, it took two coats of the biodegradable wood stripper and a lot of passes with the scraper and steel wool to remove the finish. I used a bit of the paint thinner to clean it up too.
To get it down to the bare wood, we ended up removing the railing and using an orbital sander starting with 100 grit paper and finishing off with 180 grit.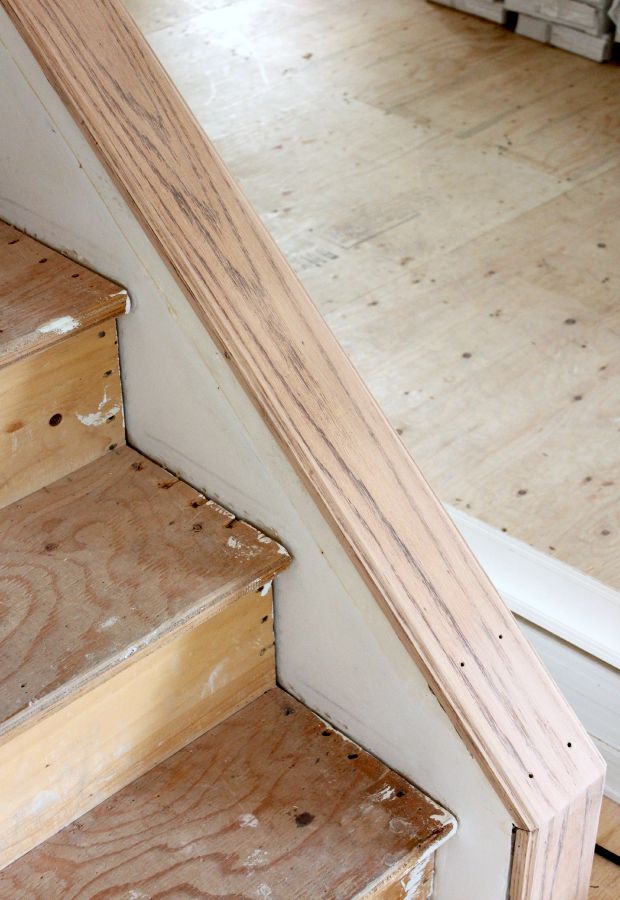 Staining the Wood
For the stain, I used Minwax espresso. I simply brushed it on, waited a bit, then removed the excess with a rag. It was quite easy.
I was hoping to get the finish as close in colour to the new hardwood we selected, but it turned out a bit darker. This wood is red oak, whereas our floors are wire brushed white oak. (You can see a bit of a pink undertone on the bare wood.) Plus, each piece of wood takes stain differently depending on the grain.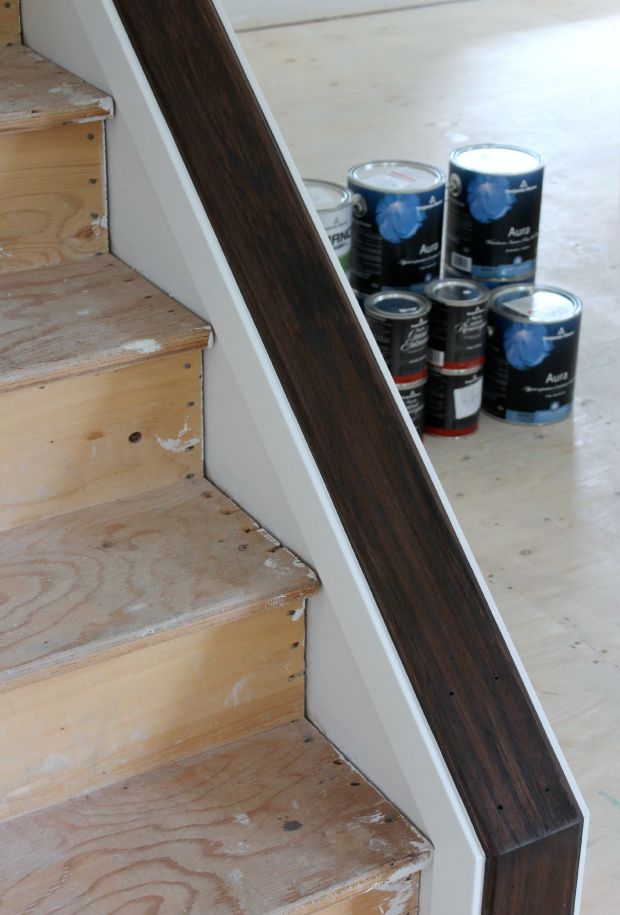 To me, it looks so much better than what was there before. Once the hardwood treads go in, I'll be able to tell if the colour needs a little tweaking. I'm holding off staining the handrails until I see how it all looks together. Hopefully I won't need to paint over it all in the end. That would not make me happy!
Have any experience stripping and staining stairs? If so, I'd love to find out more tips to speed up the process or get a beautiful finish.
Be sure to follow along on Instagram to see behind-the-scenes renovation progress pics.
Wood Staircase Update: See our fully finished hardwood stairs with white risers!
Want more home improvement projects like these sent directly to your inbox? Be sure to SUBSCRIBE.
Thanks for stopping by,