Small Kitchen Appliances You'll Use and Love (I Do!)
We're loving the stylish look and handy features of our new smart kettle and toaster from Breville. Bring your kitchen to life with these colourful, intuitive small appliances that seamlessly balance form and function.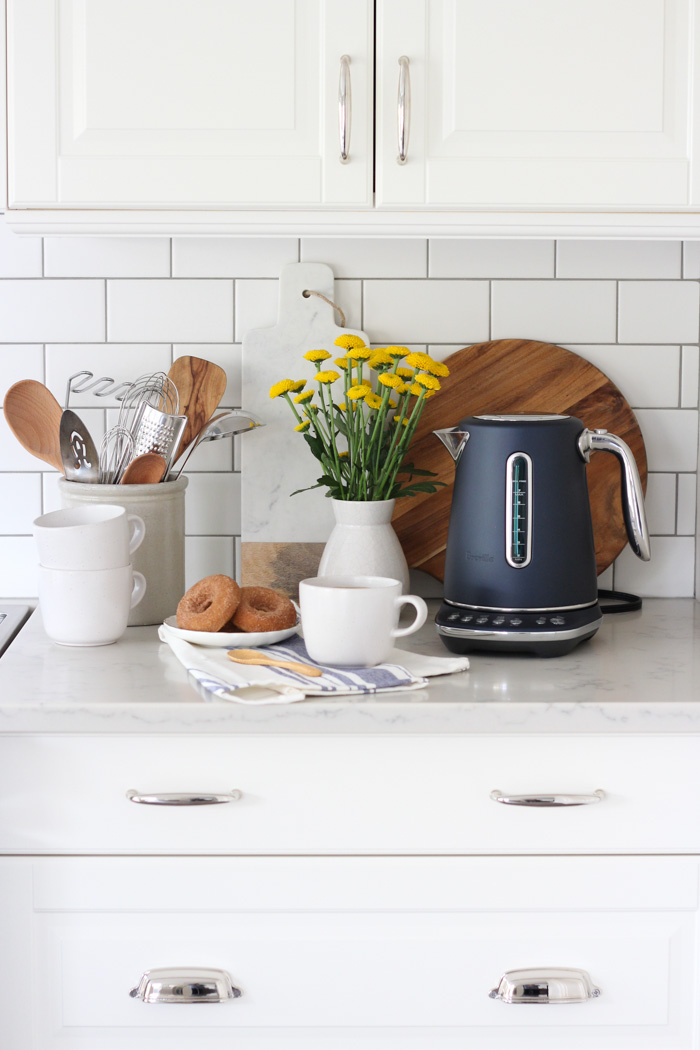 I received products from Breville Canada to facilitate this post. As always, the photos and words are my own. I only partner with brands and products I personally use.
Happy first day of fall! As promised, I'm sharing a few kitchen updates with you today. If your kitchen is feeling a bit bland or tired these days, let me show you how to upgrade the look, feel and function in a matter of minutes! Can we talk about your small kitchen appliances?
As you may already know, our kitchen is neutral with varying shades of white in the cabinetry, tile backsplash and quartz countertops, along with stainless steel appliances. Although I'm drawn to light and airy kitchens, ours truly comes alive with varying textures and pops of colour mixed in with the decor.
Given that our kitchen is on the smaller side with limited counter space, we have to be very selective about what stays out at any given time. So, when it came time to replace our toaster and tea kettle, both needed to be hard-working, sleek and stylish. Of course, I immediately turned to my go-to brand, Breville.
Breville Luxe Collection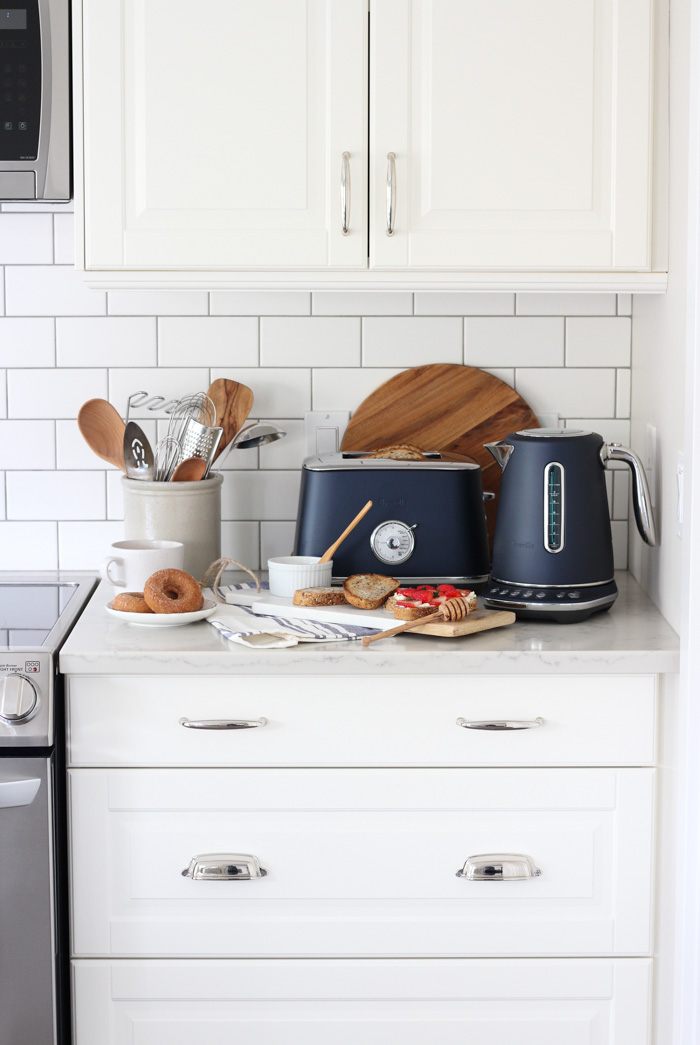 Some links used in this post are affiliates. Please refer to my disclosure policy for more information.
Gorgeous small appliances, right?
I'm sure you're not surprised by the rich, deep shade of blue I selected called Damson Blue. Not only is it on trend with Pantone's Colour of the Year, Classic Blue, it's also one of my favourites for its ability to make a statement, yet remain timeless. I'd love to see this lovely hue in a kitchen with wood or grey cabinets too. So beautiful!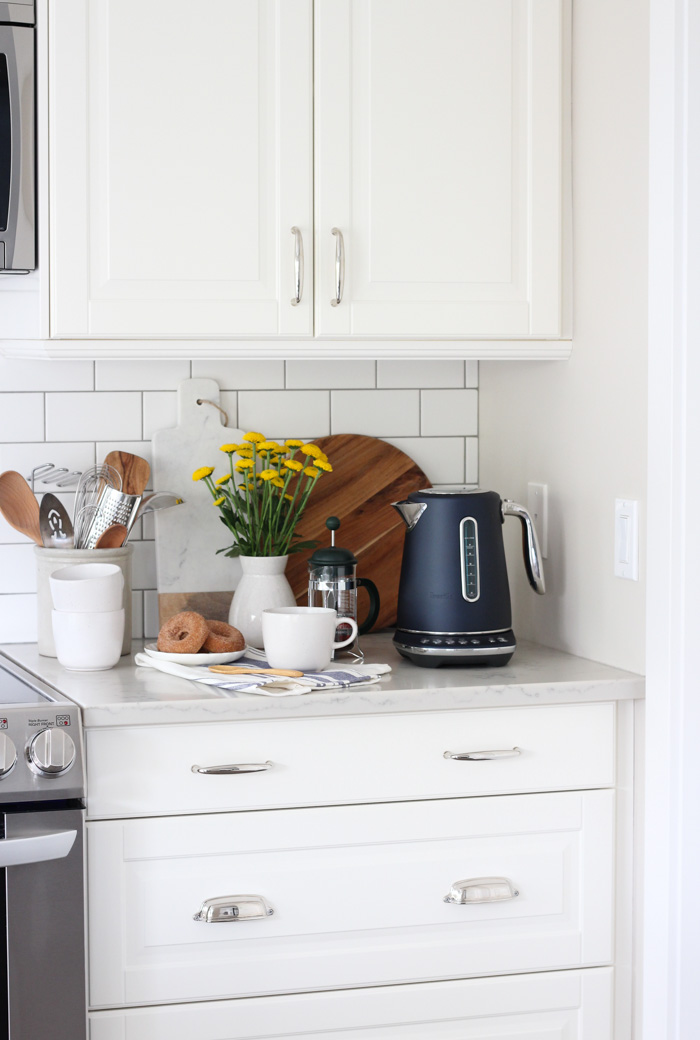 Breville's Luxe Collection includes other luxurious colours like Black Truffle, Sea Salt, Royal Champagne and more, making it easy to coordinate with any kitchen.
If you're wanting to test colours and visualize placement in your own kitchen, there's an augmented reality app you can download (Apple Store or Google Play) to provide a 360° experience. So helpful and fun, right? You really can't go wrong with any of the metallic finishes paired with chrome accents!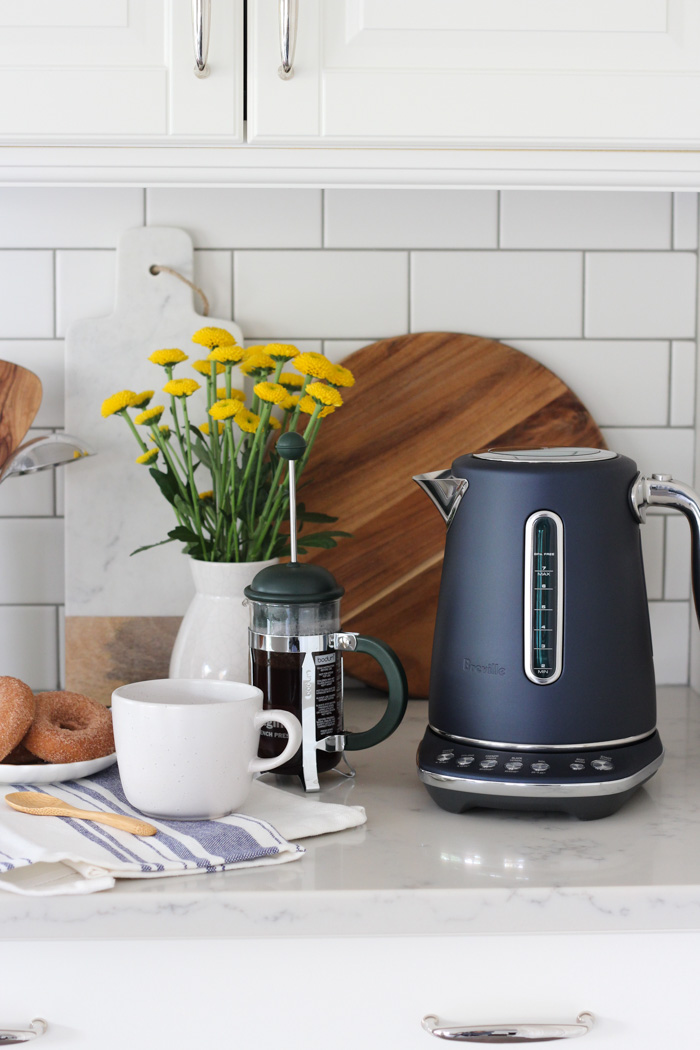 I had the kettle and toaster unboxed and ready to go in less than 5 minutes. I think you'd be hard-pressed to find a quicker way to modernize a kitchen. Gorgeous small kitchen appliances like these make a dramatic difference with very little effort.
Now, let's take a closer look at some of my favourite features of our new toaster and tea kettle…
The Smart Kettle™ Luxe
Do you start your morning with coffee or tea? If someone could hand me a cup the minute I wake up, I'd be one happy girl! Of course, I love using our Breville coffee maker when making multiple cups. But, when I'm by myself, French press is quick, easy and satisfying.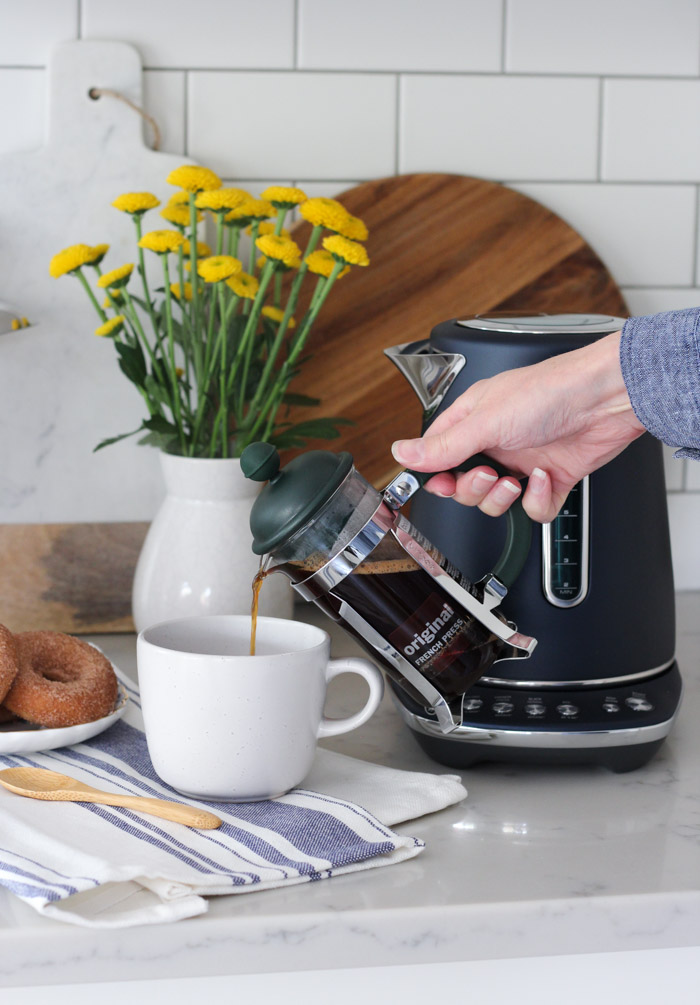 No matter what I'm brewing, coffee or different types of tea (black, green, white or oolong), the smart kettle knows the ideal temperature to bring out optimal taste and quality with the simple press of a button. Effortless, right?! So helpful, especially in the morning when my brain is still a bit foggy!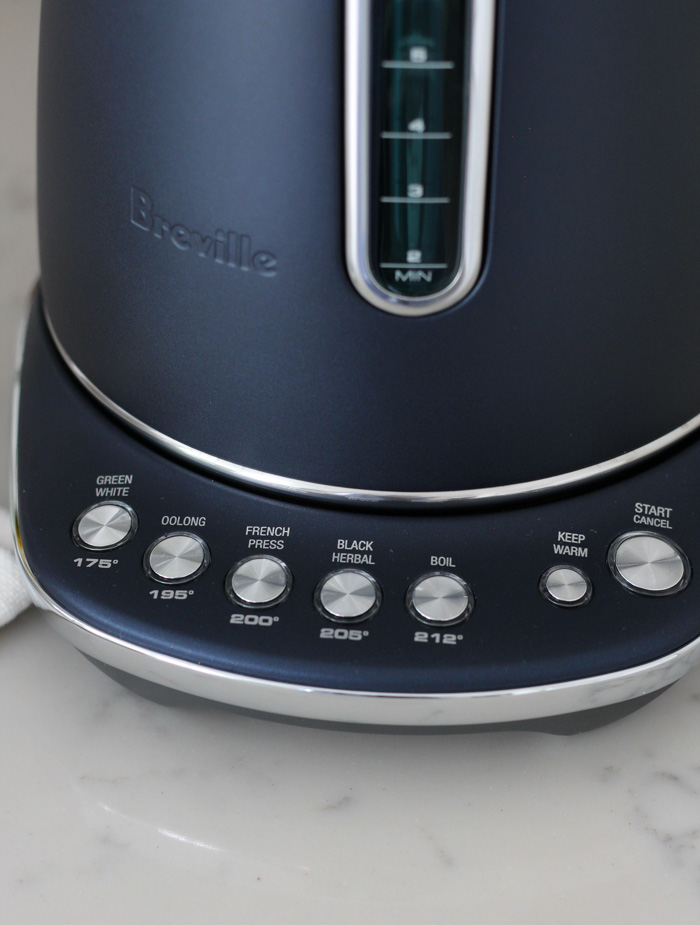 Of course, safety features are important when we're talking about hot water. The soft opening lid, clear view dual windows and auto shut off so the kettle won't boil dry give me peace of mind. I love that it's made with BPA free materials too. The list goes on and on…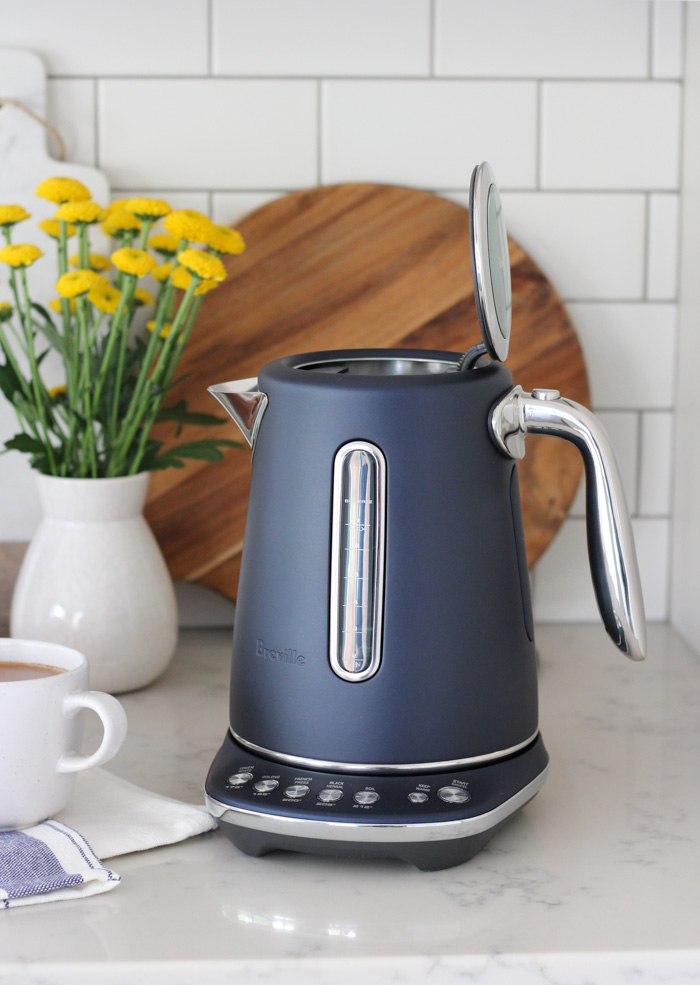 Don't let its good looks fool you. This kettle is packed full of straightforward features that make life simpler.
The Toast Select™ Luxe
As with most families, toast (or some version of) is a morning staple around here. And, on days when we have leftover waffles, our toaster is what we use to heat them up. To say it gets used A LOT is an understatement.
I'm sure you can see why I appreciate the luxe toaster's variable settings that automatically adjust the toasting time for different types of bread. Whole wheat, white, bagels, waffles, pastries or english muffins- it does them all. And just look at that LED progress indicator that counts down. Brilliant!
And, because we all like it toasted a bit different around here (light to dark), the lift and look handle and 'A Bit More' button are both fantastic. It easily handles frozen bread too.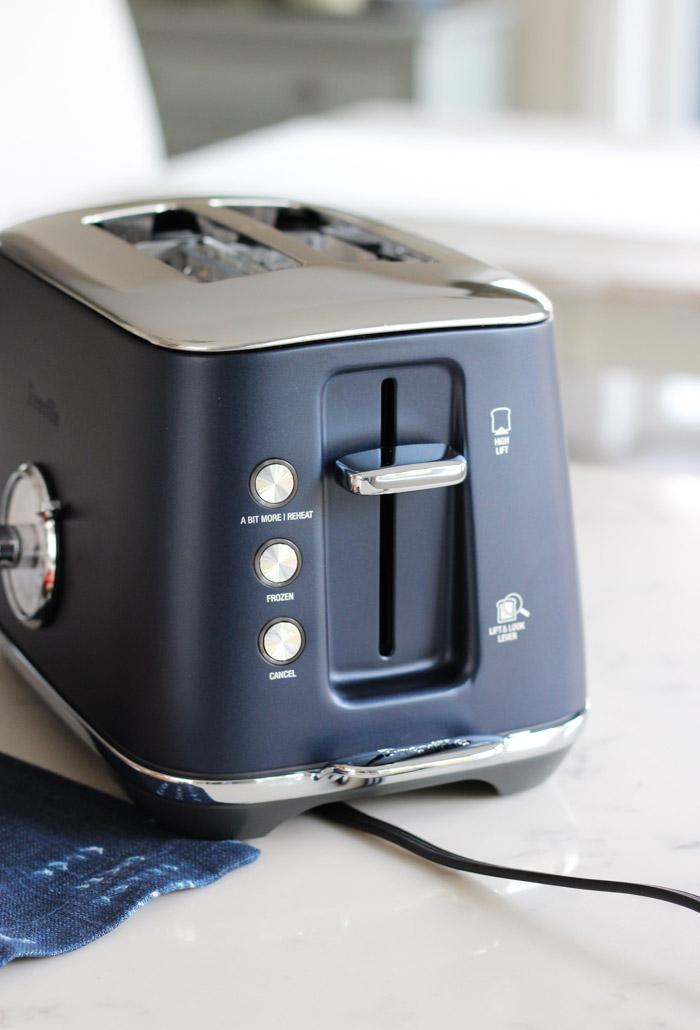 Just look at those extra wide and deep slots. No more bagels getting stuck or having to turn them around to brown all sides. Speaking from experience, I think we all could use a few more trouble-free mornings, right?!
Probably what I love most about this ultimate 2-slice toaster is how its vibrant look and user-friendliness have inspired me to create colourful and fresh new recipes like this strawberry cream cheese toast. What would you make with yours?
Shop this Post
More Breville Kitchen Appliance Reviews
Enjoy your day!