Salvaged Wood Farmhouse Table
Want a salvaged wood farmhouse table? Check out how we transformed our existing wood table using reclaimed wood and a white wash technique.
Hello Satori friends! Today I'm excited to share our latest DIY project using salvaged wood. Somehow, in the midst of our entire main floor renovation, we managed to build a farmhouse table.
Thank you to RYOBI for providing power tools plus compensation for sharing my farmhouse table project. As always, opinions are 100% my own.
I know, a bit crazy with all the chaos going on, but our reward was being able to play around with some new tools thanks to RYOBI.
For the longest time, I've been shopping around for a new dining table. In fact, I found one several months ago, but it was quite pricey and a little big for the space we currently have. So, I thought, why not make over our existing table for the time being and address the elements we no longer liked.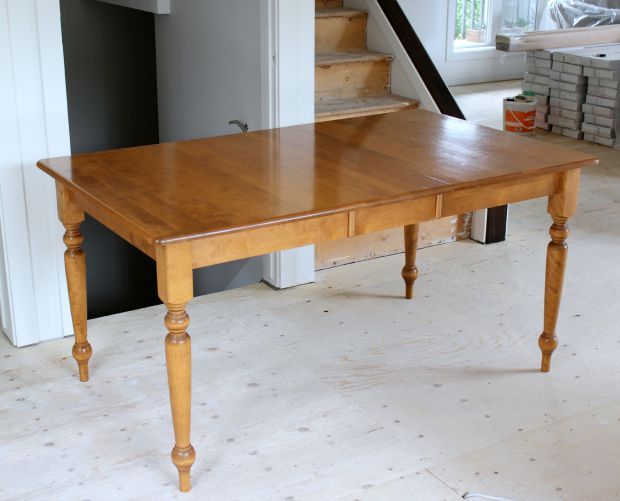 Our table was as sturdy as the day we bought it almost 20 years ago, but the golden colour looked dated and I wanted something with a little more character and a little more size. You know those distressed tables that get better with age and it doesn't really matter if you ever use a placemat? That's the kind of no-fuss tabletop I was after.
Earlier this summer, we ventured out to my husband's cousin's place in the country to search for some old wood for the top. We could've used new, but it's difficult to replicate the look of reclaimed wood (in my opinion), and I wanted it to look authentic.
Fortunately, we were able to find what we needed in a huge wood pile. Let's just say it took some digging around, but perseverance always pays off, right?
Prepping the Reclaimed Wood
The wood was a bit wet when we brought it home, so we scraped off the dirt and moss with a putty knife and laid it out in our garage to dry. Once again, our neighbours walked by with looks like, "What are they up to now?" Happens regularly!
After a few hours, my husband got to work pulling out rusty nails and trimming off the damaged board ends with our new Ryobi circular saw.
In the meantime, I removed the existing tabletop with our handy new Ryobi cordless drill, which was super easy.
Okay, time to start putting it together!
DIY Salvaged Wood Farmhouse Table
I made sure the existing table base was clean and lightly sanded, then primed and painted it using Benjamin Moore's Fresh Start, followed by White Dove (OC-17) in an eggshell finish.
After laying the reclaimed wood on the base, we realized the table was going to be too tall. So, we ripped each board in half using the table saw. Definitely something we didn't plan on doing, but it was worth the hassle in the end.
To ensure the boards were flat on the bottom, my husband chiselled down the high points and sanded off any rough bits. You could use a planer if you have one, which would be much easier.
Next, we played around with the board placement to make sure there weren't any big gaps.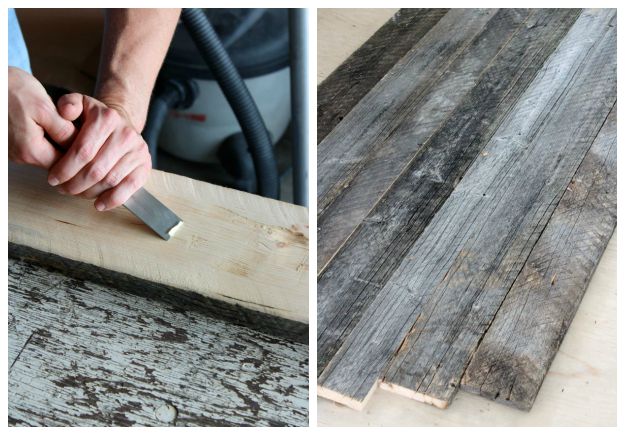 To clean up the boards, we went over each one with a wire brush and palm sander, and marked how they'd all fit together with masking tape. We used a tape measure to ensure each board was long enough without there being too much of a crack or huge splinter along the way, and adjusted as necessary.
To attach the boards to the table base, we flipped each one over lengthwise, set the base on top and carefully measured until it was sitting as even and square as possible on the top. My husband screwed through the existing base holes while I held the top boards together with a bit of pressure.
For reinforcement, we added cross braces along the back (5 in total) and a couple angle brackets to each end to keep the board ends secure. There probably won't be any table dancing going on, but it's better to be safe than sorry!
We carefully marked the finished length of the table (62″) and cut the excess off. Getting a straight line was easy with the built-in laser guide on the circular saw. Such a cool feature!
Prepping the Table to Finish
After a bit more sanding over the whole top and ends, the table was ready for stain and paint.
Although I liked the look of the reclaimed wood when we brought it home, sanding revealed some dark coloured crosscuts I wasn't too fond of. It also looked a bit green. I played around with some stain and paint on sample boards and found a technique I was happy with.
I plan on sharing the steps for this white distressed look in an upcoming post when our appliances aren't in the middle of the kitchen (flooring goes in this week) and I can take better photos.
Until then, here's a look at the finished table (minus the protective coat).
Update: See the Whitewashed Wood Finish Technique
This distressed farmhouse table is much better than the original one, right? And, other than a lot of time, it didn't cost a thing except for a bit of sandpaper and small bottle of stain. So, let's say $15 total (plus pizza and wine)!
Can't wait to see how it looks in our newly renovated kitchen.
Be sure to pin this reclaimed wood dining table for later!
You may also want to check out the outdoor side table we built using leftover reclaimed wood from this project.
more DIY Projects
Be sure to check out these impressive project ideas by some of my blogger friends:
DIY Passion
Fynes Designs
Setting For Four
The Sweetest Digs
So many great DIY ideas using cordless tools from the RYOBI 18V One+ System just in time for:
Cordless Tool Giveaway
Enter for your chance to win a RYOBI prize pack containing a Drill P818, Circular saw P506 , Nailer P320 and Trimmer P2210 valued at over $500!
Note: This giveaway has ended.
Want more home improvement projects like these sent directly to your inbox? Be sure to SUBSCRIBE.
Good luck!