Our Favorite Things Giveaway!
Today is an exciting day! Why, you ask? I've teamed up with some of my creative blogger friends to bring you a fabulous giveaway of some of our favorite things!
From sweet treats to handmade decor to crafting supplies, we have ideas for your holiday gift shopping covered.
If you're stopping by from one of the other blogs for the first time, welcome! I invite you to follow along on Pinterest and Instagram!
Ready to see what I've got for you?
Over the holiday break, one of my favorite things to do is cozy up by the fireplace with a good book. It's a time of year when I'm actually able to put the to-do list on hold, enjoy my family and friends, and rejuvenate with a little ME time.
I received products from Dignify to facilitate this giveaway. Post contains affiliate links. See blog policies for more information.
Quite often, it's the simplest things in life that make me happy….
The warmth of a hand-stitched quilt
A good cup of coffee in a beautiful mug
A "pull me in" book
So, I've gathered these 3 items to giveaway to one of you!
Handmade Quilt
A while back, I fell in love with these kantha throws from Dignify that are handmade in Bangladesh using reclaimed sari cloth. How cool is that?
Each one is hand-stitched with care and unique in design. No two quilts are exactly the same.
Want to know the best part? The women who make these throws were once living on the street, often forced into sex work or in a vulnerable state of heading there. Now they have better lives! You can read more about their stories.
If you win, you will be able select a kantha throw of your own thanks to Dignify! (note: throws below are subject to availability)
Be sure to check out the other unique gift ideas from Dignify. I think your friends and family will love a gift that PROMOTES DIGNITY, EMPOWERS HUMANITY & CHAMPIONS GOOD, don't you?
Floral Mug
How can you bring a bit of joy to your everyday? For me, it's sitting down and enjoying a cup of coffee or tea without any distractions.
And it's so much better when the mug is as beautiful as this one I picked up at a local shop.
If you win, I'll be sending a mug just like it to you!
Book
Readers know there's no better way to escape than with a good book. Around here, life's a little busy at the moment, but I have a list of good-reads I can't wait to get my hands on after Christmas, starting with The Paying Guests by Sarah Waters. Have you read it?
If you win, you'll receive a $20 Amazon Gift Card to pick out a book of your own!
Total value of all 3 items is over $128!
Reader's Afternoon Escape Giveaway
A throw, mug and book of your own…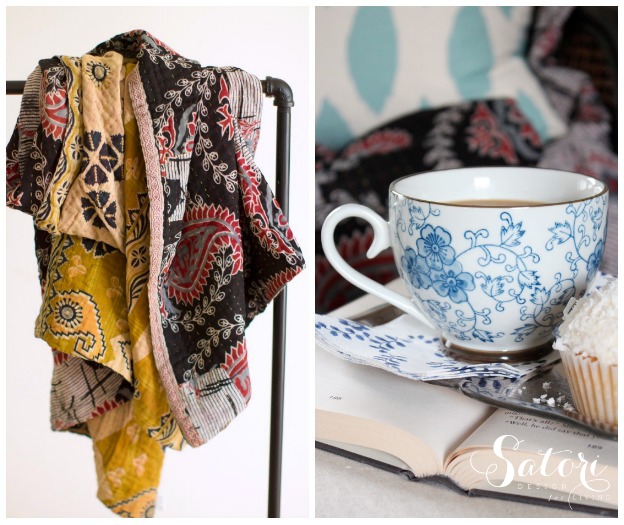 To enter, wait for the rafflecopter box to load below (if it takes too long, try another browser) and log in using the Facebook tab or your email (spam safe). Follow the instructions. (Open to Canadian and Continental US residents only- void where prohibited.) This giveaway is now over.
Then, check out the links to the other bloggers' giveaways below!
Now it's time to see what my friends are giving away!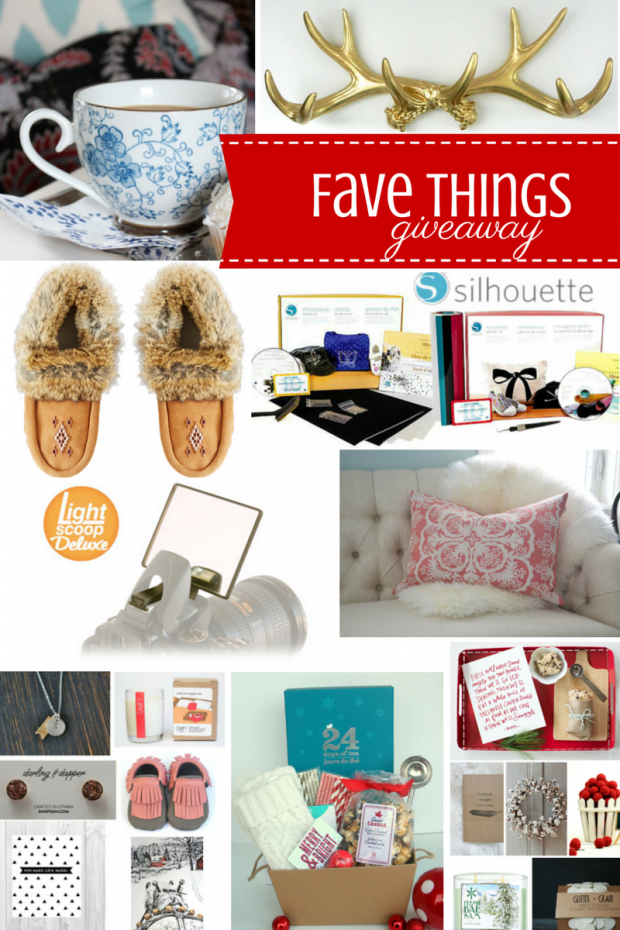 Go check out these other fabulous items and ENTER ON EACH BLOG for your chance to win.
9 blogs with 9 winners totalling over $1000 in giveaway items!
From left to Right, they are:
Reader's Afternoon Escape Giveaway from Satori Design for Living (that's me!)
Juxtaposition Antlers from The Happy Housie
Cozy Day in with Suede Moccasins from The Sweet Escape
Silhouette Prize Pack from Fynes Designs
Light Scoop Deluxe from Suburble
Taylor Linens Waikoloa Embroidered Pillow from The DIY Mommy
Favourite Things by Ontario Artisans from The Sweetest Digs
Cozy Winter Afternoon Reading Basket Giveaway from Echoes of Laughter
Merry & Bright Favorite Items from City Farmhouse
Want more holiday and seasonal ideas like these sent directly to your inbox? Be sure to SUBSCRIBE.
Good luck!