Time to add curb appeal. Do we keep the same front door paint color or do we switch it up with one of these blue or blue-green front door colors? Weigh in!
How's your summer going so far? I spent most of last week outdoors staining the deck and prepping the fence for a new coat. Both took a terrible beating last year during a huge hail storm, so pulling out the paint brushes was inevitable. It's not the best of jobs, but the results are so worth it. One day soon we'll be enjoying a lazy afternoon relaxing in our loungers! What book do you suggest I start reading?
After the back yard is finished up, my focus will switch to the front of our house. It's been about 5 years since I've touched up the stain on our front porch, so it's definitely time. Here's what it looked like back then: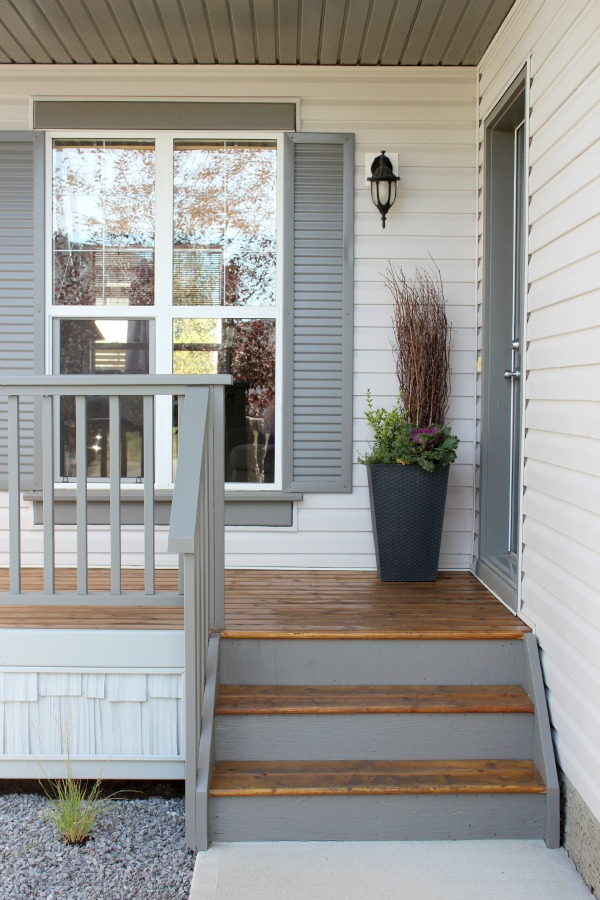 I plan on sticking with the same shades of grey for the porch shutters and trim, but I am considering a new front door paint color. Currently, it's Benjamin Moore Wrought Iron, a dark grey with a bit of a blue undertone. It's lovely, but there are times when I feel like I'm ready for something a bit different. Maybe?
Over the years, I've changed up the decor seasonally, which has kept me going. Perhaps that's all I need to do again. Not quite sure yet.
Or, perhaps, I should leave the front door as is and paint the yellow bench a different color instead? It was a bold choice for me back then but it still does a good job of waking up the space. I've had so many offers on that bench but it's from the farm I grew up on so I don't think I could ever part with it. I feel it adds a bit of character too.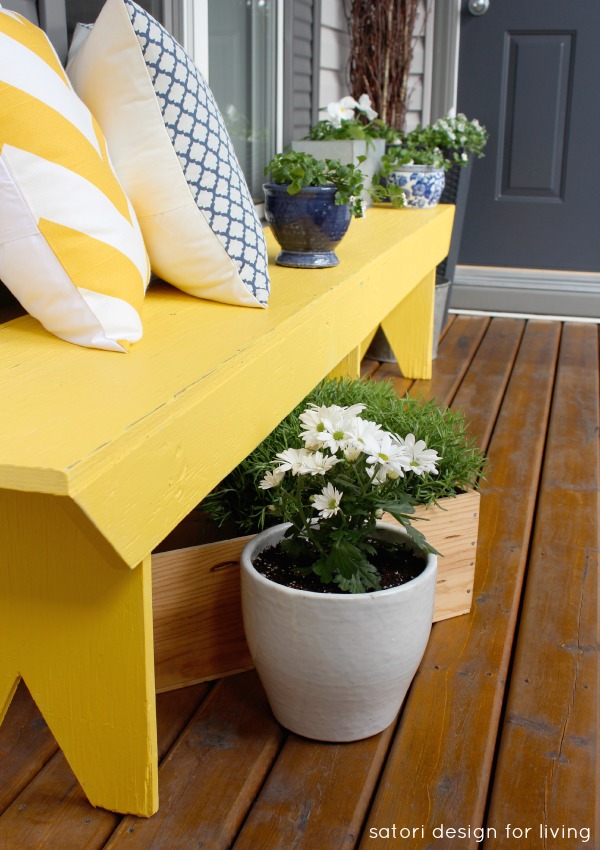 If this was your front porch, what would you do? In a nutshell, what color should I paint my front door (if any)? Black? Navy? Aqua? Blue-grey? Something else?
I'm definitely open to new paint color suggestions, so send any ideas you may have my way. However, I won't do anything too crazy like bright purple or orange. It's just not me.
Some of the front door paint color options I'm currently looking at: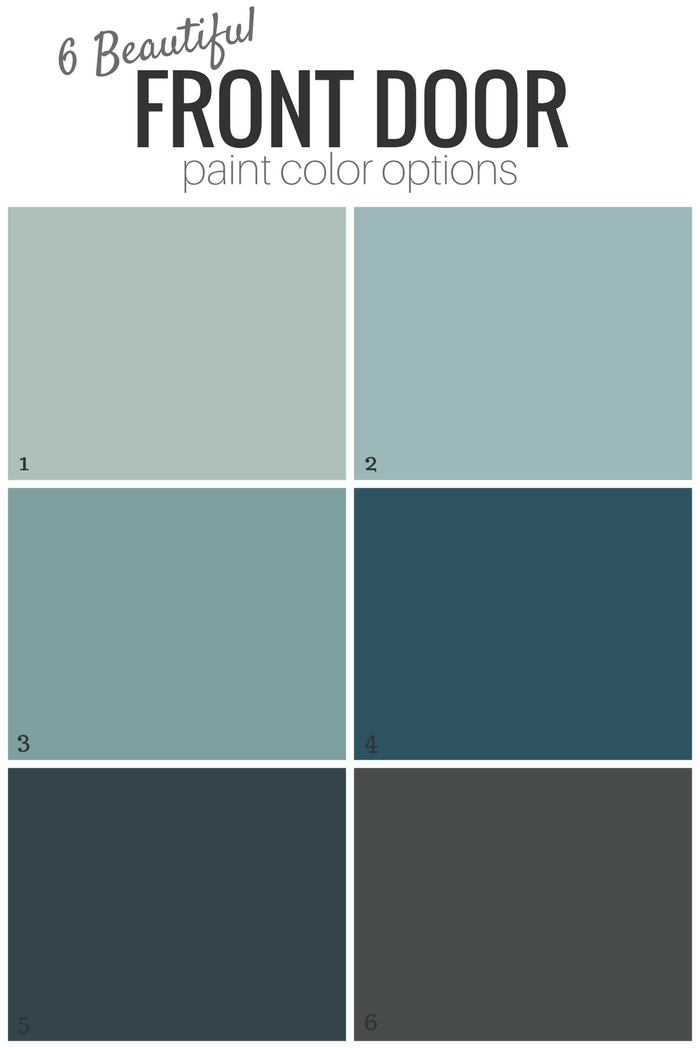 Front Door Paint Color Options: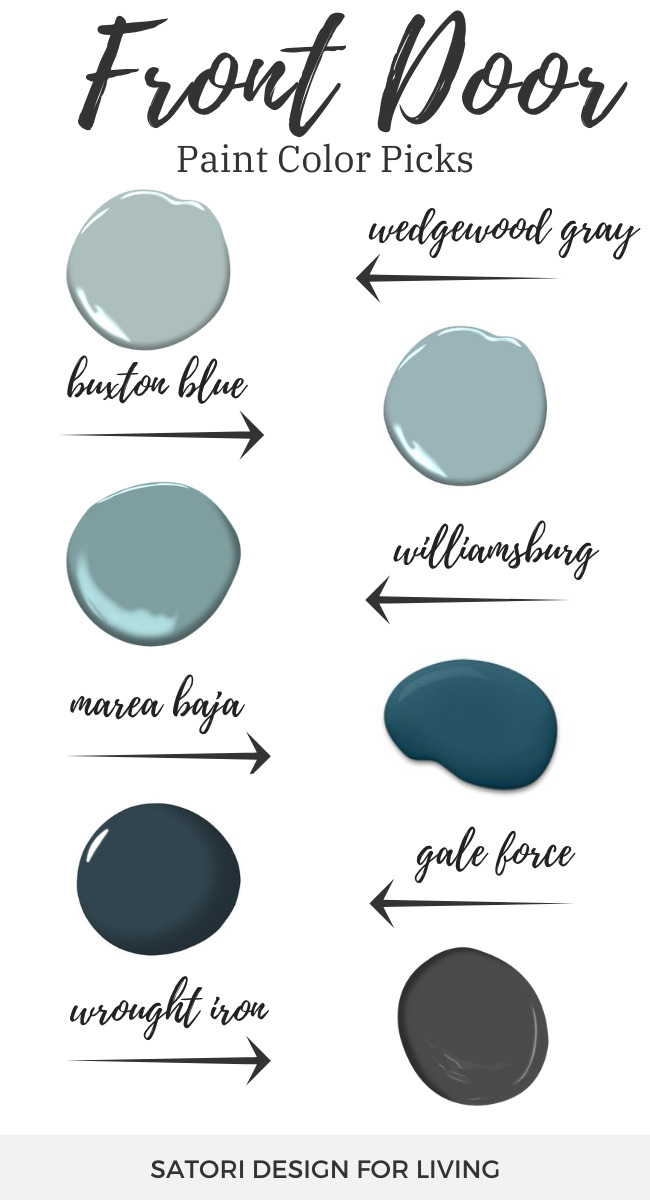 In the meantime, here are some lovely front door paint colors I've found as inspiration that I thought you may enjoy too. Take advantage of the beautiful weather to add some curb appeal to your home! Perfect if you're asking, what color should I paint my front porch?!
Front Door Paint Color Inspiration Pics
DecoArt Nantucket Grey Door by The Casual Craftlete
DecoArt Williamsburg Blue Front Door Makeover by The Inspired Hive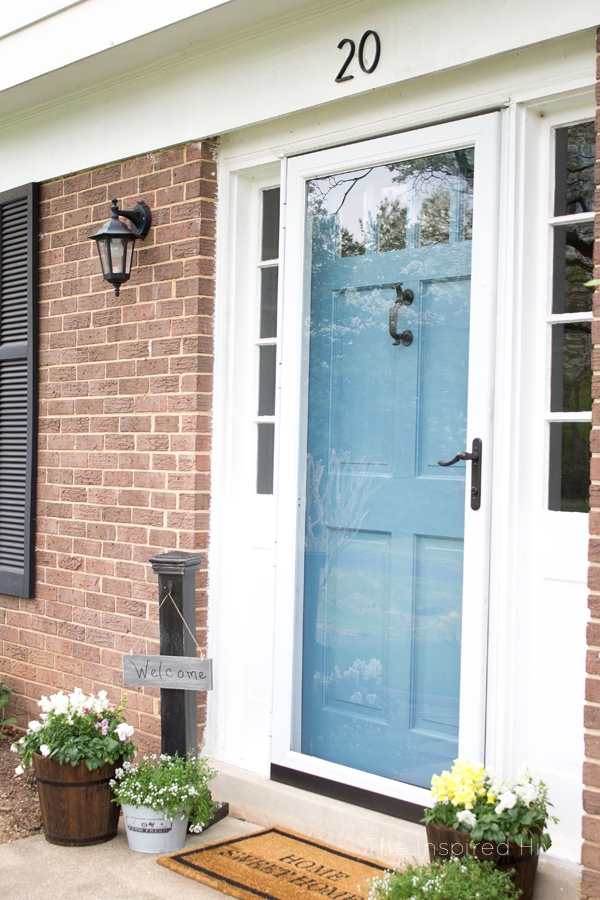 DecoArt Colonial Black Front Door by Craftberry Bush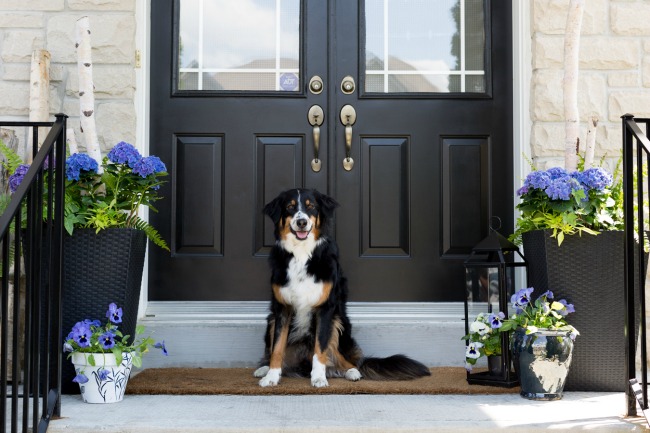 Mustard Yellow Front Door by Lolly Jane
Benjamin Moore Wythe Blue Door by The Wicker House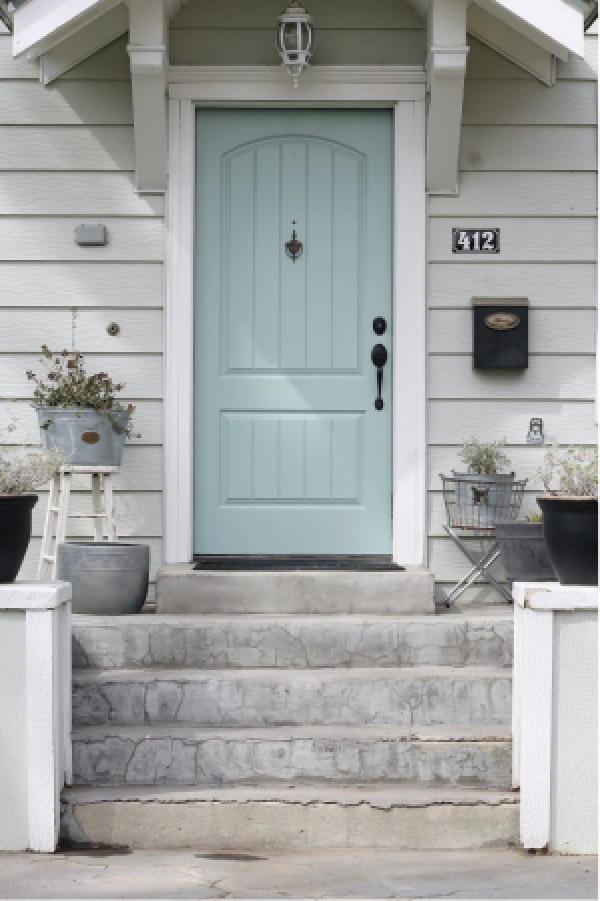 Buxton Blue Benjamin Moore Front Door by Finding Silver Pennies
Of course, there are these beautiful front door paint colors you can check out too if you're looking for a few more options. I always find real-life inspiration pictures to be a good guide. If you find a door color that stands out to you and the home's exterior is similar to yours, then it's probably a good fit. Take a look at the post to get a few more tips to select the best color for your front door. There are many factors to consider.
So, do you have any outdoor projects you're currently working on? Looking for a new front door paint color too? Let's cross our fingers the weather cooperates so we can enjoy some downtime this summer. The season seems to come and go so quickly!
Want more paint colour suggestions like these sent directly to your inbox? Be sure to SUBSCRIBE.
Glad you stopped by,