Lounging Around: Our Outdoor Living Space
Create a lively and welcoming outdoor living space to enjoy all season long!
Last July, we got most of the foundational pieces in place for our back yard. However, when it came time to finish the decorating our outdoor living space, most of the outdoor decor was picked over and I had to put the process on hold. This year, I decided to be ahead of the game and started picking up pieces when they first started arriving in stores. With seasonal items, I've learned it's best to nab them before they're gone.
Creating an Outdoor Living Space
Perhaps it was the long drawn out winter that had me craving colour, but I couldn't resist this red garden stool I spotted at HomeSense to use as a side table between our loungers. I love that it's no maintenance and so versatile.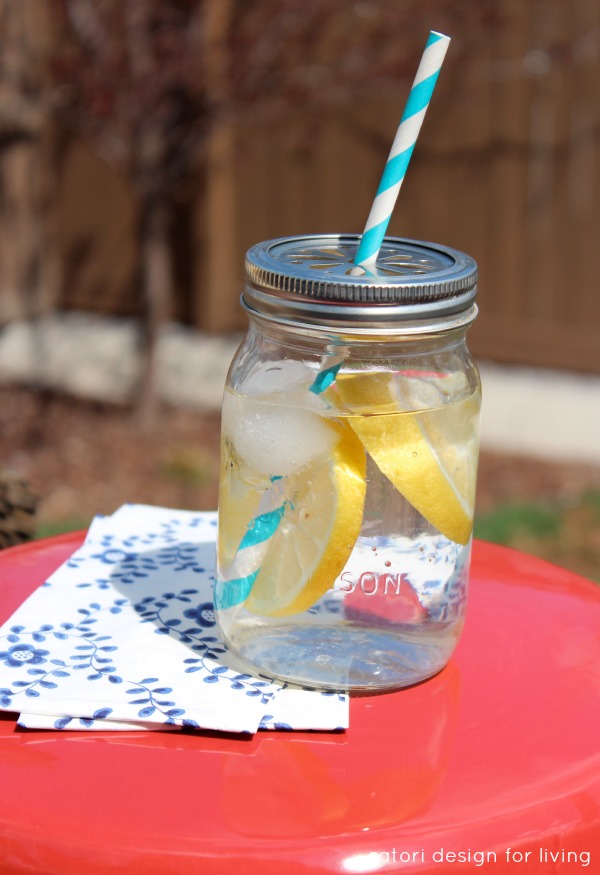 At first, I tried to talk myself out of the stool. Red wasn't even a consideration for our backyard, but then I came across these multi-colored paisley pillows that tied everything together.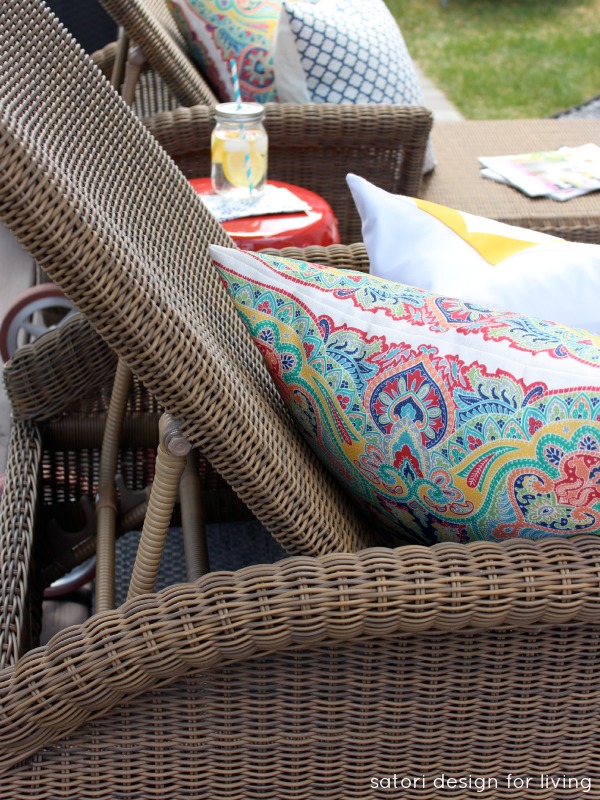 Our aqua umbrella, blue-grey area rug, and yellow and turquoise pillows from last year were all linked together in one single pillow. And, how great is it that all of the colours are set on a fresh white background?
Typically, I try to find my jumping off point first, but this time I worked backwards. Thankfully it all turned out!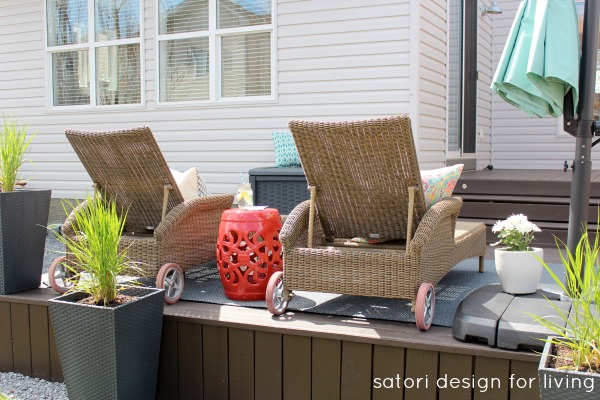 I still have a few things on my outdoor living space to-do list. One is to purchase or make cushions for our loungers. I've been shopping around, but it's difficult to find pre-made ones that fit properly and look nice. Custom ones are just too expensive to justify for our short outdoor season. If you come across any basic neutral ones in your travels, please let me know!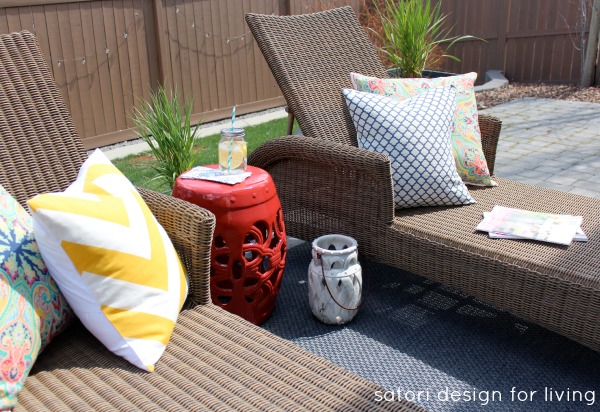 For now, I have ornamental grass in the tall grey planters. I'm thinking about adding some trailing white plants once the rain stops. Last year, I went with simple white and green plants and I liked the way they looked all summer long.
If you stop by the blog often, you'll recognize the blue and yellow pillows from our front porch. I'm always moving my decor around to create different looks. You?
I'm really looking forward to the sun coming out and temperatures rising so we can enjoy our lounging area. Reading a good book and sipping a mojito on a weekend afternoon sounds heavenly to me right now!
Next up, we'll be getting our outdoor dining area together on the upper deck. Perhaps the weather will turn around long enough this week to get it done!
If you follow me on Instagram, then you know we had a hailstorm come through moments after I started taking photos for this post. I wasn't able to show everything I wanted to (and some of the photos are a bit dark), so I plan on sharing update photos within the next couple of weeks.
Perhaps organizing the Outdoor Extravaganza is a weather curse!
Be sure to come back tomorrow for the Outdoor Decorating link party!
For garden inspiration, I highly encourage you to check out last week's Plants & Flowers link party.
Want more home decorating ideas like these sent directly to your inbox? Be sure to SUBSCRIBE.
See you tomorrow!