Homemade Caramel Pecan Ice Cream
Skip the modified ingredients and preservatives and make your own delicious caramel pecan ice cream. You'll love the creamy texture with crunchy pecans and swirls of rich caramel!
I do like ice cream, but definitely not as much as everyone else in our household does. Left to their own devices, they'd probably eat it daily.
That's where my feelings of guilt used to creep in. Not because I think eating ice cream all the time is a good idea.
You see, last year, I decided I was no longer going to buy foods that contained modified ingredients and preservatives (as much as possible). To my family's dismay, ice cream disappeared from the grocery list. Oh my!
I may have heard some complaints about there never being anything to good to eat in the house, but I felt better knowing less chemicals were getting into our bodies.
Caramel Pecan Ice Cream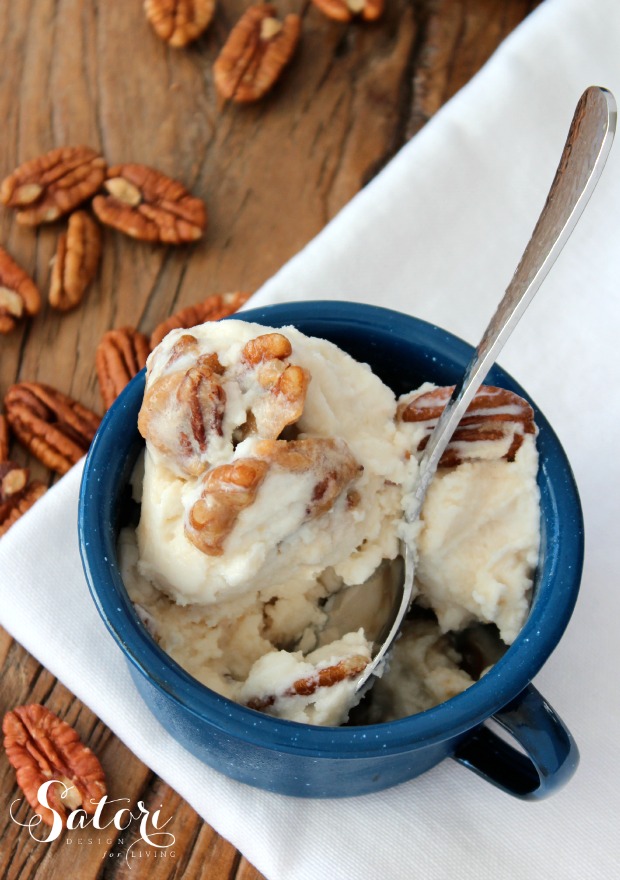 Some links used in this post are affiliates. Please refer to my disclosure policy for more information.
While I was shopping for gifts in December, I came across a steal of a deal on ice cream makers that I couldn't walk away from. In a way, it was like a gift for the whole family. If I made my own ice cream and controlled the ingredients that went in it, everyone could be happy. I'm back on the nice list (for a while at least)!
I thought I'd start out with something a bit more decadent. You know, seal the deal right away. Who can resist an ice cream recipe with swirls of caramel and crunchy pecan throughout? I certainly can't. So darn tasty!
A tiny bit of this caramel nut ice cream goes a long way! And, if you're big on this flavour combination, I highly suggest making this caramel pecan bundt cake!
Homemade Caramel Pecan Ice Cream
You'll love the creamy texture of this caramel pecan ice cream with crunchy pecans and swirls of rich caramel.
Ingredients
1

cup

whole raw pecans

¼

cup

butter

½

cup

brown sugar, packed

¼

cup

pure maple syrup

¼

cup

heavy cream

1¼

tablespoons

pure vanilla extract

1½

cups

whole milk

½

cup

granulated sugar

pinch

sea salt

1½

cups

half & half
Instructions
Toast pecans in a pan on medium heat until golden brown. Set aside.

Melt the butter in a heavy saucepan on medium high heat. Stir in the brown sugar and reduce heat to medium, stirring frequently until the sugar is dissolved and the butter is incorporated. Add the maple syrup, and mix thoroughly. Bring to a boil for 2-3 minutes (should thicken), then slowly whisk in cream.

Add pecans to caramel mixture, stirring constantly until well-combined. Remove from heat and stir in ¼ tablespoon vanilla. Spread caramel pecans on a parchment-lined baking sheet and completely cool. (If you can resist trying one, you have crazy will power!)

In a medium bowl, thoroughly whisk milk, granulated sugar and salt until sugar is fully dissolved. Stir in half & half and remaining vanilla. Cover and refrigerate for 1-2 hours.

Following the directions of your ice cream maker, churn mixture until thickened, approximately 15-20 minutes.

About 5 minutes before ice cream is thickened, break apart pecans and add to ice cream while still churning.

If you like your ice cream soft, serve immediately. For firmer ice cream, transfer to an airtight container and place in freezer for at least 1-2 hours.
Notes
For a creamier texture, substitute heavy cream for half & half (we're trying to cut calories around here!)
Cuisinart Ice Cream Maker
So far, we've made fresh strawberry ice cream and this caramel one with our Cuisinart ice cream maker. Not sure which one's my favourite. Next, I want to try cherry ice cream.
You can check out the machine I picked up here with the extra freezer bowl. So far, so good! Or, this one on Amazon is a better deal if you just need one bowl.
Pin this ice cream recipe for later!
Do you make homemade ice cream? Have a favourite recipe? I'd love to hear about it!
Want more delicious recipes and ideas like these sent directly to your inbox? Be sure to SUBSCRIBE.
Enjoy your day!