Hanging Art in the Stairwell
Get inspired by these beautiful inspiration photos and tips for hanging art in the stairwell. Add interest to an often under-decorated space.
With a few client projects wrapping up this week, I decided to focus my extra time and effort on making changes to our house. A couple years ago, we replaced the builder's grade light fixture in our stairwell with a linen drum shade. Although that change alone made a huge difference, I still had plans to freshen up the space with new trim work and paint, replace the carpet with hardwood (and maybe even a runner), and finish it all off with a collection of artwork. As with many projects, those changes were placed on the back burner, until now…
Hanging Art in the Stairwell
I don't always know why certain projects show up on my radar at any particular time, but seeing this striking stairwell earlier this week most likely was the instigator. The bold black and white photography definitely steals the show, which makes me think hanging art in the stairwell is a definite must.
As with any project, I like to see what's out there for ideas before locking anything down. After searching online for art in stairwells, stairways, and staircases, I came across several inspiration photos that have made my decision about the final look I'm going for a little more difficult.
For instance, I'm drawn to the combination of different frames and art mediums with the beautiful pop of colour in this staircase below, making me second guess the whole black and white thing.
Isn't the art display beautiful? That staircase wall art makes me happy!
Here's a French-inspired look I'm also drawn to with a collection of subdued artwork framed in gold. This selection keeps the staircase light and airy, but is still very interesting. It's definitely a classic look worth considering.
As I was looking for other ideas, I came across this gorgeous art display under the stairs using basic white shelving. I adore the layering of sculptural pieces with the art, as well as the clever use of otherwise wasted space. Those shelves are a brilliant way to showcase a collection. Agree?
Related: Take a look at our basement bar under the stairs.
Perhaps the best stairwell art style for me is something eclectic, such as a combination of photography, canvases and prints in a variety of sizes and finishes, giving it that "collected over time" quality that is so desirable.
Once I've finalized the overall look and basic layout for the artwork in my stairwell, the next step will be finding the right pieces. Currently I have a few photographs from our travels I'd like to frame or transfer to canvas, but the remaining pieces still need to be sourced. As usual, I'll shop around at a few of my favourite vintage shops and continue to check out art for sale online.
Is your stairwell boring and bland like ours or have you managed to inject some character and interest? I'd love to know if you have any other ideas or tips for hanging art in this often under-decorated area of the home.
Update: See our newly renovated hardwood staircase.
As you can see, I decided to keep it very simple in our stairwell only hanging mirrors. Instead, I opted to hang a collection of art pieces in our living room and hallway.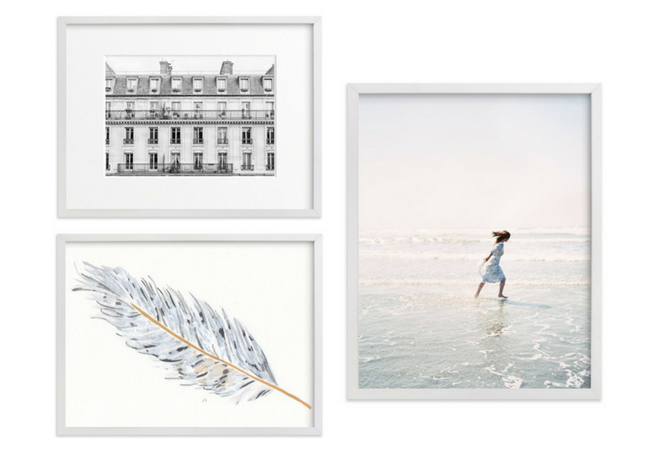 Want more home decorating ideas like these sent directly to your inbox? Be sure to SUBSCRIBE.
Happy decorating!