Country Garden Party Table Centerpieces
Learn how to make these table centerpieces with log vases and garden flowers. Easy and inexpensive table decor for your country garden party or wedding.
Welcome to week two of the OUTDOOR EXTRAVAGANZA! Be sure to check out my trash to treasure tool box planters if you missed last week's Plants & Flowers party.
This time, it's all about Decorating & Entertaining al fresco style.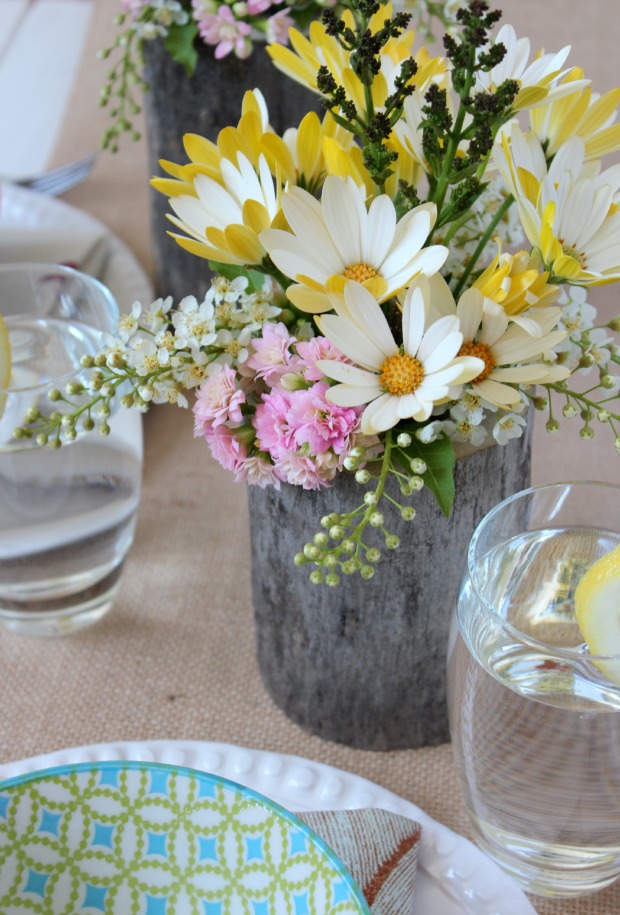 Over the weekend we planned on having an outdoor get-together. Then, the forecast called for buckets of rain and, boy, they were bang on!
I'm okay with it though. My plants and flowers really needed the moisture, not to mention our lawn. Our party guests, not so much. So, we decided to postpone until a later date when the sun is shining and we can properly host a country-themed garden party.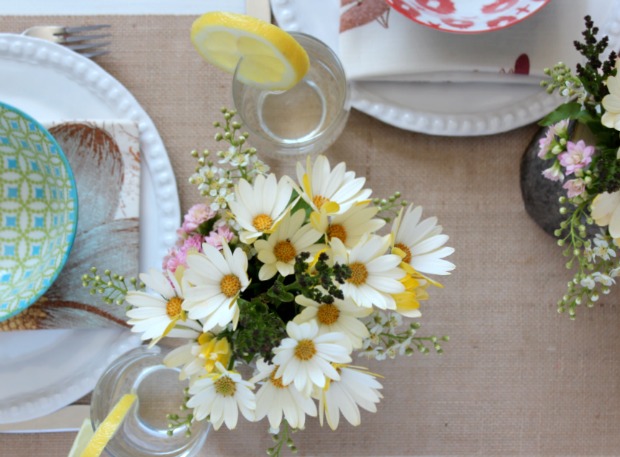 Why country? I guess I equate it with simple food and drinks, no-fuss decorating, and an easy-going atmosphere. Something I could really use in my life right now…
We're prepared. Our outdoor decorations are all ready to go.
For the table, I wanted something rustic, but pretty at the same time. So, we (aka my husband) created log tealight holders and vases using fallen branches we found by the river.
Country Garden Party Centerpieces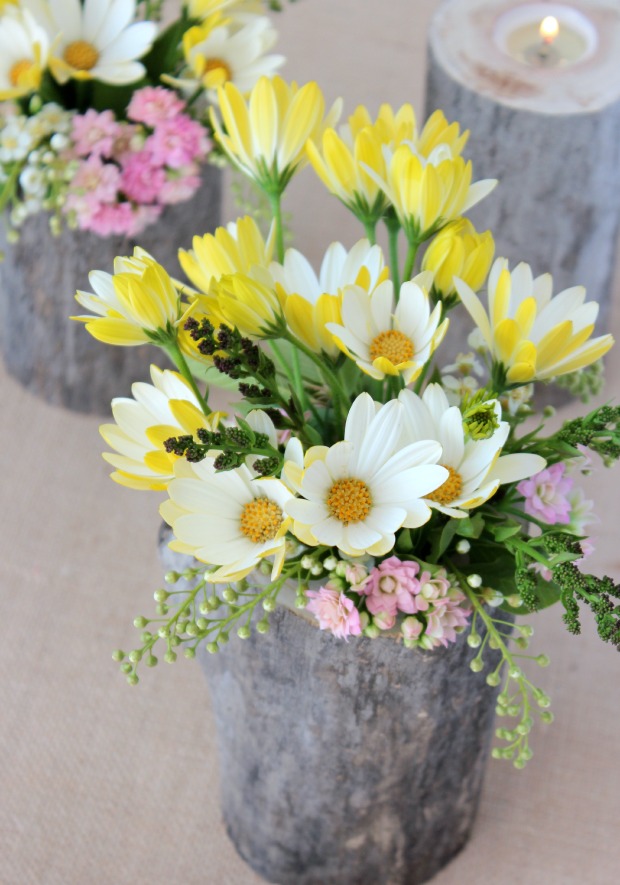 How to Make Log Vases:
Cut log into sections using a mitre saw (you can read more about that process here).
Find center of the log and mark with a pencil.
Drill hole with 2⅛" hole saw with drill bit guide.
Drill into hole saw using 1½"spade bit.
Chisel out the remaining wood.
Repeat process until you've carved a 5″ deep cylinder (or enough to hold the flowers).
How to Make Log Tealight Holders:
Drill hole ¾" deep using a 1½" hole saw, followed by 1½" spade bit. Use chisel to smoothen edges.
I guess this is where I thank my husband for all his hard work. I was planting flowers and working on next week's project while he was making these (sore back and all). And there may have even been a hockey game on at the same time. He's the best, isn't he? I think I did mix him a drink afterwards…
To help keep the pesky bugs away, I filled the log tea light holders with citronella candles.
To fill each vase, I clipped a variety of flowers from our yard. Seasonally, I'll be able to switch things up, making the whole thing so much fun.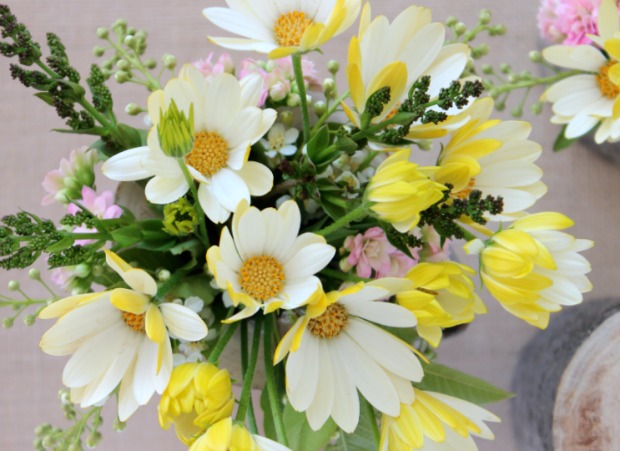 For the lining, I used a plastic sandwich bag held in place with an elastic band. Then I filled it half-way with water and began arranging the tallest flowers first.
Before I tucked the filler apple blossoms around the edge, I removed the elastic band and trimmed the plastic close to the inner edge so it wasn't visible. Then, I topped it up with a bit more water.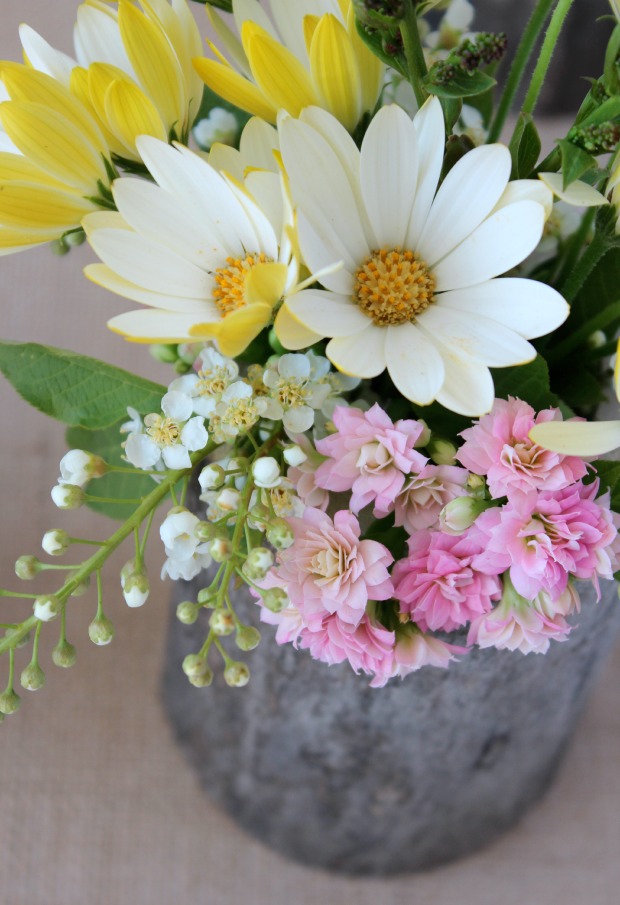 So easy and inexpensive. And not too precious or fussy. Just as outdoor entertaining should be, right?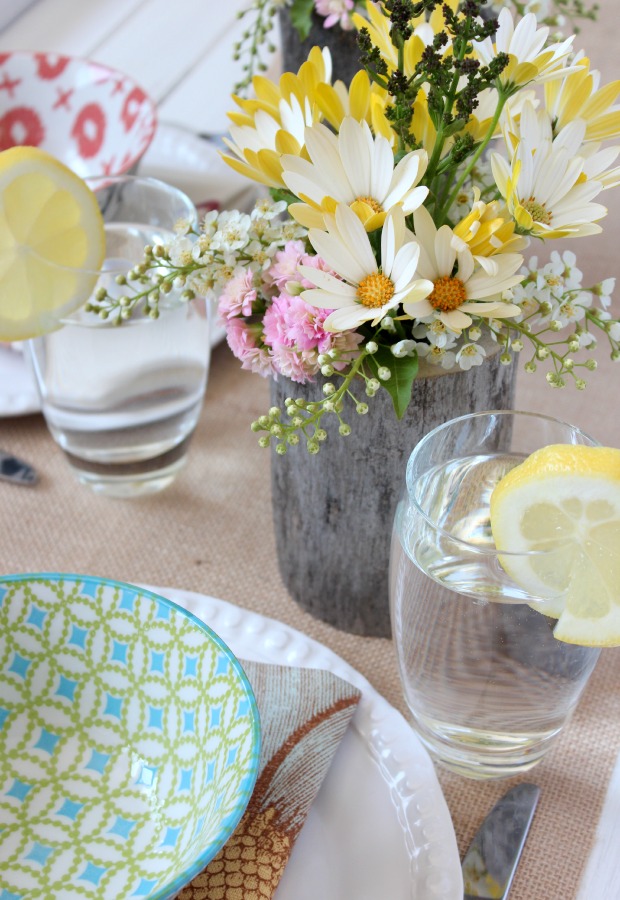 These log vases and tealight holders would be perfect for weddings too.
And, for another rustic table decor idea for an outdoor party, check out this log and succulent centerpiece. Perfect if you're looking for budget-friendly garden party decor.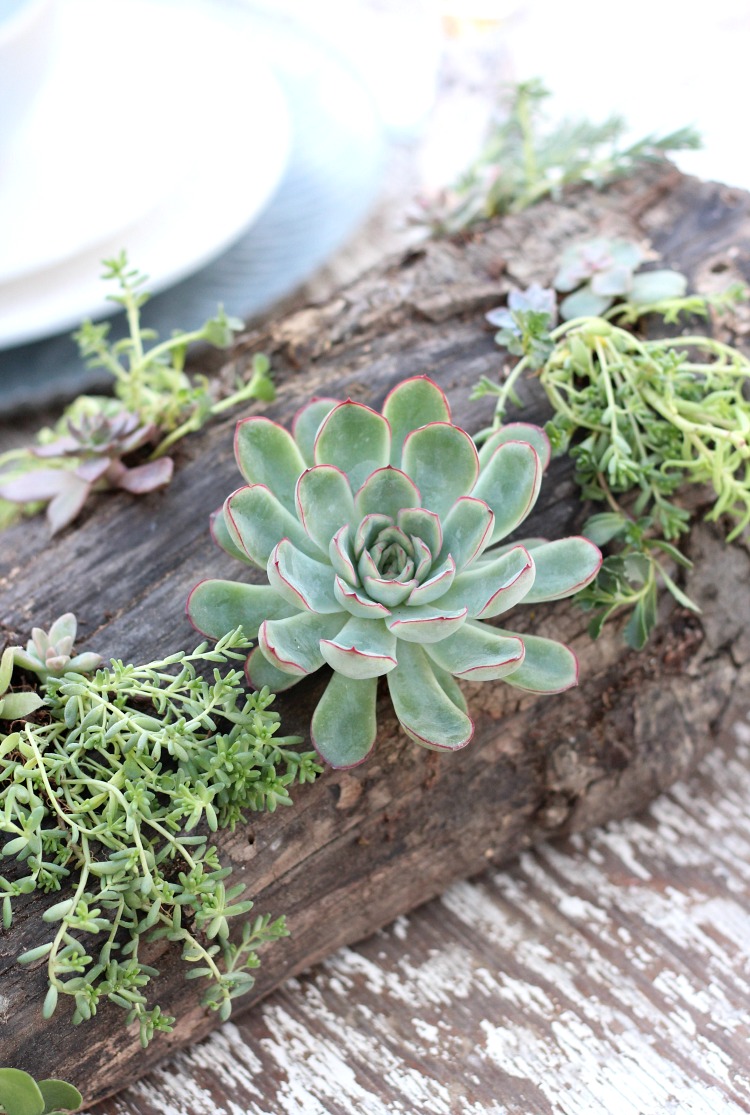 More Outdoor Decorating & Entertaining Ideas!
You're going to love these ideas some of my blogger friends put together. Be sure to stop by and say HELLO!
A Texan Table Setting by The Blissful Bee
Summer Crostini Bar by Craftberry Bush
Country Garden Party Table Centerpieces by Satori Design for Living (that's me!)
DIY Painted Outdoor Serving Tray by The Happy Housie
Hosting a Last Minute BBQ by Fynes Designs
Fresh & Fun Front Porch Decor by Echoes of Laughter
Be sure to come back next Wednesday to check out our Outdoor Build-it & Paint projects. As well, mark your calendars for our big OUTDOOR EXTRAVAGANZA link party on Thursday, May 28th!
Thank you so much for stopping by!