Are you a dessert person? I forgo an appetizer at a restaurant just to be able to finish off with something sweet in the end. Most times, though, I'm too full after my meal to even think about dessert, so I end up walking away with nothing. Wouldn't it be great if they offered just a bite or two…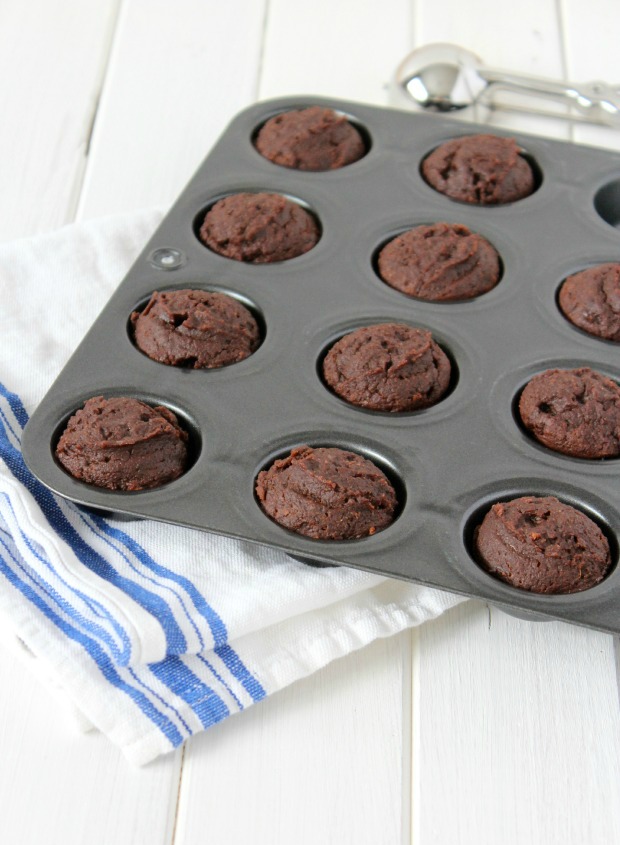 At home, it's a little easier to satisfy my sweet tooth. Often just a dried fig or date or small piece of something is all I need. Dessert that isn't gigantic and packed full of garbage ingredients.
Most of the desserts I make nowadays are healthier options to what we used to eat before we knew better (or cared to know better). And to tell you the truth, they taste just as good, if not better. Trust me!
Chances are, you, and more importantly, your kids, won't be able to tell the difference. The first time I put mashed sweet potato in a brownie my family engulfed the entire pan. They're just so chocolatey, moist and delish!
And making them in bite-sized portions means they're easy to take to work or throw in kids' lunches. Freeze a bunch and you've got dessert on your hands any day of the week.
Sweet Potato Brownie Bites

---

Make these sweet potato brownie bites as a healthier dessert option. Perfect for kids' lunches or on-the-go!

Ingredients

Dry:

1/4 cup cocoa powder
1/2 cup brown sugar, lightly packed
1/3 cup all-purpose flour (I use nutri-blend)
1/8 cup coconut flour
1/4 tsp. salt
1/3 cup dark chocolate, chopped

Wet:

1/2 cup sweet potato, cooked and mashed
2 eggs, slightly beaten
1/4 cup butter, melted
1 tsp. vanilla

Instructions

Preheat oven to 350 degrees. Prepare a mini muffin pan with butter.
Add dry ingredients (except dark chocolate) to a medium-sized mixing bowl and stir until combined, breaking apart any lumps. Stir in dark chocolate.
In a separate bowl, combine wet ingredients. Pour into dry ingredients and mix well.
Use a cookie scoop or two spoons to drop batter into pan (makes 16-18 bites).
Bake for 10-12 minutes until the edges feel firm and middle is a bit soft. Do not over bake or the brownies will become too dry.
Allow to cool for a couple minutes in the pan, then carefully run a knife along the edge and transfer brownie bites to a cooling rack.

7.6.4

5

https://satoridesignforliving.com/2015/03/sweet-potato-brownie-bites/

Shauna Oberg | Satori Design for Living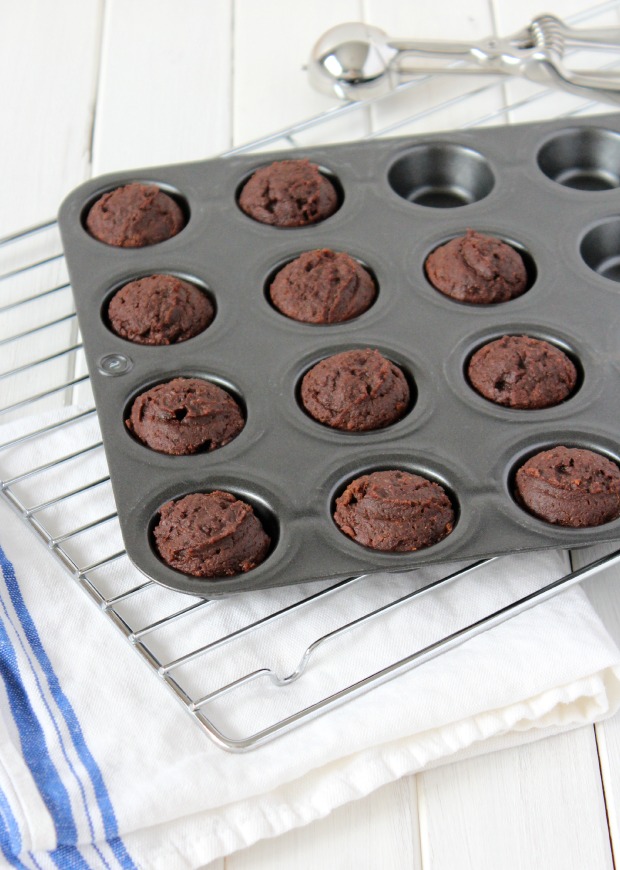 Store in an airtight container for a few days or pop into the freezer to eat later.
Are you a dessert person like me? What healthier options have you found to satisfy your sweet cravings?
Check out this healthier rice pudding recipe too.
Enjoy your day!
Like this post? There's more...