Spring may be around the corner, but I'm still craving hearty dishes like brown rice pudding.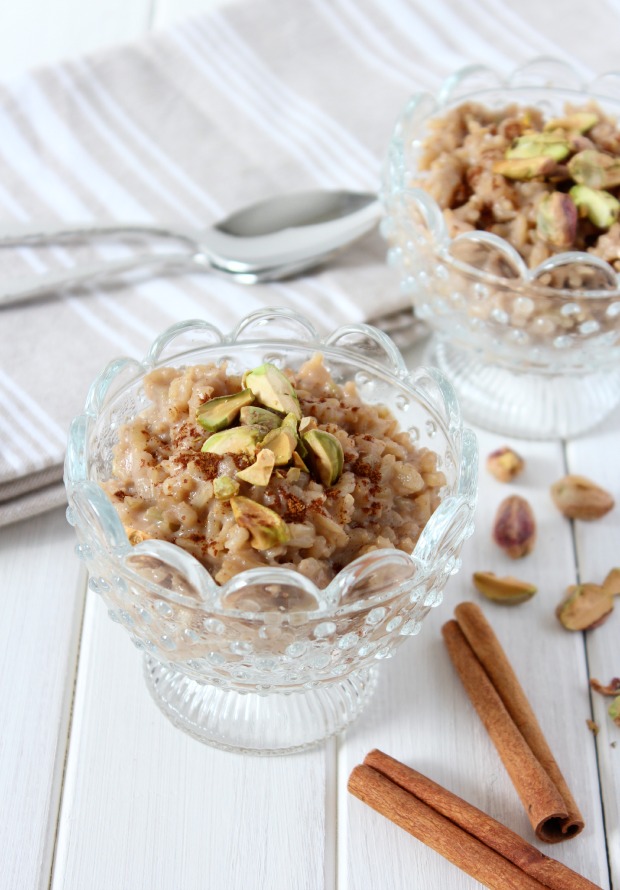 Rice pudding with a twist, that is…
A while back, I heard about a restaurant in New York city that only serves rice pudding. Say what? It's on my list of things to do when I finally make it there. Hopefully I have an easier time making a selection than I did at Butter Baked Goods in Vancouver. I mean, how can you chose between scratch-made cupcakes and nanaimo bars and whoopie pies?
Good thing my husband was there to make a decision on behalf of both of us… holy moly!
If you've only ever eaten traditional white rice pudding, you're in for a treat. This one's a bit different with notes of chai spiced tea and coconut milk. So creamy and delish!
And filling…
It's a healthier version too, since it's made with brown rice and sweetened with a bit of honey instead of refined sugar. And the cinnamon has all kinds of goodness as you probably already know. So, go ahead and have a bowl (maybe even for breakfast)!
Chai Spiced Brown Rice Pudding

---

A healthy and hearty brown rice pudding recipe with delicious notes of chai spiced tea and coconut milk.

Ingredients

3/4 cup water
3/4 cup milk
3 chai tea bags
dash of salt
1 1/2 cups brown jasmine rice, rinsed
1/4 cup honey
1/4 tsp. nutmeg
1/4 tsp. ground cardamom
1 cinnamon stick
100 ml can coconut milk
Toasted pistachios and ground cinnamon (for garnish)

Instructions

Add water and milk to a pot over medium-low heat. Warm for 2-3 minutes, then add chai tea bags and steep for 7 minutes, stirring occasionally.
Remove tea bags (squeeze out excess liquid into the pot) and stir in salt and rice. Turn up heat to medium and bring to a low boil, stirring occasionally. Reduce heat to low, cover and let simmer for 20 minutes, stirring occasionally (adjust heat as necessary to prevent bottom from burning).
Add honey, nutmeg, cardamom, cinnamon stick and coconut milk. Turn up heat to medium and stir until well combined and mixture just comes to a boil. Turn down heat to low, cover and let simmer for 20-30 minutes, stirring occasionally.
Turn off heat and allow pudding to sit covered for 20-30 minutes.
Before serving, remove cinnamon stick and stir to combine. Garnish with toasted pistachios for a bit of crunch and a sprinkle of ground cinnamon. We like ours with a bit of half and half on top too.

7.6.4

6

https://satoridesignforliving.com/2015/03/chai-spiced-brown-rice-pudding/

Shauna Oberg | Satori Design for Living
What's the craziest rice pudding you've ever tried? Do you like it simple or are you intrigued by different flavours like I am?
Crazy for chai? Try my scone recipe too.
Enjoy your day!
Like this post? There's more...