I'm thrilled to be kicking off the One Item Project Challenge today. If you recall, I started this series last year as motivation to become a little craftier during the Christmas season, as well as the opportunity to collaborate with blogger friends once again. This time I have the very talented Kristin, Tara and Tiffany joining in on the fun!
For the One Item Project Challenge, each blogger was given a specific craft supply to work with per week and had to create or decorate something with it. To kick off this 3-week series, we started with GLASS PAINT.
After using Martha Stewart fabric paint for my printed tea towel project last year and being happy with the results, I decided to try the glass paint to dress up some basic glass canisters.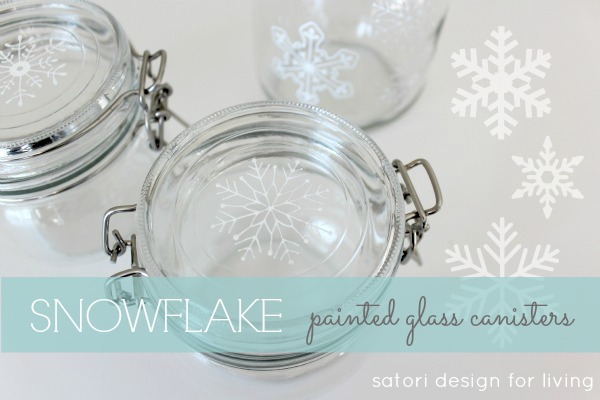 What you'll need for this project is glass canisters (mine are from Ikea), glass paint, silkscreens or stencils, pouncer sponge (all of which I found at Michaels) and a plastic lid (or something to put paint onto).
To begin with, make sure your jar is clean and dry. Press your silkscreen or stencil onto the jar making sure the edges of the pattern adhere (you don't want any bleeding).
Squeeze a small amount of glass paint onto the plastic lid, load onto the pouncer sponge and dab a bit off. Begin applying to the silkscreen from the center working outward in a straight up and down motion. Be sure to cover the entire design going over a couple of times.
Carefully remove the silkscreen to reveal the design and immediately rinse it under water to clean off the paint. Continue with the next silkscreen pattern being careful not to touch the one you already did. Note: If the paint smudges or bleeds, just wipe it off and start again. You can also use a toothpick or q-tip to fix up small imperfections.
The instructions say to let the paint cure for a few weeks or you can oven bake. Once it's set, items can be placed in the top rack of the dishwasher, but I plan on hand washing to be safe.
Now that I've given my glass canisters a holiday season vibe, I plan on using them to set up a hot chocolate station. Here's a sneak peek at what I've put together so far.
Want to see more? I'll be sharing my hot chocolate station and all of the details very soon!
These snowflake painted glass canisters were super easy to make and a lot of fun! Fill with a few treats or bath salts and give away as a handmade gift.
If you've never tried silkscreening (on fabric or glass), you must give it a try- so rewarding!
And now for my favorite part of the series…
Here's a peek at what the other participants created with glass paint:
DIY Snowflake Plate by My Uncommon Slice of Suburbia
Hand Painted Stemware by Living Savvy

Be sure to come back next Wednesday to find out what the second craft supply was on our One Item Project Challenge list and see what we all did with it.
xo,