How was your week? I really don't know where October went and I'm feeling the same way about November. Can you believe we're already on week three of the Holiday Countdown? I'm so glad I've been able to stay on track, despite being distracted by so many other things going on in my life right now. I'm finding it hard to wrap my head around my son applying to universities and colleges for next year, and doing all the research and helping him make a decision about what he wants to do in this next stage of his life is a bit overwhelming. I don't think I'm ready for this! Nevertheless, the fog always seems to clear, and I know he'll find a good fit.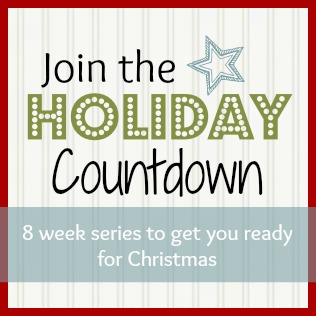 This past week, I've been busy considering some furniture pieces for our basement (need to order very soon!), as well as getting my craft on with a few small projects for the One Item Project Challenge. On Sunday, my husband put up the Christmas lights, since it was rather lovely outside. We won't be turning them on until the end of the month or beginning of December, although some of my neighbors have started already.
This year I've decided to use the same decorating scheme I did last year- silver, white, smoke and turquoise, but I'm thinking of adding some gold. Of course, I'll still be mixing in natural materials, such as pine cones, birch, greenery, etc. I love how the natural and glam look side by side, and mixed metals-ooh la la! I can't wait to see it all come together.
If you're just joining the Holiday Countdown, be sure to catch up on Week One and Week Two.
This Week…
On Wednesday, while I was furniture shopping for our basement, I couldn't help but notice the beautifully decorated stores filled with Christmas ornaments, tableware and accessories. I did break down and buy a couple things after careful consideration. I personally don't like credit card bills I can't pay in full, and I love my warm holiday I take every winter with my family way too much to jeopardize it because I bought too much for Christmas. You can stay on track this year as well if you plan ahead.
Plan your gift buying.
Two things I do every year is make a list of who I am buying gifts for and then I set a budget for what I'm going to spend on each person. I created a Christmas Gift Planner on my computer where I record all the gifts I buy and I tuck all the receipts in a labelled envelope for safe keeping. Here is a printable one you can use from momAgenda.
Do your homework.
As Canadians, we don't typically have the Black Friday sales like those found in the US (the Friday after American Thanksgiving), but it is getting better. With that being said, many major American-based retailers will extend their online deals to Canadian consumers. Make sure you calculate duty, shipping and taxes before you buy! In addition, the biggest online shopping day of the year is Cyber Monday (the Monday after Black Friday). If you are subscribed to a retailer, you'll likely receive a promotional email in the days leading up to Cyber Monday.
If you normally purchase your gifts directly from a store, find out if they have any friends & family events coming up. Over the years I've made a mental note of when stores I frequently shop at have their best sales. It's a gamble whether or not the products will still be there, but if you're flexible, it's worth the wait. In addition, check out the flyers that come in your newspaper instead of automatically throwing them in the recycling. Lastly, think about purchasing gifts that give back.
Consider handmade gifts.
Every year I like to make something to give to friends and/or family members. Last year I made cookie mix in a jar that I embellished with a handmade ornament. It's easy to find unique and inexpensive containers at dollar stores, discount corners of home stores or even vintage ones at second hand stores. Other years I've made ornaments, aromatherapy bath salts, preserves, fudge… I find that everyone loves receiving these handmade gifts and appreciates the work that has gone into them.
Think about what you could possibly make to give out this year. Find out what supplies you'll need and start gathering them as soon as possible. If it's something you can start making now, set aside an hour or two spread over a couple weeks or dedicate some time on the weekend. If it's something perishable, mark off time in your calendar closer to Christmas to get it done. Get your kids involved, especially with gifts for grandparents. I promise it will bring joy to your life!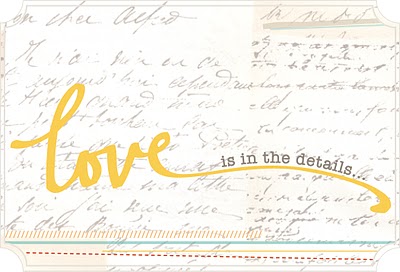 She Paperie
If you're really short on time or need to find other unique personalized gifts, consider shopping at your local market or on Etsy. Last year I bought a vintage matchbook necklace for my friend from Nostalgic Summer. Not only did she love it, but her teenage daughter tries to steal it to wear all the time.
Book appointments.
Another important task left off last year's countdown list (and reminded to me by Pam at Simple Details) is to book appointments for hair, nails or whatever you and your family need coiffed and primped. Quite often stylists book up quickly so take a look at your schedule and make the calls. You may even want to take some of those handmade gifts along with you to your appointments to say "thank you!"
So what have you been working on the past couple weeks?
Sheila went out on limb and planted paperwhites for the first time.
Aimee gave a fantastic lesson on selecting outfits for family portraits.
I'd love to hear what you've been doing to prepare for the holidays. If you have any suggestions or tips for staying on budget or anything else related to getting ready for the holidays, please send them my way. If you're a blogger, send me the links to any posts you have done as part of this year's Holiday Countdown and I'll include them in an upcoming post.
Enjoy your weekend!