Christmas is almost here and I'm happy to report that aside from a few dishes to prepare, I have everything ready to go- Yippee! As mentioned throughout the Holiday Countdown series, getting ready isn't about perfection. However, in my experience I always feel better the more prepared I am. I try to keep in mind that most likely something will not go the way I hoped it would. Perhaps our family cards getting lost in the mail somewhere between the US and Canada would've frazzled me a little more had there been a mountain of other disappointments. I can honestly say at first I was flustered, but now I find it kind of amusing that I started thinking about our cards way back on week 2 and now they're going to be late!
I want to extend a big shout out to all of you who followed along. I enjoyed your emails and comments and I'm so happy to share what some of you have been up to over the past couple months. Pretty fantastic stuff!
Elaine from Visual Meringue created these adorable reindeer nose party favors.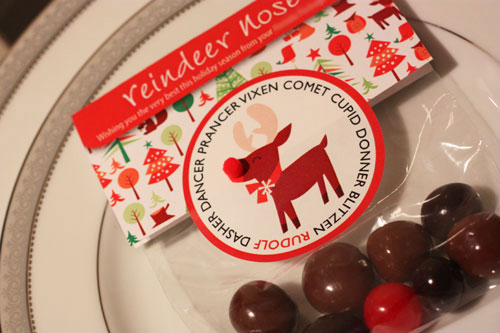 Nikki from Nikki in Stitches made these simple, yet beautiful snowflake ornaments:
Heather from The Sewing Loft used reclaimed materials as inexpensive, yet charming reclaimed Christmas gift wrap:
Carla from Palm Beach Parties made lovely snowflake wands.
Jessica from The HopeFULL Company created colorful crayon pops- perfect for stocking stuffers.
and finally… Tiffany from Living Savvy constructed a gorgeous shimmery ornament wreath.
Thanks for sharing all your fantastic projects! I'm definitely going to be adding some of these to my project list next year.
This will be the last post before Christmas so that I can take some time off to spend with my family. I can't wait to get together with everyone, enjoy slow moving mornings, play games, go for walks, enjoy fantastic food and everything else this time of year brings with it. I want to extend the very best holiday wishes to you and your family and I look forward to seeing you soon! Perhaps our missing cards will show up soon, but until then:
xo,
Like this post? There's more...